Site Organisation for Construction
Site organisation is a detailed and well thought out process which ensures a healthy and safe construction site throughout its build.
We take a look at some of its key points below.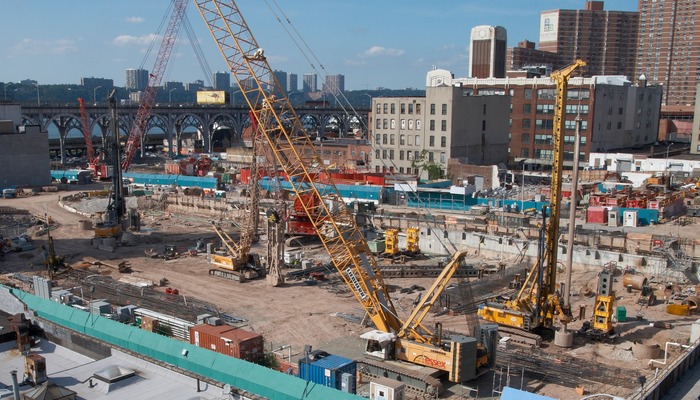 Construction Site Traffic Management
Keep Pedestrians and Vehicles Apart on a construction site
Failing to plan adequately for both vehicles and pedestrians on site is one of the main causes of accidents during construction work; the following can help greatly reduce pedestrian/vehicle accidents:
Entrances and exits
Making sure there are separate entryways and exits for pedestrians and vehicles
Walkways and Crossings
When providing pedestrian walkways you should make sure that they are well-drained to avoid and slips and take a direct route. If a walkway crosses a roadway then a clearly signed and lit crossing needs to be put in place.
Obstructions, Visibility and Barriers
If drivers are driving onto a public road they first need to make sure there are no pedestrians either side of the vehicle before pulling away.
With this in mind it is also advised not put anything on the pathways which will cause pedestrians to step onto the road to oncoming traffic.
It's also worth thinking about installing barriers between roadways and pathways.
Minimise Vehicle Movements on a construction site
Minimising the movement on construction sites takes very careful planning but greatly reduces the risk of accidents or injuries. Consider the following:
Providing car and van parking for any workers or visitors away from the work area.
Controlling entry to the work site
A separate storage area for delivery drivers, so they do not have to drive across the site. Visibility
Visibility can be an issue on construction sites especially if having to drive or reverse round corners, you should consider the following aids to help:
Mirrors, Reversing Alarms or CCTV cameras
Trained Signallers
Adequate Lighting
Protecting the Public on Construction Sites
Site Access to the construction site
As construction sites can be very dangerous to unauthorised personnel such as the public the following steps should be taken to ensure safety.
Boundaries
It is imperative that you define boundaries to the construction site physically, the fencing should suit the nature of the construction site and its immediate surroundings.
Things to think about when planning the boundaries are;
What nature is the construction site?
How densely populated is the area?
Who needs to visit the construction site?
Authorisation
Preventative measures should be taken to restrict unauthorised people from accessing the construction site.
Even authorised people may be restricted to certain areas, and some may have to be supervised at all times whilst visiting the site.
Hazards on the construction site
There are a huge range of hazards of construction sites which could cause accidents or harm to workers and visitors, take these into consideration when planning out the site.
Falling Objects
You must prevent objects falling beyond the site boundaries; with scaffolding you can do this with toe-boards, brick guards or netting.
Storage and stacking
A good way of preventing accidents with stored materials or equipment is to have them in a separate storage compound away from the main site and public access.
Excavations
Workers and the public can be injured if they fall into excavations, manholes etc. therefore making sure barriers and covers are necessary to ensure everyone's safety.
Other things to bear in mind are:
Hazardous substances
Slips, trips and falls
Dust, noise and vibrations
Energy sources
Materials Storage and Waste Management on Construction Sites
Because the law states you should keep your construction site in 'good order' it is paramount that the storage and disposal of materials on site is done so in a safe and efficient manner.
Materials storage on a construction site
Good materials storage depends on adequate planning and co-operation from all parties.
For large projects the storage of materials will be included in the construction plan, however for smaller projects you may want to consider the following;
Storage Areas
Having designated storage areas for each of the different materials you are storing is important, particularly if storing hazardous materials.
Flammable Materials
And hazardous materials will need to be stored away from the other storage areas and ensure that they are protected from accidental ignition or contamination.
At Height
If you have to store materials at a height make sure that guard rails are in place and necessary mechanical aids such as fall restraints are on hand to prevent falls or injuries.
Tidiness
Keeping the storage areas tidy should be a number priority, and something that is checked every day.
Deliveries
Having a delivery plan helps keeping the materials stored on site to a minimum as well as restricting the amount of personnel accessing the area.
Waste management on a construction site
To read the full legislation on disposing of waste, you can go to the HSE.gov.uk site; it is enforced by the Environment Agency and Local Authorities.
Before you start work on the construction site you need to think about how the waste produced will be managed and who will be responsible for the disposal of the waste produced on site as well as dealing with any problems which may arise.
Things to consider are;
Flammable materials
Flammable waste materials will need to be cleared away daily, you can get special cans and bins for these until they need to be removed from the construction site.
Skips
Make sure that there is enough space for skips and industrial bins on the site for storage of waste, and enough room for manoeuvrability when they are being taken away or delivered.
Waste inside buildings
When working inside of a building make sure there are enough wheeled bins to allow for effective disposal of any waste generated whilst working on the inside of buildings.
Welfare on a Construction Site
Welfare relates to the treatment and facilities that workers and visitors are subject to whilst working or visiting the construction site.
They will need access adequate toilet and washing facilities, a place for preparing and easting refreshments and somewhere for storing or drying clothing or protective equipment.
List of required facilities below:
Toilets
Washing Facilities
Drinking Water
Changing rooms and lockers
Facilities for rest
You can find the full details of what is required welfare on a construction site on the HSE.gov.uk site.
Administration on a Construction Site
When working or managing a construction site there are a number of assessment and reports which have to be submitted in order to comply and be lawful, you can find a more detailed explanation of the paperwork required for a construction site on the HSE.gov.uk site, we have bullet pointed for ease below:
Notifications
Risk Assessments
CDM plan and file
Thorough examination reports
Inspection reports
Method statements
Any injuries or dangerous occurrences
This article is by no means exhaustive and we recommend you read through the HSE.gov.uk site on construction if you want detailed information; this is to serve as a reminder and checklist for the major points of site management.

Author Bio -
Laura Holland
Social Media and Web Content Coordinator, Jan 2014 - May 2015