Staff Spotlight - Julie Bowman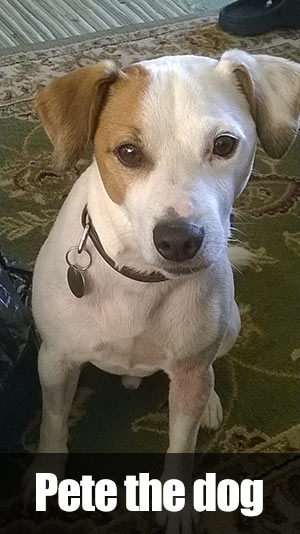 It's time for another delve into the interests and idiosyncrasies of another of our staff members. Today Julie Bowman tells us how she loves bright flowers, spicy food and Pete the dog.
What is your role at ESE Direct
Digital Marketing and Brand Specialist, which means that I spend most of the day online, making sure our website is up to date and visible across all channels.
What do you like to do in your spare time?
I love travelling, second only to planning the next travel adventure! I also love dog walks with little Pete and growing bright flowers and unusual veg.
Who are you listening to at the moment?
I've just unpacked my CD collection after it sat in storage for a few months, so am really enjoying rediscovering a lot of music I'd forgotten I'd bought.
What is the most embarrassing CD/MP3/Cassette, record(?!!) you own?
It's probably the Greatest Hits of 2Unlimited! I was obsessed with them in the nineties – who knew they had so many hits?!
What was the last book you read and would you recommend it?
I'm part-way through The Art of Happiness by the Dalai Lama, so I'll let you know when I finish it…
What are your top 5 favourite films?
I've been more into TV boxsets the last few years, but did make it my New Year's Resolution to watch more films this year. I especially wanted to watch some 'classics' so started working my way through the IMDB Top 100 list as a good starting point. I'm about 68 movies in so far, and have a new found respect for Spaghetti Westerns, Charlie Chaplin and subtitled films!
1. City of God
2. Pursuit of Happiness
3. Kundun
4. The English Patient
5. Scarface
What is your favourite food, and when was the last time you ate it?
I love Asian food, especially aromatically spiced dishes from India and Malaysia. I've always got a spice oil mix on the go which I add to everything, including my pork balls. I also like trying weird and wonderful food; fish head curry anyone?
What 3 things would you choose to have with you if you were stranded on a desert island?
If I had a solar-powered tablet with wireless internet, a credit card and Idris Elba, I'd be pretty much sorted!
If you could have dinner with 3 people living or dead who would it be and why?
The Dalai Lama, Martin Scorsese and Maureen Wheeler (established mega-brand The Lonely Planet with her husband in 1972).
What is your hidden talent?
I am the self-styled Queen of the Blowpipe! I visited a longhouse family in the Borneo jungle last year and the chief challenged us all to fire a dart from a traditional blowpipe. Disclaimer; we aimed at a board and no actual animals were harmed. It was fairly straightforward; balance a five foot long hollow tube and fire the dart in the right direction. All you have to remember is to blow, not suck!
Thanks Julie, your answers were truly enlightening!

Author Bio -
Debs
Content, marketing, social, graphic design and PA to an unusual small red dragon.