A Guide to fitting GRP Fibreglass Flooring
Funnily enough, GRP is just one letter away from being grip. Which is exactly what GRP flooring does, it enhances grip and traction underfoot.
GRP stands for 'glass reinforced plastic (or polymer)' and is is commonly known as fibreglass. It is made from a mix of glass fibre enhanced polymers and resin (with a few other additives to give it its own personality). This winning formula makes for a super-strong, lightweight product which can withstand the elements. It's hard-wearing and really rather easy to install.
But how on earth do you fix your GRP flooring to the floor? Don't panic, read on, we'll tell you how.
Surface preparation is key
Surfaces need to be clean (free from grease, oil and dust), dry, stable and as even as possible. Any depressions and undulations should be filled and allowed to dry completely before fixing GRP to stairs or floors.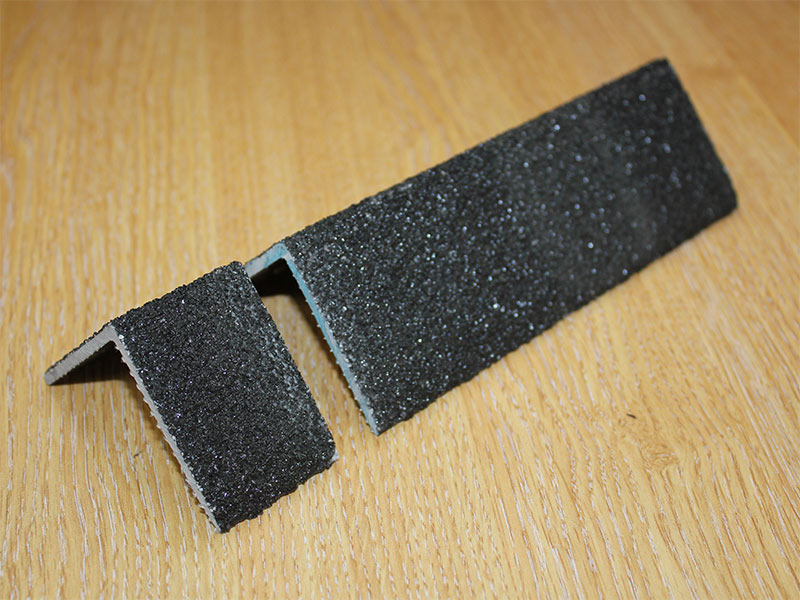 Cutting GRP to size
GRP can be trimmed to size with a hacksaw, but an angle grinder or skill saw with a diamond blade is much easier for multiple or longer cuts. GRP should be cut in a well ventilated area and the operator MUST wear protective gloves, safety goggles and a face mask as the dust generated can be harmful.
Application
GRP should be fixed with a high-strength gap filling adhesive, apply a 6mm bead of adhesive uniformly on the underneath of the tread, nosing or sheet, leaving approximately 25mm around the edge and in crosshatch pattern on the rest with an approximately 200mm spacing.
Press the GRP to the surface firmly and leave adhesive to set using weights to hold GRP in place where necessary.
Mechanical fixings (stainless steel countersink screws and fixing plugs) can then be used to ensure a really secure fixing, GRP is easily drilled using HSS drill bits at low speed (use masonry bits for the fixing plug holes). Sheets should be fixed at a minimum of 400mm centres and 50mm from edges, additional fixings may be needed depending on substrate.
GRP flooring solutions
There is a selection of GRP flooring available including GRP decking strips, GRP stair nosing, GRP stair treads and lovely big sheets of GRP flooring ideal for ramps and bridges.

Author Bio -
Debs
Digital marketer, social media, content writer, musician, sloth-lover, tea-drinker.