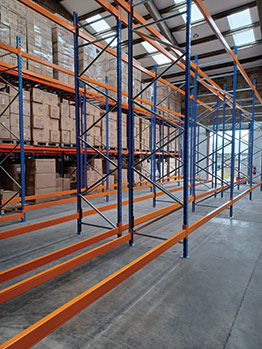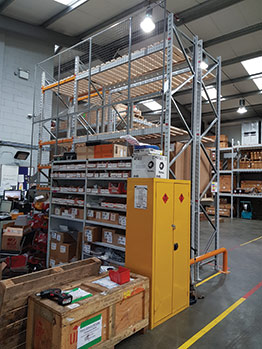 Racking Inspections
Do you have pallet racking in your warehouse?
Did you know that your racking should have regular safety inspections?
That's where we can help.
Safety Requirements
Damaged or unsafe racking represents a significant risk that could have serious consequences if it were to fail
Pallet racking is considered work equipment and it is therefore essential for the user to complete regular in-house inspections to ensure compliance with the Provision of Work Equipment Regulations 1998 (PUWER)
The in-house inspection should be undertaken by person who is trained and competent in the use of materials handling equipment and understands the storage capabilities of the racking
The inspection should identify the suitability of the racking for pallet types, the correct method of loading and unloading, and any defects or damage that could affect safety
In addition, a thorough safety inspection should be completed annually as a minimum, by a SEMA (Storage Equipment Manufacturers Association) Approved Racking Inspector
How can ESE help?
We can arrange an annual inspection by a SEMA Approved Rack Inspector
The qualified inspectors are independent of ESE Direct and will carry out an impartial racking safety inspection in accordance with BS EN 15635:2008 Steel static storage systems. Application and maintenance of storage equipment
The inspector will provide a detailed written report, identifying load capacities, damage, risks and improvements that may be required
Any damage will need to be investigated to understand why it occurred, and measures put in place to reduce or eliminate the likelihood of a recurrence
If any repair work is needed, ESE Direct will provide a competitive quotation
We have a dedicated department who specialise in design, installation and maintenance
Racking repairs are carried out by experienced installers, and we keep you fully informed throughout the process
Anti-collapse mesh
An inspection can often identify the need to install anti-collapse mesh which further increases the safety of your racking system
Panels are constructed from steel mesh with steel edging and attach to the rear of pallet racking
It prevents items falling onto pedestrian walkways or work areas and significantly reduces the risk of injury
ESE Direct can design and install anti-collapse mesh onto your pallet racking system
For further advice on pallet racking regulations, anti-collapse mesh or to book a racking inspection, call our projects team on 0808 274 9657