Mesh Storage Cages
We supply a superb range of secure modular storage enclosures and compounds for both internal and external use. If you need secure metal cages for securing valuable items, just take a look at our all-steel Welded Mesh Gas Cylinder Storage Cages. These cages are not only fully welded from steel angle and 25mm x 25mm weld mesh but they are also fitted with padlock locking facilities and several sizes are available.We also have a fold-away version which folds flat when in not in use.
Storage for containing gas cylinders must be secure in order to ensure that access is restricted to authorised personnel, the storage space must also be ventilated to allow any leakage of gas to be adequatley dispersed to prevent a hazardous atmosphere being created, appropriate signage must also be prominatly displayed. Our Armorgard Gorilla Gas Storage Cages are specially designed for the safe storage of gas bottles and are supplied complete with relevant signage.
These storage cages are used to securely store many types of items most commonly Calor gas bottles, but they are also useful for storing many other items such as oil drums and general site equipment.
Cylinder Storage Racks & Trolleys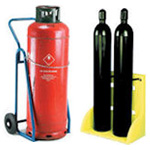 We also supply a range of hand trolleys, stands and racks for storing and moving gas cylinders.