Drum Trucks & Stands
Drum moving and carrying solutions
Move drums easier with our drum trucks, stands, trolleys and dollies, or even lift them. We have models for moving traditional metal oil drums and trolleys for plastic drums.
Specifically for use with drums these items range in price, at the cheaper end of the scale is our 3 or 4 wheel steel drum dolly, this simple and effective solution provides an easy way to move and relocate heavy drums. At the other end of the scale is a Drum Transporter Trolley with either a manual gearbox or a winch lift this trolley is able to lift a max load of 250kg.
Forklift Attachments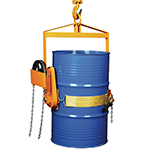 We also supply a range of Forklift Attachments.