Scissor Lift Trolleys
Our smart, strong mobile scissor lift tables come in five sizes ranging in load capacity from 125kg to 1250kg, and have handles specially positioned to ensure precision lowering. The tables are easily transportable on their polyurethane castors, two of which come with brakes. These lifts can be fitted with various extras, including roller tops, ball tops and bellows skirts and they all have overload and slow lowering valves fitted as standard. The single scissor tables come in manual hydraulic or battery electric models. These hydraulic platform trolleys and trucks are ideal for transporting goods around where they need to be lifted up to waist height and their load capacity means they can be used as a mobile service bench if needed.
Scissor Lift Tables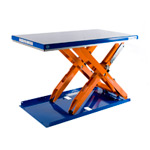 We also supply a range of large, static scissor lift tables.