All About Tilt Storage Boxes
Whether you work in an office, workshop or even at home, you always want to store work and other items to keep them from getting lost or damaged. Ironically however, sometimes it can be harder to find something after it has been stored away then if it was loose on the desk, as it has been known for people to forget where they stored something or not be able to find it if lots of separate items are being stored in one area!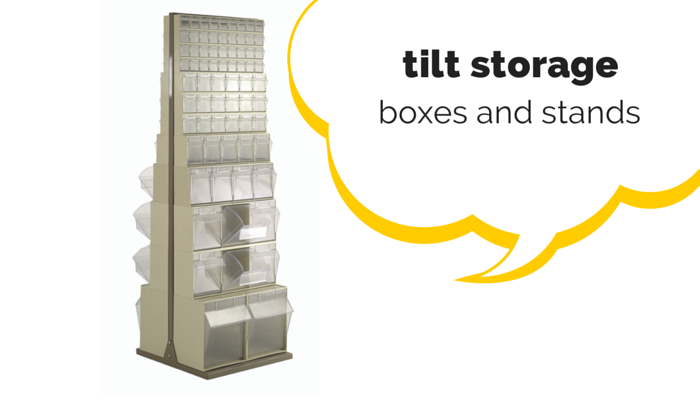 As a result, it is important to be able to find what you have stored quickly and that is where we think Tilt Storage Bins and tilt box storage stands will come in. These highly convenient tilting storage boxes contain many clear plastic bins/boxes that are designed to tilt forward to allow for easy filling but more importantly to allow you to see through each compartment and locate and access items easily. No more sifting through drawers or boxes for hours on end to find whatever it is you are looking for!
There are various different configurations of Tilt Storage Boxes to choose from. One choice, the Clearbox Tilt Box, are highly useful as they contain multiple compartments of all different sizes to allow you to store plenty of items. They come in both single and double sided form.
Best Tilt Boxes for Schools, Offices and Home Use
Looking at the different compartment sizes, what you could store would depend on where you worked. For example, the smaller compartments near the top could be useful in an office for small items such as:
paperclips
pins
staples
stationary
Best Tilt Boxes for Workshops, Garages and Small Storage
Alternatively, if you worked in a workshop, for example, the smaller compartments could be useful for:
keys
screws
nuts
bolts
other smaller tools
Best Tilt Boxes for Warehouses, Factories and Storerooms
Then looking at the bigger compartments near the bottom of the stand, large paper documents would fit nicely, but you could also consider storing:
larger tools
files & folders
small items of clothing, such as gloves and boots
(Is it just me or do the compartments look slightly similar to the Pick n Mix stands you see in sweet shop? Perhaps you'd like a sweet stand in your workplace…?)
There really are no rules as to what should be stored in these products, as the compartments vary in size so a suitably sized compartment could always be found no matter what workplace items you have that need storage.
Of course the Clearbox Tilt Box Stands & Trolleys are not the only sort available, and you can view our other varieties on our website, but whatever variant of storage solution you look at it, it has the potential to transform storage around the workplace, making it much easier for you and other employees to find things again!

Author Bio -
Laura Holland
Social Media and Web Content Coordinator, Jan 2014 - May 2015