All You Need To Know About Strapping Equipment
Strapping equipment is useful for all sorts of industries that need to package up large or bulky items, or to secure building materials together on pallets which allows for easier handling.
At ESE Direct we supply 3 types of strapping equipment: polyester, polypropylene and steel, as well as kits which offer great value for money.
Polyester Strapping Equipment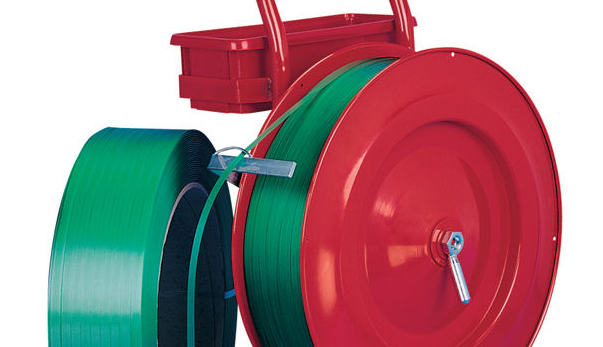 Polyester Strapping All In One Combination Tools Tensions, Seals & Cuts
This great tool is ideal for commercial and industrial strapping jobs and combines everything you need: tension, sealing and cutting of polyester strapping.
Reducing the amount of tools that will have to be used and reducing the risk of misplacing them during use of storage. This can be used with 12mm or 16mm, both offering high standards of operation and incredibly robust.
Woven Polyester Strapping Starter Kit
This handy carry starter kit is ideal for commercial and industrial areas that use polyester strapping, it contains both a roll of strapping as well as the buckles used to hold the strapping in place.
Great for anyone who uses polyester strapping both regularly or just occasionally.
H/D Sealer for 12mm & 16mm extruded polyester strapping
This heavy duty sealer is ideal when you need that extra bit of security of a tighter seal on your strapping buckles.
The sealer has robust chrome handles and a hardened steel jaw which helps to offer the tightest seal possible and is ideally suited to polyester strapping and is also great for using with a heavy duty tensioner/cutter for 12-19mm polyester strapping.
H/D Tensioner / Cutter for 12-19mm extruded polyester strapping
This heavy duty tensioner is great for use with 12-19mm polyester strapping. Great for warehouses, factories and any other commercial or industrial areas, where large or bulky items need to be packaged.
The tensioner and cutter ensures that the strapping is tight enough to hold the box together without damaging any of the packaging, and once you have sealed the buckle into place you can simply cut the excess strapping off.
Dispenser Stand for woven polyester strapping
This dispenser is used in commercial and industrial warehouses, factories and workshops where there is high use of polyester strapping.
It's also incredibly easy to move around and carry when needed and once you have used up a roll it can be removed and replaced with ease.
Mobile Dispenser Stand for woven polyester strapping
Much like the dispenser stand mentioned previously you can store rolls of polyester strapping for easy and convenient access, however this mobile dispenser also features a wire buckle and tool holder, making everything accessible with minimal effort.
The device is also on wheels making it incredibly easy to move to the required location when needed.
Mobile Dispenser Trolley for extruded polyester strapping
Like the previous two dispensers this is slightly heavier at 12kg but is very well suited to holding and dispensing extruded polyester strapping.
It also features a brake which stops the drum of strapping from unwinding when not in use. Great for warehouses, factories and workshops.
Woven Polyester Strapping reels
These woven polyester strapping wheels can be used with any of the 3 above dispensers and come in several sizes:
13mm x 1000mm
16mm x 850mm
19mm x 600mm
This is very strong woven strapping which feature high break strain ratings.
Extruded Polyester Strapping
Keeping building materials and transporting large or bulky goods safely and securely is a priority amongst all companies, with the extruded polyester strapping.
Extruded strapping will not corrode or stain and is highly durable and retains it rigidity.
Buckles for woven polyester strapping (box of 1000)
These small but necessary items are used every day for strapping materials, packages and goods, they come in 3 sizes
The boxes come with 1,000 supplied and are made to measure for compatible reels of woven polyester strapping.
Serrated Seals for extruded polyester strapping
These serrated seals are perfect for extruded polyester strapping offering secure solution for your packaging.
The serrated edges mean there is less chance of the seal slipping out of place and compromising your package/materials/goods. They are available in 2 sizes and compatible: 12mm and 16mm.
Polypropylene Strapping Equipment
Polypropylene strapping equipment is a cheaper option to polyester or steel strapping and is adequate for light to medium duty uses and is very economical.
We take a look at what products are available to you.
5 Piece Polypropylene Strapping / Banding Kit
This strapping and banding kit is the perfect starter kit for your packaging needs, featuring:
Mobile dispenser trolley
Tensioner/cutter and sealer
Reel of 12mm white strapping
1000 metal seals
Suited best to jobs that can be done by one person this trolley gives you everything you need in one handy place, allowing you to easily move it when needed.
Polypropylene Strapping and Seals kit
Keeping items secure is important, especially when the goods leave the factory or warehouses, which is where this kit comes into its own.
There are 300 seals included in the kit measuring in at 12 x 25 mm wide, and the strapping measures in at 12mm and 800 metres long, making this either a great starter kit or refill kit.
And the best bit is when you are done you can recycle the box.
Polypropylene Strapping and Buckle Kit
Like the seals version however this time with buckles needed to secure all sorts of packaging and features a useful handle for carrying around.
Like the strapping and seals kit the strapping is 12mm wide and 800m long, and it has 200 buckles included in the pack.
Great for starting out or refilling, as well as this, the box itself is totally recyclable.
Sealer for crimping metal seals on polypropylene strapping
This robust sealer is specially designed for use with metal seals on polypropylene strapping with its strong steel crimping jaw and long handles to make the job easier.
It's also reasonably lightweight meaning it won't weigh down your tool kit if you are on the move.
You can make this set by purchasing the 2219-BT tensioner cutter as well.
Tensioner / Cutter for 12-19mm polypropylene strapping
This tensioner and cutter is perfect for securing boxes but not so much that it could damage the packaging.
The tensioner is best used for 12-19mm polypropylene strapping and allows you to manually tighten and cut strapping when required, its quick and easy to operate and is best used with the sealer (3212/BS).
Combination Strapping Tools for polypropylene strapping
These combo tools are all you will ever need giving you the options to adjust, give tension, crimp and cut.
Giving you an option of a regular or heavy duty ratchet tool means that whatever your packaging or strapping requirements these are bound to go above and beyond saving you time and money.
Portable Dispenser for reel of polypropylene strapping
This portable dispenser is perfect for warehouses, factories and workshops. Simple to operate with a handy carry handle, as well as a brake to ensure that the strapping doesn't untwine.
It can dispense 12mm-19mm wide strapping which means it is suitable for a wide range of packaging tasks.
Mobile Dispenser for reel of polypropylene strapping
Much like the dispenser mentioned previously, it is easy to use with a brake to stop the strapping unwinding and a handle.
The difference with this one is that it also has a tray for holding strapping seals, buckles or other tools meaning that you won't have to reach far when you are in the middle of a job.
Mobile Pallet Probe with Trolley for polypropylene strapping
This pallet probe with trolley is designed to make your life and packaging a whole lot easier!
Being able to pass the strapping under the pallet for additional security means it takes away a big challenge when securing materials or goods.
It also features a large tray which is ideal for holding your seals and buckles meaning you can you do your job quickly and efficiently.
12mm Polypropylene Strapping reels
These 12mm polypropylene strapping reels are great either as a starter kit or refills and can be used on dispensers and trolleys to make use of them easier.
The strapping is also available in three colours, you can choose from: White, Black and Blue.
Metal seals for 12mm polypropylene strapping
This box of metal seals is ideal for use with 12mm polypropylene strapping, which is used in warehouses, factories and workshops. With 1,000 seals in a box making this ideal as a starter kit or as a refill.
Plastic Edge Protectors for strapping
Plastic edge protectors are designed to be placed underneath the strapping to stop from damaging the packaging, goods or materials contained within which can easily happen when shipping large or bulky items.
These are particularly suited to double stacked pallets and are made from cost effective plastic. They are perforated so can be easily torn off when needed.
It is a reel of 500.
Steel Strapping Equipment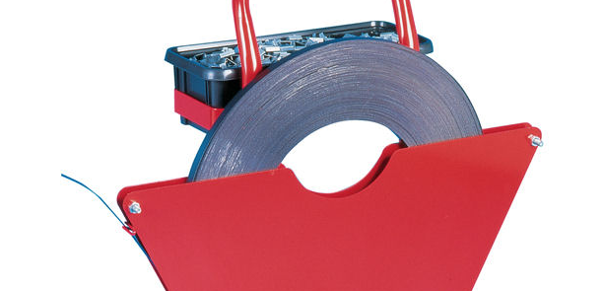 This is our strongest strapping equipment available, suitable for all manner of environments and industries and offering a super secure way to package goods.
6 Piece Steel Strapping / Banding Kit
Steel strapping is ideal for heavy duty packing jobs, although it can be difficult to use at times.
With this kit you will have everything you need to do the job right at your fingertips, this includes:
Mobile dispenser trolley
Sealer (for 13mm steel strapping)
Safety shears (which can be used for 13/16/19mm)
Tensioner (which again can be used for 13/16/19mm)
Strapping reels (x2) Seals (pack of 1000 13mm)
The mobile dispenser also features a handy tray where you can store tools and seals so they are easy to each and not causing any potential hazards.
Sealer Tool to crimp seals on steel strapping
This tool is perfect for sealing your steel strapping in place.
You can order the sealer tool in 3 sizes: 13mm, 16mm, 19mm as each sized strapping will need a different seal size.
Safety cutting shears for use with steel strapping
The beauty of these cutting shears is that they can be used on different sized steel strapping meaning you will only need one in your tool kit.
When you are cutting steel strapping it can be dangerous as the steel strapping can spring back and cause injury, these safety shearers stop the possibility of that happening.
While little training is needed to operate, it is worth noting that staff need to use these properly to reduce any accidents
Tensioner Tool for 13-19mm steel strapping
The tensioner tool is a designed to fasten the strapping at just the right amount to hold the goods and packaging in place and be totally secure during its transit.
These are lightweight and can be used for steel strapping between 13mm and 19mm.
There is other equipment needed to carry out strapping from start to finish however this will be a great addition to your tools.
Seal Free Steel Strapping Combi Tool
This unique tool offers a quick and more efficient way to make sure your goods are safe and secure when they are in transit.
As it is seal free it means that it can decrease the amount of time spent strapping and increase productivity.
The hydraulic system tensioning systems allows for tightening and tensioned restrained whilst the strapping is cut and sealed.
Adjustable Seal-less Combination Tool for steel strapping
This great tool means you can secure your strapping without the use of a seal as it simply crimps the steel strapping together.
This saves you on space and money as you will not have to purchase seals. Not on that but the combination tool works on strapping between 13mm and 19mm.
Mobile Dispenser Trolley for wound steel strapping
Much like previous mobile dispenser trolleys, however this one is designed specifically to take wound steel strapping.
It features an easy dispensing and retrieval system so any strapping that hasn't been used can easily be wound back on and stored conveniently.
Also features a handy tray for tools or seals and rubber tyres to provide easy manoeuvrability.
Steel Strapping/Banding Reels
Used for heavy duty and demanding industrial or commercial jobs such has heavy machinery, wooden boxes or palletised loads. You can choose from 13mm, 16mm or 19mm widths and each reel is at least 335 metres long.
Also great to use on dispensers, and ideal as a starter reel or as a refill.
Metal Seals for steel strapping
These metal seals are designed for use with 13mm, 16mm and 19mm steel strapping, there are 1000 seals per box.
Used mainly in industrial and commercial warehouses and factories.
Sealey Tarpaulin Cord Set 12pc
The tarpaulin cords are great for securing bulky loads or packages.
The cords are colour coordinated depending on strength you need from light weight through to the more heavy duty jobs. There is a set of 12 pieces per pack, and contains: 4 x 310mm cords (550mm max stretch) 4 x 440mm cords (800mm max stretch) 4 x 600mm cords (1050mm max stretch)
Sealey Heavy Duty 130gsm Polyethylene Tarpaulins
For use with providing extra layer of protection on cargo and goods when they are being transporting from point A to point B. These are mould and mildew proofed and is available in green and blue colours.
Also great for gardens, garages, workshops as well as industrial and commercial areas.
So depending on what strapping products you need you can browse the full range of strapping equipment at ESE Direct, and if you did have any questions please contact our customer service team on 0808 163 3704.




Author Bio -
Laura Holland
Social Media and Web Content Coordinator, Jan 2014 - May 2015