Armorgard ticks all the boxes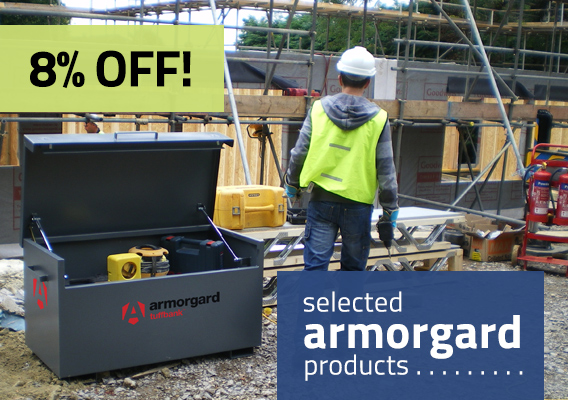 We are lucky to work alongside some great manufacturers, so with 8% OFF selected Armorgard products from now until the end of September 2017, we decided to take a closer look at their range.
Everyone needs secure storage. Tools and equipment are all too easily stolen from sites, workshops and vehicles if they are not kept in a place that deters and defeats the thief. Hazardous substances must be stored safely so they pose no danger in the wrong hands.
Armorgard specialises in the manufacture of secure storage and logistical products, setting the industry benchmark with strict quality control and leading with a reputation for the indestructible.
Every security product we make is exclusive to Armorgard. You won't find the same products anywhere else and you won't find better. That's because from concept and design through to manufacture and servicing it is all the work of our own engineers. Then add to this our renowned value for money and market leading customer service and you can see why we're the UK's brand of choice.
An Armorgard for everyone
Armorgard's product portfolio is relevant to many markets and the uses for our equipment are far reaching. We've built up our products to be strong enough for any environment you give it; so what could you use Armorgard for?
Take just two examples from our product portfolio and you'll easily see why we are the market leader:
Armorgard Tuffbank range
TuffBank™ is our best-selling secure site storage solution. Built to a rigorous specification, these storage boxes set the industry benchmark in quality while also delivering outstanding value for money. Heavy duty steel plate construction and unique Armorgard anti-jemmy technology make the products virtually impregnable to all but the most sophisticated thief. This market-leading multipurpose tool vault offers the perfect balance between cost and best-in-class performance. TuffBank™ is available in 8 versatile sizes.
Suitable for sites and vans TuffBank™ features keyed-alike 5-lever deadlocks both sides with heavy Chubb-style keys, welded security id numbers and 6mm reinforcement. There are unique external and internal anti-jemmy systems and a fully welded continuous piano hinge. Strong gas struts and a safety catch are fitted as standard and conform to industry standards. Powder coating is applied for maximum durability. These main features are shared with many other products in the Armorgard ranges.
Designed and engineered from 2mm and 3mm steel, TuffBank™ has fork skids with fixing slots for easily added castors (except TB1 and TB12).
Armorgard Oxbox range
The Oxbox™ is a medium duty range of tool vaults designed for use where budget is a consideration. The boxes offer a simple and dependable solution for securing your tools and equipment and yet, despite the competitive price tag, there has been no compromising on quality. Oxbox™ shares many of the premium features found on our higher priced ranges, while its unique 'folded' construction delivers outstanding strength. Oxbox™ is available in 6 popular sizes and offers dependable, cost-effective security for your tools and equipment.

Author Bio -
Debs
Content, marketing, social, graphic design and PA to an unusual small red dragon.