As the Scout motto says 'be prepared'. This mantra runs true in respect of bad weather prevention. Here we look at ways to prepare for and deal with heavy rain and flooding.
The UK in particular has suffered a surge of flooding over the past few years, why has flooding has been increasingly prevalent of late? There is no definite answer but a number of factors such as climate change, and increase of property development, old drainage systems which are simply unable to cope with sudden influxes of heavy rainfall and high tides mixed with high winds causing coastal flooding.
So, with the uncertainty of where or when flooding may strike we look at ways of being as prepared as possible for the unpleasant eventuality of floods, at home or within the workplace.
Prevention is better than cure.
A simple way of helping with drainage is to ensure that your gutters and drains are free from, moss, leaves and other debris, this will help to keep water free-flowing and avoid a build-up of water which leads to puddling and eventually heavy bursts of water surging through the drainage systems.
Food waste mashed down the sink, hair washed down the bath plughole, dental floss, facial wipes and other items (goldfish, cuddly toys, lego bricks) flushed down the toilet all add to the misery of blocked water systems. So, the best way to avoid the need to don marigolds and avoid the unpleasant task of getting on your hands and knees with a plunger is simple - don't flush or mash it, bin it!
Dress for the weather and protect yourself as well as your property.
It's important to consider your personal health and safety too, so keep your wet weather gear accessible in case you need it in a hurry. Wellies, BIG warm socks, waterproof trousers and a jacket with a hood along with a nice woolly hat to help retain heat and keep you warm and comfortable.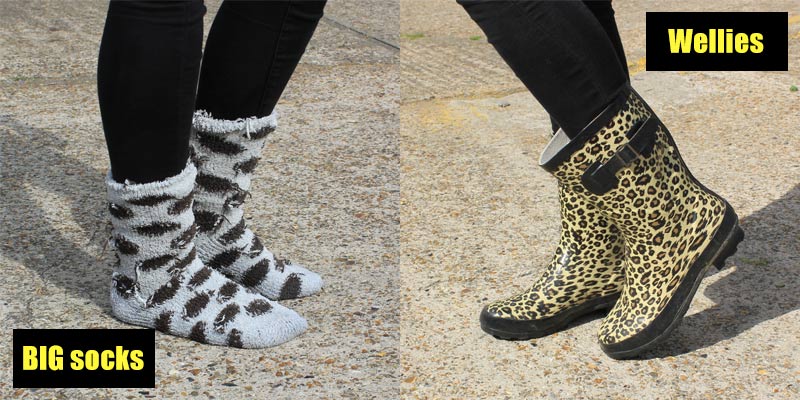 Sandbags as light as a feather (well, almost)
One of the simplest ways of protecting your home or business from a deluge of water is by placing sandbags around the perimeter of your garden, or along front and back door sills, garage doors, patios and conservatories. A fabulous new type of expanding sandbag is available, these are extremely lightweight, easy to manoeuvre and convenient to store. Once in contact with the water, the gel inside them quickly expands, absorbing and storing the water inside. Therefore, they will create a solid barrier, as heavy as regular sandbags within minutes.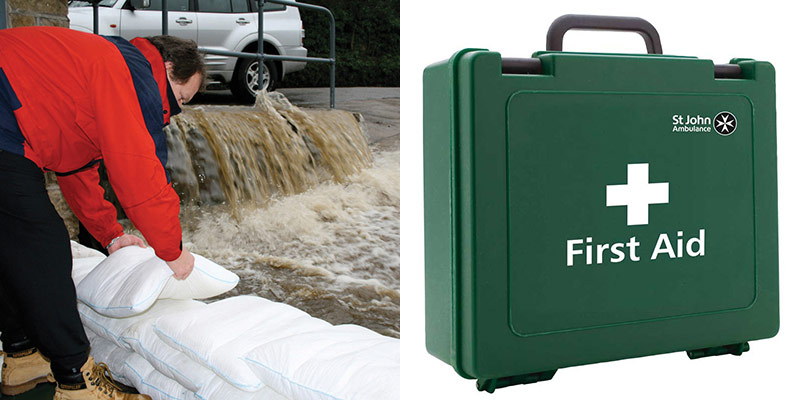 Most of us know that water and electricity are not friends! Know where to kill the power to your mains electric so that you are able to switch it off and negate the risk of electrocution if the worst happens and water does make it into your home or office.
If you live in an area at high-risk to flooding it could be worth storing an inflatable dingy and life jackets, especially for those more vulnerable such as children and the elderly. It's also wise to have a first aid kit to hand which contains antiseptic wipes, bandages and plasters to keep scrapes or bumps clean and free from the bacteria of dirty water.
The clean-up operation begins
This is where the humble mop and bucket comes into its own. Not only is it the obvious choice for drying a wet floor, the bucket is also perfect for catching any drips which may be coming from a leaking roof as a consequence of heavy rain.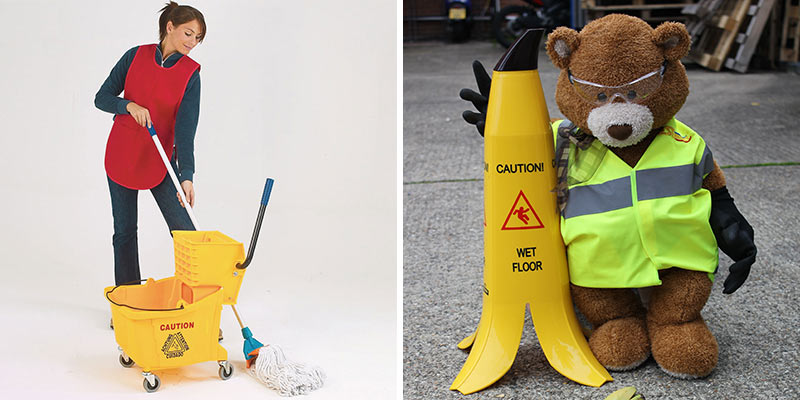 With any wet floor it's essential in an area where people may be walking that cautionary wet floor signs are displayed to advise of a potential slip risks. A particular favourite is the appealing banana cone safety sign.
Great for use in large public spaces such as car parks, barriers and traffic cones can be used to show out of bounds areas where there may hazards such as deep water or debris. Well-suited to more industrial environments, robust rubber cable covers may be used to house hosepipes and protect them from being damaged by vehicles where pumping out procedures are taking place.
An invaluable piece of equipment in the aftermath of a flood is a dehumidifier, they work by absorbing excess moisture from the atmosphere, thus helping dry out walls and floors. Some of the more powerful dehumidifiers can remove up to 70 litres of water a day. That's an average size bath full of water!
Flooding can be extremely distressing, disruptive and at times, life threatening. Always remember to put yours and others safety first before attempting to salvage material items from your home or work environment.
For up-to-date information on flood warnings, sea and river levels, you can visit the Environment Agency website.
Rain - it's great weather for ducks.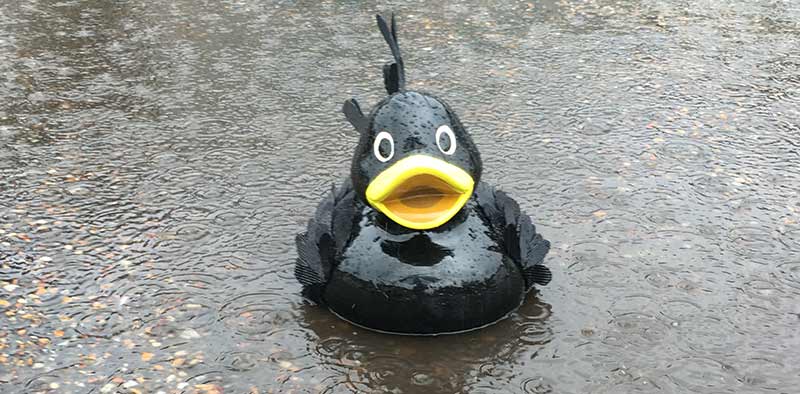 Author Bio -
Debs
Content, marketing, social, graphic design and PA to an unusual small red dragon.