Be Safe, Be Smart - Use a Scissor Lift
If you need to get to a high or difficult place to reach or lift items from or onto a loading bay, using a scissor lift can make it easier and, more importantly, safer. They're mechanical devices that are designed to lift a certain weight, usually no more than one tonne, by one person.
But a scissor lift is more than just a lifting device; they can also incorporate a range of features that helps them be more versatile. They might not sound that exciting, but they make light work of lifting so let's find out some more about scissor lifts.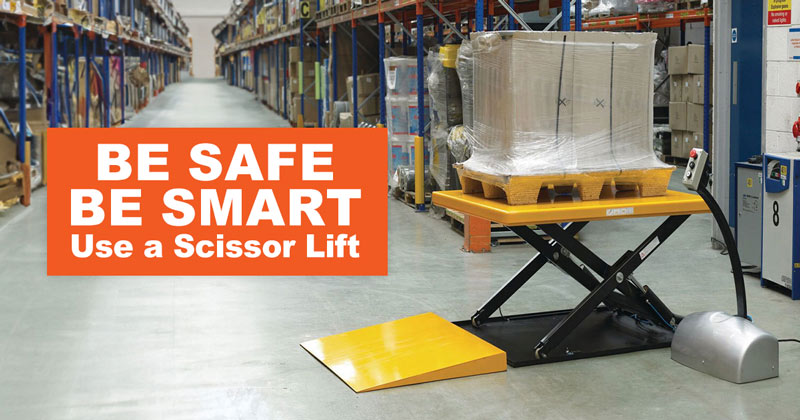 What are scissor lifts?
A scissor lift is a platform used to help move items through a warehouse or to aid you reaching high or difficult to access places. Beneath the platform is a criss-cross mechanism that lifts up and brings down the platform. This is the scissor, which can be powered in several different ways, such as an electric or diesel engine, and it only moves vertically.
Not all scissor lifts are designed equal - some are designed for indoor use only, but there are scissor lifts that can be used outdoors and even over rough terrains.
What types of scissor lifts are available?
Scissor lifts are available in a range of sizes, capacities, power type and use. Here are five of the most typically used types:
Hydraulic scissor lifts: these are powered by either compressed air or an electric motor. They are ideal for use in warehouses and storage locations, within infrastructure projects and construction.
Diesel scissor lifts: these use a standard diesel engine, but they can be noisy as well as emit fumes from the exhaust. Therefore, they aren't that environmentally friendly. However, this type is more powerful and has a larger platform that can take more weight. They are generally used outside, but if used indoors, the area must be well-ventilated and where the noise won't be a nuisance.
Electric scissor lifts: this type uses electric batteries, therefore more environmentally friendly and ideal for use indoors. They are quiet, with no emissions from an exhaust, are more compact and generally have non-marking tyres, so they don't mark or damage floors.
Rough terrain scissor lifts: these are designed for specialist jobs and are usually powered by a diesel engine, which allows the lift to move across rough terrains while carrying heavier loads. They have a high weight capacity, tyres that can withstand the conditions and weight, and extra safety mechanisms.
Pneumatic scissor lifts: these scissor lifts are powered by air, making them extremely environmentally friendly, easy to maintain and clean to use.
How to use scissor lifts
They can be used for a wide range of uses, from inspections and maintenance, warehouse stock management, painting and decorating to construction jobs. Here are some examples of scissor lift uses:
Inspections and maintenance - inspecting warehouse pallet racking, changing lights and other utilities, carrying out maintenance at height and hanging signage.
Stock management - particularly in warehouses, a scissor lift can be used to ensure stock is rotated regularly, moved on and off conveyors or in and out of vehicles.
Signage - in many warehouses, there's often a need to hang overhead signage, which is where scissor lifts are handy.
Painting and decorating - ideal for inside or outside, particularly if there are double-height ceilings.
The benefits of scissor lifts compared to other tools are:
Provide access to heights and places that are difficult to reach more safely. There are plenty of safety devices that can be used with scissor lifts to prevent operators from accidents and falls. But it is also highly recommended that a safety harness is also worn.
They are easy to use as the controls are incorporated into the scissor lift. However, operators must be trained to ensure they are used correctly, and safely.
They are compact and can be used in smaller and narrower workspaces with restricted access.
Many scissor lifts are mobile and, therefore, can be used in different locations on site.
Overall, scissor lifts provide a safer and more efficient way of being able to access elevated heights, or difficult-to-reach places and help avoid accidents in the workplace.
What legislation applies to the use of scissor lifts?
The use of scissor lifts is regulated by HSE's (Health and Safety Executive) Lifting Operations and Lifting Equipment Regulations 1998 (LOLER), legislation that details what an operator and the company must ensure when using lifting equipment. It is supported by the Safe use of lifting equipment: Approved Code of Practice (ACOP) and additional free guidance from HSE.
The regulation specifies that when lifting operations are in progress, they must be:
Planned properly
Used by people who are sufficiently competent and trained
Supervised appropriately
Used in a safe manner
Before use, the scissor lift should be thoroughly inspected to ensure it is safe to use and can do the job it's required to do. Here's our quick risk assessment you can carry out before anyone uses the equipment:
Make sure the platform is moving up and down smoothly
Make sure all guardrails, chains and bars are in place and working correctly
Check the tyres (if there are any) and do not use them if they are damaged
Make sure the area it is to be used in is free from hazards
Always ensure the scissor lift is used in safe conditions, such as the surface being flat and even, that there aren't any gusty winds if used outside, and that it isn't being moved when the platform is elevated.
ESE Direct is a leading supplier of a wide range of scissor lift products. Backed by major European manufacturers and with more than 40 years of knowledge and experience in the industry, we can provide advice and site visits to ensure a suitable solution for your specific needs. Browse our website today or call 0808 258 1107.

Author Bio -
Debs
Digital marketer, social media, content writer, musician, sloth-lover, tea-drinker.