BS EN 179 - In more depth
The BS EN standards are a benchmark for product performance across several areas. Each standard is used to show that the product has passed a series of tests relating to that particular standard.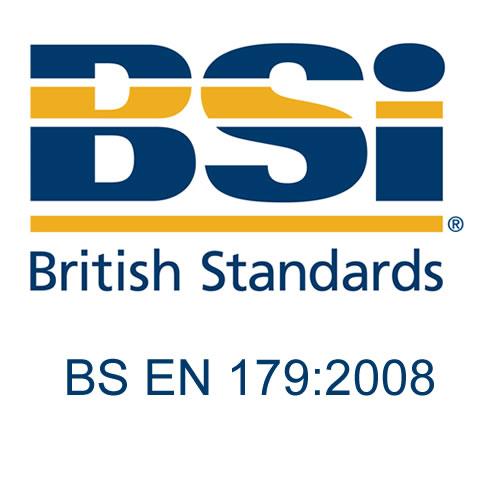 The standards include the following:
BS EN 1906

- The European standard for Lever handles and knob furniture and only applies to items which are used to operate locks or latches.

BS EN 12209

– The European standard for mechanically operated Locks and Latches. It covers both the physical testing of the locks as well as the method of operation.

BS EN 1154

- The European standard for controlled door closing devices, measuring door closure performance.

BS EN 1155

- The European standard for electrically powered hold-open devices. Relevant to electromagnetic door closure. This works in harmony with BS EN 1154, with CE marking mandatory.

BS EN 1125

– The European standard for panic exit devices. This is where a panic device must be fitted where members of the public are present but have no knowledge of the exit or hardware.

BS EN 1935

- The European standard for single axis hinges used on doors and windows.
But the standard we will be focusing on today is
BS EN 179 - which is the standard for 'Emergency Exit Devices'
The testing an evaluation will result in a 9 digit code. Because BS EN 179 and BS EN 1125 are both harmonised under the construction products directive and must carry the CE mark.
Here is a quick guide to how the BS EN 179 classification works. Remember each digit refers to a particular feature of the product which has been measured against the standards performance requirements.
Digit 1 - category of use
Grade 1 - Low frequency use. e.g internal residential doors, high care and low misuse
Grade 2 - Medium frequency use. e.g internal office doors, high use with some chance of misuse
Grade 3 - High frequency use. e.g public doors, little care and high chance of misuse
Digit 2 – durability
Grade 6 - 100,000 cycles
Grade 7 - 200,000 cycles
Digit 3 -door mass
Grade 5 - up to 100kg
Grade 6 - up to 200kg
Grade 7 - over 200kg
Digit 4 - fire resistance
Grade 0 - Not approved for use on fire or smoke door assemblies
Grade A - Suitable for use on smoke door assemblies, based on the requirements of B1 annex B
Grade B - suitable for smoke and fire door assemblies based on a test which is in accordance with EN1634-1
Annex B has additional requirements for emergency exit devices to the grade
Digit 5 - safety
Grade 1- All exit devices are required to satisfy the essential requirement of safety in use
Digit 6 - corrosion resistance
Grade 3 - 96hr (high resistance)
Grade 4 - 240hr (very high resistance)
Digit 7 – security
Products covered by BS EN 179 have the opportunity of greater security than those covered by BS EN 1125.
Grade 2 - 1000 N
Grade 3 - 2000 N
Grade 4 - 3000 N
Grade 5 - 5000 N
Digit 8 - projection of device
Grade 1 - Up to 150mm projection (large)
Grade 2- Up to 100mm projection (standard)
Digit 9 - type of device
Type A - Emergency device with lever handle operation
Type B - Emergency device with push pad operation
Digit 10 - field of door application
Cat A - outward opening single exit doors, double door: active or inactive leaf
Cat B - outward opening slide exit door only
Cat C - outwardly opening double exit doors = inactive leaf
Cat D - inwardly opening single exit door only

Author Bio -
Laura Holland
Social Media and Web Content Coordinator, Jan 2014 - May 2015