At the end of 2013 Nick Clegg promised 150 million plan to allow schools to provide free lunches for four-to-seven year old pupils, which took effect when the autumn term begins in September.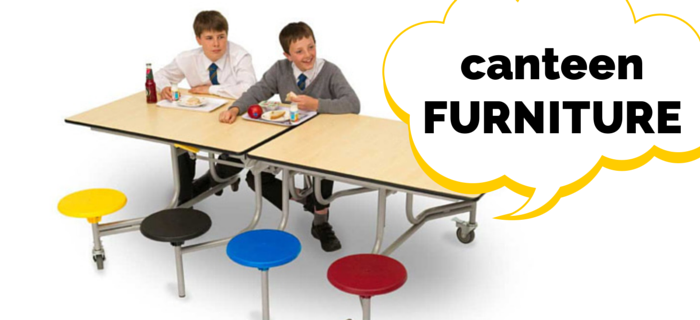 To help with the new government funding we are now supplying a range of canteen (and waiting room) furniture which is ideal for primary schools up and down the country.
You can read more on the Free School Meal funding here.
Folding Units
These unique table and chairs can offer schools a great option if they are tight on, or need to optimise the space they already have.
They are folding table and chair units which can be easily stored and moved if needed as well as bench units, and table units being able to fit through doorways when folded.
They are also available in two different heights for use with Primary and Secondary schools as well as a huge array of colours available meaning they will fit in within your school décor and colours with no problems.
They are fully certified by FIRA and conform to BS EN 1729-2:2006, BS EN 1022:2005 and BS EN 15373:2007.
Canteen Table & Chair Units
As well as the folding units we also have the traditional canteen table and chair units that are seen across most of the country as well as globally.
These fully welded seating units are perfect for canteen or waiting areas. The seats themselves are made out of hard wearing polypropylene and are available in blue, red and black and available in 2, 4 or 6 seat variations.
With a light grey laminated table top it is extremely quick and easy to clean in the event of spillages or splatters.
Beam Seating
This is great for waiting areas or for use with our individual folding or traditional canteen tables.
The beam seating is made from heavy duty polypropylene and is designed to withstand rough treatment (especially in a school environment) and it is wipe clean so any spillages, splatters or muck is easily wiped clean.
They are designed to fit into most spaces and are available in 3 or 4 seat options. The three seat benches measure at 1670mm wide and the four seat version is 2235mm wide (the chairs are 450mm high)
Individual Tables & Chairs
As well as our seating and canteen all in one units we also have a range of individual tables and chairs which can be used both for canteen use or waiting areas.
We also have folding chairs which come in a pack of 8 for series 2000 or 4 pack for series 2600 which offer a versatile and cost effective option, easy to store and move and incredibly quick to clean. These chairs are available in burgundy, blue, charcoal or black.
And finally we have included some comfier seminar/waiting room chairs, you can choose from either a stacking chair (with chrome or black legs) a wooden chair, or a net back swing chair.
Why not have a look at our full range of products for education
If you have any questions regarding our canteen furniture please do not hesitate to give our friendly and award winning customer service team a call on 0808 163 3704, or speak to them online using our LiveChat! Service.

Author Bio -
Laura Holland
Social Media and Web Content Coordinator, Jan 2014 - May 2015