Choosing the Best Bike Rack for You
So you want to park your bicycle? With these bike racks you will be able to park your bicycle where you like.
Folding Wall Mounting Bike Hanging Rack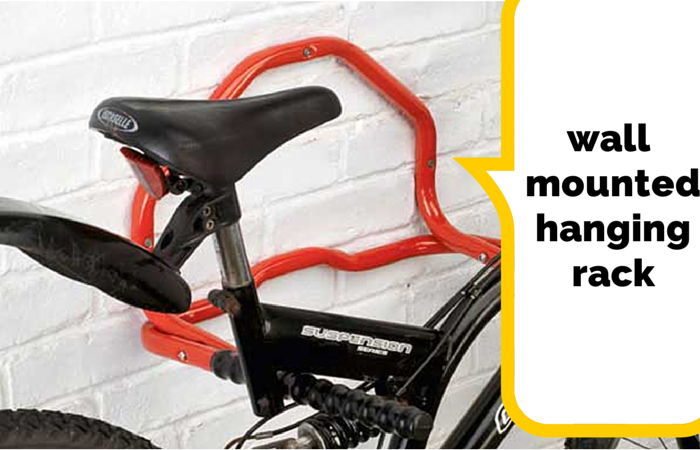 This lightweight and unique bike rack is ideal for small spaces or residential areas. The folding wall mounted hanging bike rack folds up when not in use reducing hazards and increasing the space around it. It has been most popular with people who live in flats or smaller businesses where 1 or 2 of their employees or customers cycle to their premises. As it doesn't rely on tyres fitting, it instead allows up to 40kg weight capacity, as the average heavy duty mountain bike is around 20kg, this rack will have no problems holding up your prized bike.
Semi Vertical Bike Rack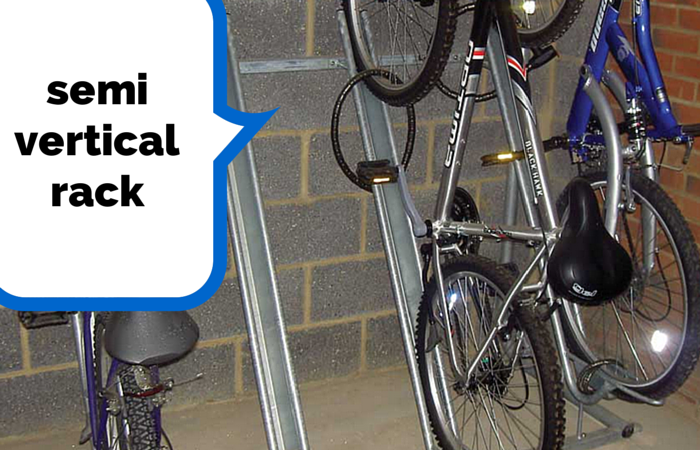 A bike rack that is a little different to the rest available on the market. The semi vertical bike rack not only offers storage for up to 10 bikes but also reduces the amount of floor space that is required so it is well suited premises that has little space to work with but wants to provide adequate storage for their customers, employees or even residents. Because the racks are fixed to the wall and floor and are made of galvanised steel it is just as sturdy as your more traditional bike racks, and can fit tyres up to 50mm.
Floor or Wall Bike Rack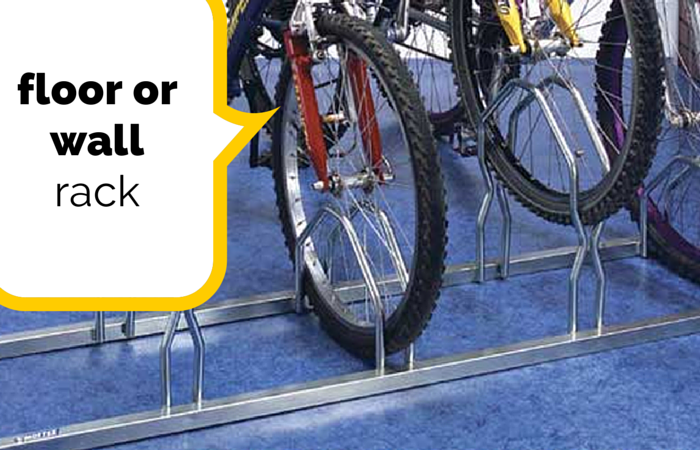 If you are looking for total versatility then the floor or wall bike rack is perfect for the job. This bike rack can be used either freestanding on the floor as illustrated in the picture above, or fixed onto the wall, either way it offers convenient and quick storage of bikes for schools, shops and small business premises for customers, employees and students. These bike racks usually accommodate tyres between 35mm and 50mm and because they are made from galvanised steel you can be sure that they have high durability.
Hoop Bike Racks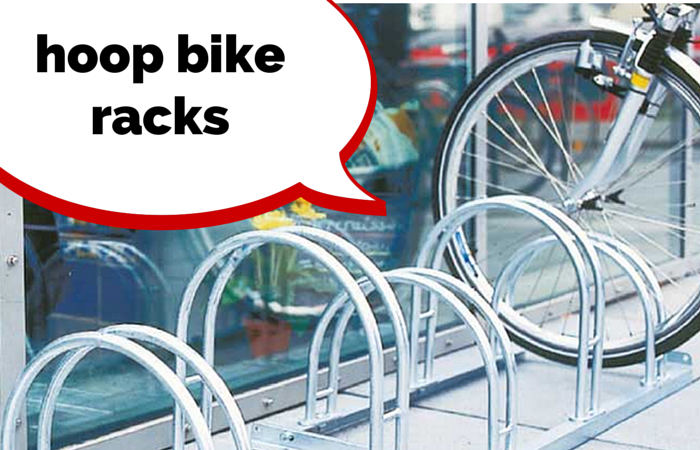 These hoop bike racks are great for sitting outside commercial premises, giving employees a safe, secure and tidy way of storing their bikes without creating any hazards. These bike racks feature a staggered hoop design and are wide enough to accommodate tyre sizes of up to 55mm (you might have to get the tape measure out if you aren't sure). The best thing about the hoop bike rack is that is low-cost with high durability having been made from galvanised steel.
Traditional Bike Rack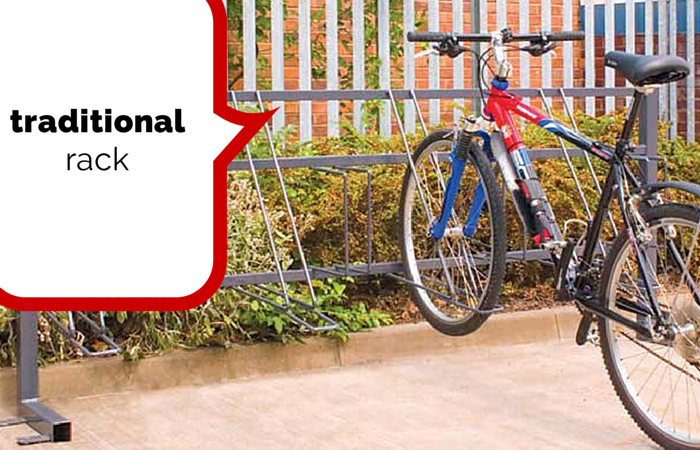 The traditional bike rack is freestanding but can also be used within traditional bike shelters and is ideal for schools, shared residential areas (such as flats) and small businesses or shops. Usually catering for between 6-8 bikes per rack, and can accompany any tyre width, even up to those chunky mountain bike tyres. If you are looking for a no fuss, easy to install, and multi-functional rack then this is the bike rack for you.
It would be remiss of us not to mention solitary bike storage. If you're looking for a simple single bike rack for securely locking just one bike to a wall you might like to check out the best-selling wall-mounted bicycle rack. Quick and easy to install, you can even locate one on the wall in your back garden if you don't have the luxury of a storage shed. Who knew, there's a bike storage solution out there for everyone!
If you do have any questions about cycle storage, contact our sales team on 0808 163 3704

Author Bio -
Laura Holland
Social Media and Web Content Coordinator, Jan 2014 - May 2015