Cigarette bins to save the pitch at Sawbridgeworth FC
As part of our ongoing donations of industrial products to charities we were proud to be able to provide a football club with some Smokers Ceasefire cigarette bins to help keep their football pitch butt-free.

The request for the cigarette bins came to us under sad circumstances, from Cherry Jackson who is an advocate of support group, Survivors of Bereavement by Suicide (SOBS) that she has been attending and raising funds for since losing her daughter, Georgia, to suicide 17th December 2017.
Georgia was 21, studying at Brighton University and was a keen footballer. Cherry said, "To lose my child this way has been devastating, but I have found some solace by continuing to follow my daughter's love of football."
"Last year we held a women's football tournament and family fun day. Over 120 women from all parts of the country came together and played in memory of Georgia, who had played football since the age of eight, including for her University team, Brighton Panthers."
"As part of this day we also raised over £10,000 for a wonderful support group, Survivors of Bereavement by Suicide (SOBS)"
"This group is a charity and exists to meet the needs and overcome the isolation experienced by people who have been bereaved by suicide."
"This year we're planning another Women's football tournament, to be held on 18 May 2019, again at our local football club; Sawbridgeworth Town, where Georgia joined her first women's team, age sixteen."
"We hope to raise funds again for SOBs, but this time we would also like to raise some funds for Sawbridgeworth Football Club, which runs entirely on the support of volunteers, players and spectators."
"Georgia gained so much confidence and her love for football was largely down to playing at her local club."
"We would like to help her local football club continue to offer their facilities and encourage other girls and women to play. "
Cigarettes create litter
Cherry explained that following the football event last year, the pitch unfortunately became littered with cigarette butts, and a considerable amount of time was spent picking them up. Hence the requirement for some cigarette bins.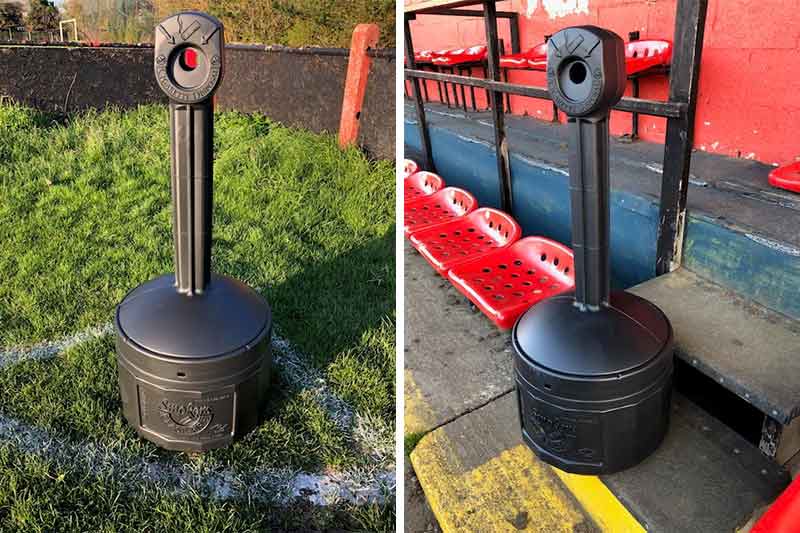 The Smokers Ceasefire bins are different to many, more traditional cigarette bins you see around town. The unusual design extinguishes cigarettes and collects up to a whopping 18 litres of cigarette debris. They're made from polyethylene and easy to pick up, move and empty, so we thought they'd be a great solution for an event such as this.
Cherry said of the bins, "They're fantastic, really great. Thank you so much. Without the generosity of companies such as yours, none of this [would] be possible."
Playing for Georgia
The women's football tournament will be held on Saturday 18th May 2019 at Sawbridgeworth Town Football Club, full information can be found on the Facebook page and event pages:

Author Bio -
Debs
Content, marketing, social, graphic design and PA to an unusual small red dragon.