Cold Room Shelving Systems
There are a range of different shelving systems available for use in cold rooms and walk in fridges and freezers. Cold room shelving needs to be corrosion resistant because of the damp environment.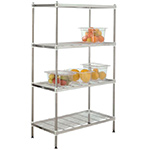 Wire shelving provides high air flow between shelves. For this reason this type of shelving is commonly used for storing fresh food items. Wire shelving is available in a choice of finishes including nylon coated wire or nickel plated chrome wire. Both of these are corrosion resistant. Read more, and buy wire shelving from ESE Direct.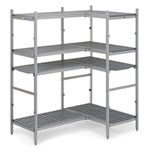 Our aluminium shelving units have a strong aluminium frame with plastic shelf levels that sit on the aluminium shelving. The plastic shelves easily lift out, making these ideal for use where regular cleaning of the shelves is required.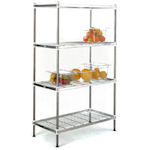 Stainless steel provides an attractive finish in addition to being corrosion resistant. 304 grade stainless steel is used which is effective at resisting corrosion. Read more, and buy 304-grade stainless steel shelving from ESE Direct.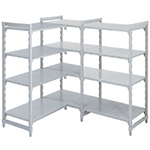 Our polypropylene shelving has a steel core for added strength, however this is protected by a polypropylene outer covering. This shelving system is available with either solid or grille shelves. Solid shelves provide content retention where as grille shelves provide better airflow, ideal for storing fresh food items.

Author Bio -
Simon
Managing Director, 1999-2015.