Designing Warehouse Storage to Make Maximum Use of Space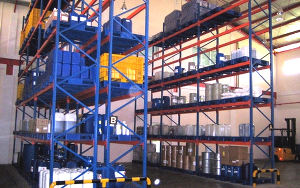 Designing warehouse storage is all about maximising the use of vertical space, and planning to make sure that stored materials can be handled with maximum efficiently. When planning warehouse storage systems it is essential to make the best use of all available space and minimise distances the staff has to travel when order picking. Whenever possible, storage facilities should be designed from the inside out.
Measuring Up
The first step to take before warehouse storage systems can be planned is to determine the space available for storage. When designing warehouse storage areas it is essential to first obtain accurate measurements of the building, but you must think in volume rather floor area. It is usually much more cost efficient to build upwards.
The simple calculation of volume is: length x breadth x height; however this will only provide the total volume of the building, not the volume available for storage. You must also calculate the clear height, which is the utilisable vertical space including clearance. To do this you must take into consideration any permanent structures which will impede the use or installation of warehouse shelving and racking systems.
Calculating Storage Requirements
Your storage requirements will have a major bearing on the best warehouse shelving and racking systems to use, together with the most efficient layout. Storage requirements often fluctuate seasonally, and periods of high volume and high turnover must be taken into account when planning storage needs.
When you have calculated your storage requirements, you can decide on how tightly you will need to store items and how many levels will be necessary, after which the type of racking systems can be selected.
It may be cost effective to build higher and to purchase mechanical handling equipment than to use floor space, which can be left open to help future proof your warehouse facility to allow for expansion and new product lines.
Conduct a Storage and Stock Movement Analysis
When calculating storage requirements it is important to also conduct a movement analysis. Goods which are received and rapidly shipped, especially in bulk, should be located as close to the loading dock as possible. Low turnover items can be stored at the further reaches of the warehouse. To ensure your storage facility can operate at maximum efficiency, a thorough analysis of all stock should be conducted to ensure that all materials can be stored and handled efficiently.
Large storage areas are usually more efficient for storage and loading, although they can slow down order picking considerably. Consider designating an order picking area where goods can be stored in small quantities for ease of assembling orders, while bulk storage can be located in an area to speed up the unloading of deliveries.
Assess Manual Handling Equipment Needs
Manual handling duties should be kept to the minimum level to reduce the stress, fatigue and the risk of accidents and injuries. It is essential to provide sufficient warehouse trolleys, sack trucks, platform trucks and other mechanized moving equipment to allow staff to maneuver goods in a good ergonomic position. This can also limit the need for forklift trucks in areas with high pedestrian traffic.
High Density vs. Low Density Storage
High density storage maximises the use of floor space and is typical of busy warehouses with a very high turnover of stock and high storage requirements. High density storage is less well suited when the storage needs are low, and there is a low turnover of stock and when orders are primarily picked by hand.
Low storage requirements may only involve pallet racking and simple shelving systems, with goods moved manually with hand carts and pallet trucks. Order picking areas can be easily designated and stocked, with overstock located in another area of the warehouse.
High storage requirements demand the most efficient use of space, and floor to ceiling racking and shelving systems can be designed to suit specific storage needs. High density packing of materials with narrow aisles makes the most efficient use of space, although manual handling equipment, fork-lift trucks and narrow aisle trucks may be necessary for ease of handling goods.
Choosing the correct system depends on storage needs, stock turnaround times, staffing levels and the level of automation of order preparation.
Which Storage Systems to Use
Pallet Racking
Palletised goods require specialist racking systems to support high load weights. Pallet racking typically allows up to 5,000Kg to be stored per level, although industrial scale systems can be custom made to support larger loads. Pallet racking systems can also be converted to multiple uses with a number of accessories, decking and shelf panels. For large scale storage needs, heavy duty pallet racking systems can be installed. Adjustable pallet racking beams can be purchased to order and can be configured to suit virtually all storage requirements. Typically racking beams are sold to house standard 1.2 wide x 1m deep pallets, and are 2.7m wide x 900mm deep as standard. The height of the beams is dictated by pallet height plus 75mm-100mm clearance and the number of levels required.
Mezzanine Floors
Mezzanine floors are freestanding structures which can be used to create additional floor space from air space, allowing for storage on multiple levels and the incorporation of staff amenities and offices. Mezzanine floors can be constructed up to three levels, from 2 x 2m to over 60x40m in area. Mezzanine flooring is better suited to storage facilities requiring manual order picking, or when staff amenities need to be incorporated into the warehouse design.
Vertical Racking
Vertical racking is a convenient choice for storing lengthy items, which takes advantage of vertical space rather than using valuable floor space. Vertical racking is ideal for lengths of timber and pipes, while sheet and board racks make maximum use of space while still allowing easy access of materials. Sheet and board racks are also idea for retail outlets and warehousing where customers pick their own orders. Many vertical racking systems can be easily adjusted as needs demand to suit items of various lengths.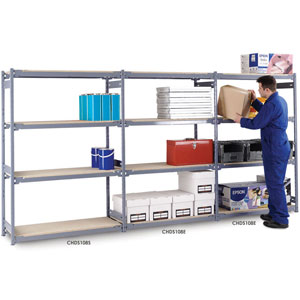 Cantilever racking
When long items need to be stored, in particular bulky and heavy items requiring loading and unloading using mechanical handling equipment, horizontal cantilever racking is the best choice. Cantilever racking is best suited when items of varying widths need to be stored. The cantilever arms allow easy access by lift truck and can be wall mounted or free standing.
Longspan racking
Longspan racking is a simple and cost effective method of storing light to medium loads, with a capacity of up to 780kg per level. Sheet metal and plywood shelves can be chosen depending on environmental conditions and storage requirements, with uprights set at intervals of between 1.2m and 3.0m.
Longspan racking makes good use of vertical space, and is ideal for large and bulky non-palletised goods. Longspan racking can be easily installed against a wall or as freestanding units, with shelves easily adjusted to suit individual storage needs.
You may find our section on products for the warehouse useful

Author Bio -
Laura Holland
Social Media and Web Content Coordinator, Jan 2014 - May 2015