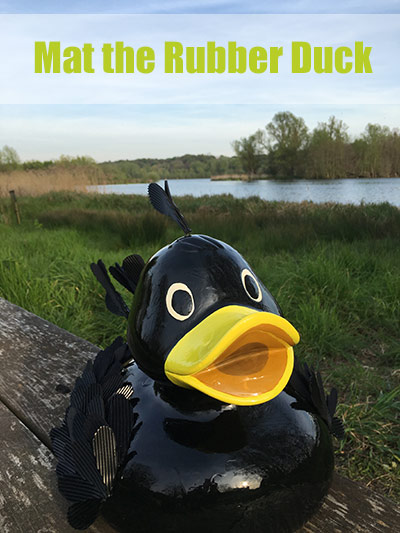 Meet Mat the Rubber Duck. He will be taking part in the Grand Norwich Duck Race on Bank Holiday Sunday, 26th August 2018.
Due to its popularity the duck race is now in its 6th year and hundreds of oversized rubber ducks will be paddling down the River Wensum in an attempt at taking the crown from current reigning corporate duck champion, Black Swan. Each large rubber duck is sponsored by a business based in Norfolk, there are already quite some characters ready to hit the water!
There will also be a 'small duck' race, where literally thousands of duck which have been purchased by individuals by way of a raffle ticket will be swimming their way to victory - with some great prizes up for grabs for the owners of the ducks making it across the finish line first!
The duck race is run by Break Charity. Break does an amazing job providing children's homes and support for vulnerable young people and their families across East Anglia. Thursday 13th September 2018 will see the corporate ducks auctioned off with all proceeds going directly to Break Charity. More information about the duck race can be found here on Break's website.
Following his duck transformation, Mat is becoming quite the duck about the city. He can often found waddling up to networking events such as Social Media Hub and Norfolk Tweet Up.
The Quackground...
Mat waddled over to live with us back in December when the lovely Sarah Bunn, Senior Fundraiser for Break Charity dropped him off. He wasn't quite the duck he is today, he was looking decidedly yellow.
So, we needed to give him an identity. What better way than with the help of one of our best-selling industrial products – rubber matting – and hence, Mat the Rubber Duck was born.
---
Look out old Matty is Back! - 16th July 2018
Returning for his third season, Mat will once again be paddling along the River Wensum in an pursuit of victory, to be the first duck across the line at Fye Bridge. If last year's race is anything to go by it won't be a speedy affair, and depending on the current, it's entirely possible that a few of the less strong swimmers may head up-stream! But, this all adds to the laughter and fun of the day, which most importantly, raises funds for Break charity.
Mat was a happy quacky to feature with some of the other rubbery entrants and their PA's, in the EDP newspaper, following a photoshoot at The Ribs of Beef public house. The Ribs of Beef are the main supporters of the Grand Norwich Duck Race.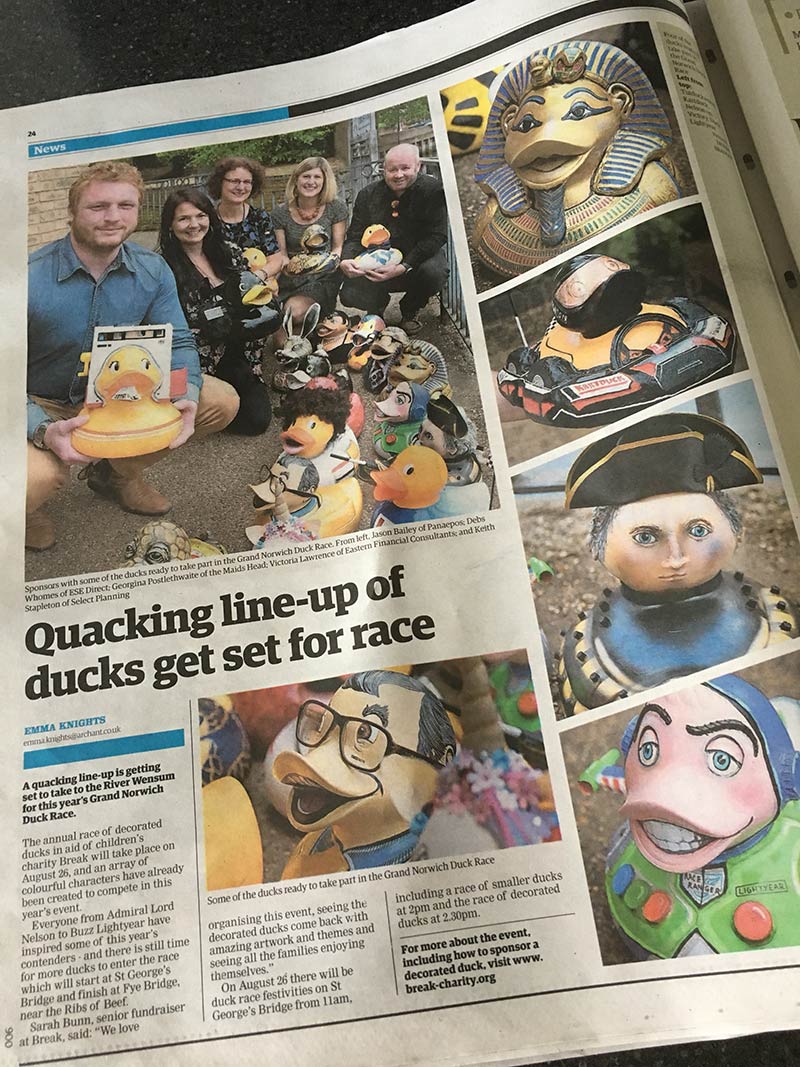 Mat the Rubber Duckling hatches! - 2nd November 2016
Meet Mat's Mini-Me! Mat the Rubber Ducking has finally hatched and he and Mat have bonded and become firm friends. Mat Junior will be joining Mat on his adventures, and we heard on the grapevine that he will be waddling out solo to the big smoke tomorrow! Watch this space for further news!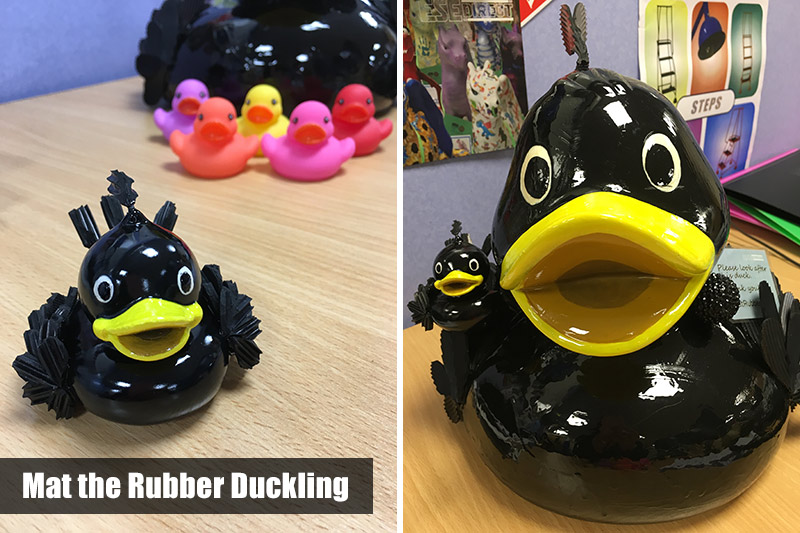 The morning after the night before - 9th September 2016
Drum roll…. Mat is back in the building! To great cheers Mat has waddled back to stay with us and raised £100 for Break Charity in the process. What a fabulous evening the duck auction was. Elliot Simmonds, auctioneer, was in charge of the gavel and with his humour and wit, got the crowd whipped up with excitement and throwing their duck-themed voting paddles into the air. With just shy of 100 ducks sold, the auction raised a whopping £8200.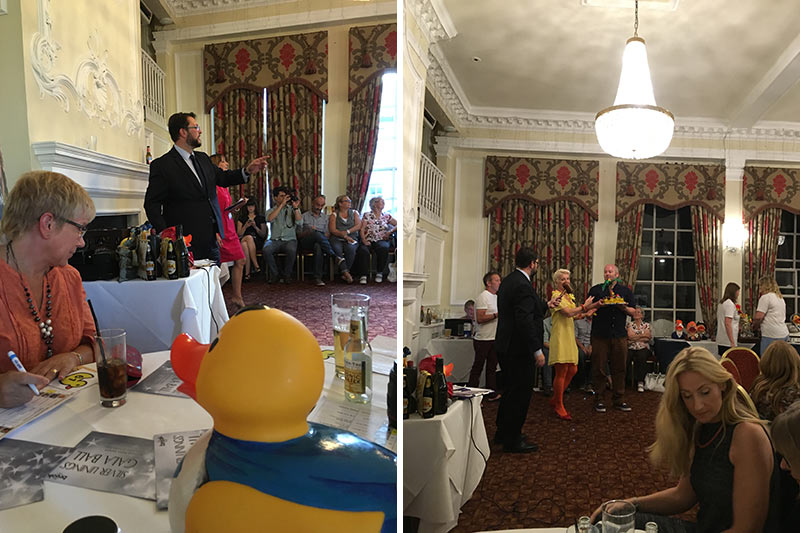 What a great event the duck race has been, not only has it raised an incredible amount of money for charity, many friendships both duck and human have been formed and long may they continue.
It's Auction Day - 8th September 2016
For the past few days Mat has been, along with the other corporate ducks, in the very capable hands of Break Charity. Any ducks who may have suffered a few scrapes and bumps during the race have been expertly tended to by Sally Adams, AKA 'The Duckorator' to ensure that they are in tip-top shape for the auction. Meanwhile, Mat's PA Debs, Break's Senior Fundraiser Sarah Bunn and volunteer Cat, donned their marigolds and got scrubbing thousands of the little yellow ducks which were covered in reeds and general River Wensum greenery!

So it remains to be seen where Mat will reside following the auction. All will be revealed here tomorrow.
Race Day - 28th August 2016
Wow, what an amazing atmosphere there was as more than 100 ducks lined the pavement of St George's Bridge. The sun shone and crowds flocked to admire the wealth of talent that the charming decorated ducks displayed. Mat's glossy coat glimmered and he was having a great time with his chums smiling for spectators as they snapped away with their cameras. The fantastic staff from Break Charity ensured the ducks' were comfortable at all times! First to hit the water were the little yellow ducks, individually numbered , they created a wonderful yellow waterfall as they dived into the river from the bridge.
The best was however, yet to come.
Enter, all large rubber duckies! Helped into the water by Norfolk Paddle Co. they huddled in a paddling before being set free to great cheers from spectators. Getting off to a steady start, it was QuacksReturnsFor£50 who was first to escape the brace, but he came a cropper, turning a tad too quickly he toppled over and got a rather soggy pink mop of fluffy hair! He wasn't the only entrant to suffer from a wobble, Jay-Peg spent almost the entire race swimming the side-stroke, poor old Quacktain Mainwaring and the duck formerly known as Quince also blew a few bubbles!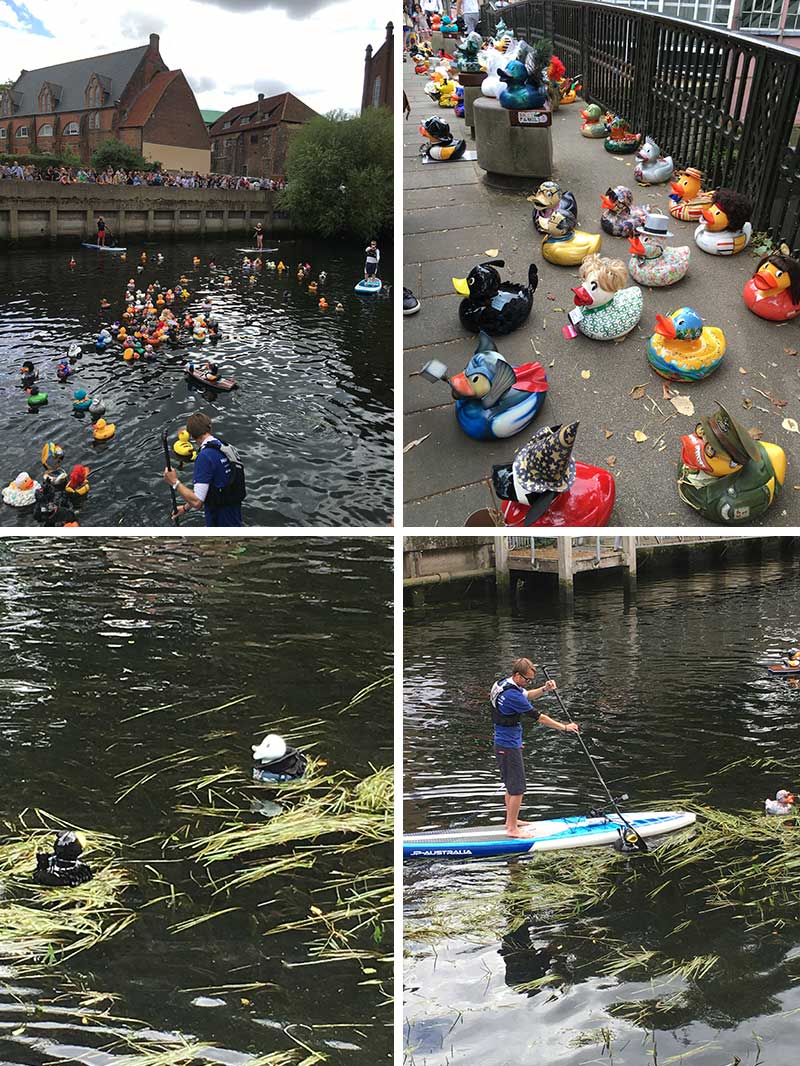 It looked to be a two-duck race between The Hoff and Inspired Duckaroo but the current struck and they headed off into the reeds! Spotting an opportunity, Queen Bouducka, sponsored by Iceni Magazine, sneaked in at the last moment and made it first across the finish line, closely followed by Pikachu duck who took second place and with the bronze medal going to Mat's good friend H8chi, resident at The Business Rooms No.8 Thorpe Road.
But what happened to Mat? Well, he spent much of the race paddling backwards, when he did manage to spin round he headed direct for the reeds, having not trained for such reedy conditions our poor little chap became a rather stuck duck. His pretty girl WPC Ducasa had been and patrolling the river on her Police Duck Boat complete with blue flashing light and somewhat stole the show! How proud Mat was of her, however she did bypass him rather when he quacked for her to rescue him from the reeds, there were simply too many ducks for her to police and she failed to spot Mat in distress! Fortunately he was rescued by the lovely paddlers from Norfolk Paddle Co and taken safely to the shore.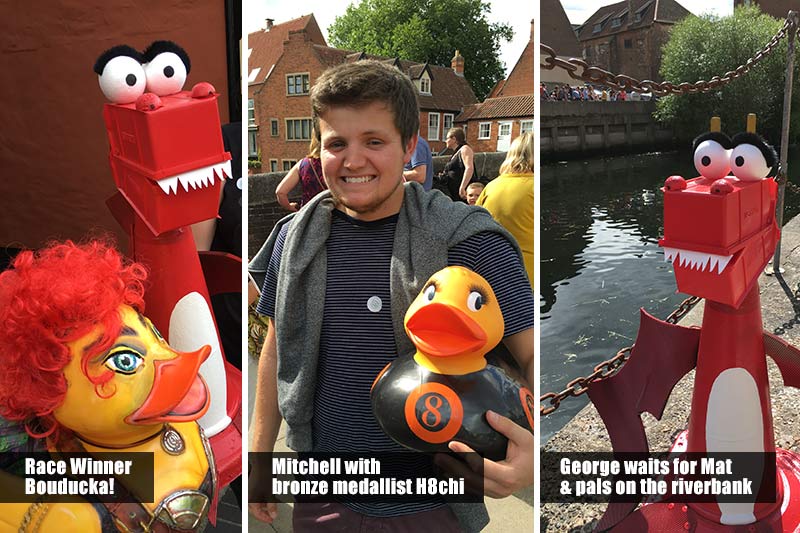 There were some delicious refreshments available including fabulous hot dogs by Archers Butcher's, creamy Ronaldo's ice cream and of course adult refreshment courtesy of the Ribs of Beef Pub. 'The Orctioneer' Elliot Simmonds did a sterling job as commentator for the race, he will also be presenter for the evening at the duck auction which takes place at 6pm, Thursday 8th September at The Maid's Head Hotel in Norwich. It looks set to be a busy occasion so get there early to grab your seat!
Ducks on Parade
The ducks will be on parade from 12 noon, with races commencing at 2pm on Sunday 28th August 2016. Ducks will swim from St George's Bridge by the Playhouse Theatre to Fye Bridge by the Ribs of Beef pub. We'd love to see you there, Mat's PA and his mate George Dragon will be there, if you spot them, do come and say hello!
Final race preparation - Spin Class
Ducktails at Gonzo's – 24th August 2016
Never before has there been such a large gathering of ducks in a bar (probably). It was Ducktail night and many large rubber ducky and their PA's had got together at Gonzo's Tea Room in Norwich to talk all things ducks, prior to Sunday's duck race. Iceni Magazine's Queen Bouducka arrived on her chariot, Mama Duck came with her babes in tow and Duck in the USA got a little overheated and smashed his guitar, he's so rock n roll! However, the majority of the quacky chappies were chauffeured by Break Charity's wonder woman, Sarah Bunn. Mat was so happy to meet up with his cute girlie duck, WPC Ducasa Duck that we hardly heard a quack out of him all evening.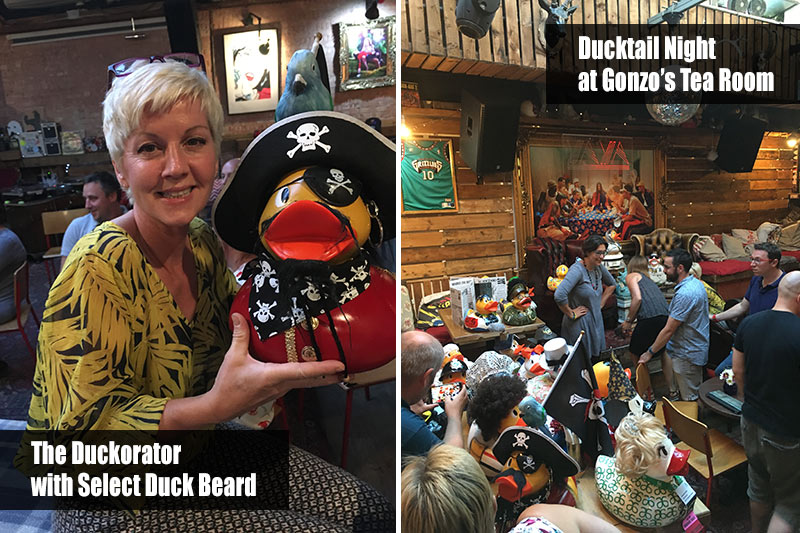 The Duckorator, Sally Adams was in residence. Responsible for creating 18 (yes, 18!) , gorgeous ducks including Scrooge McDuck, The Quacktue of Liberty, Fork & Handle, a pastiche on the comedy greats The 2 Ronnies, Quince Duck, sponsored by Epic Sounds Disco and House Duck, we bow down to her greatness! Special guest was of course, 2014 & 2015 race winner Duck Quackenroe, Mat asked him for some tips and techniques on how to cross the finish line first, but he was keeping them strictly under his perm.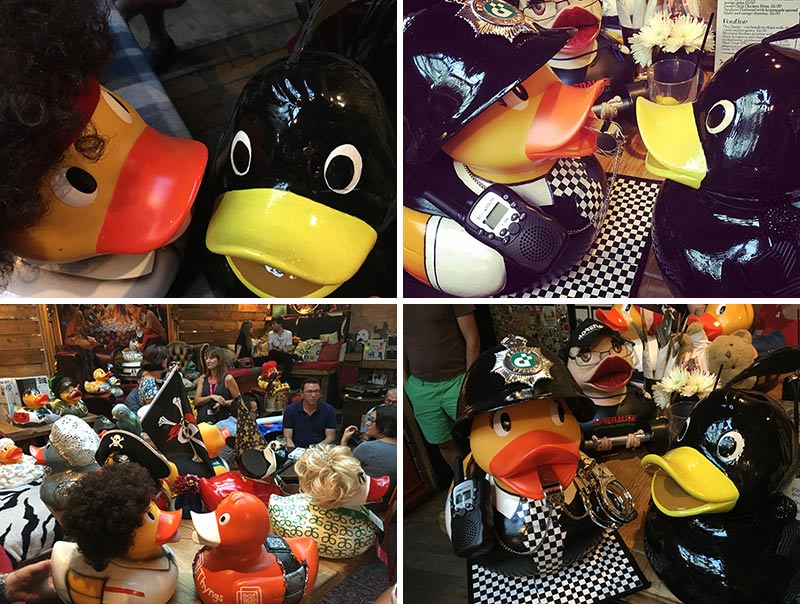 Grand Norwich Duck Race training - Episode 4: The Gym - 22nd August 2016
Powering on with his fitness regime, Mat was a very lucky ducky and allowed to use the facilities at Nuffield Health and Fitness in Norwich. So, having dragged his PA out of bed bright and early on a Sunday morning, he started off with a spot of rowing. Moving on to the treadmill, this proved a tad tricky for Mat who kept duck-launching off the end! He quacked that it was great practice for the launch into the River Wensum! He got a little too involved with the step machine and jumped off mid flow and managed to get wedged underneath, it's a good job he's a robust little ducky! Balancing on exercise balls, lifting dumbells with his beak and pulling weights were no match for our powerful rubber ducky! But his favourite was the power plate - it made his feathers wobble!
Grand Norwich Duck Race training - Episode 3: The Skate Park - 16th August 2016
With less than two weeks to go until the big race Mat is really ramping up his training. This week we found him at Mousehold Heath Skate Park. It was a hot sunny day for one so rubbery. Some of the slopes were proving quite a challenge for such a small duck, yet Mat skated like a pro learning a few tricks along the way. Perhaps unintentionally, Mat definitely mastered the art of the duck commando roll! He returned home with a few scrapes and wonky feathers. Fortunately his PA was on hand with the healing super-glue, which is of course, a rubber ducky PA's essential!
Grand Norwich Duck Race training - Episode 2: The Boating Lake - 10th August 2016
It's just 18 days to go until Mat and many other large rubber duckies hit the River Wensum and battle it out to be first to paddle across the finish line. So, Mat is upping the ante with his training and took to the boating lake at Eaton Park in Norwich. Kicking off with a splash while his Matlettes looked on, they were a little surprised to be nuzzled by a passing dog, Mat quickly paddled back to the edge to ensure their safety. Panic not, all was well and Mat was happy that Pablo the dog was a friendly furry fellow. Woof.
Grand Norwich Duck Race training - Episode 1: The Swings - 5th August 2016
Mat is taking his responsibility of representing ESE Direct in the Grand Norwich Duck Race very seriously. Determined not to let Duck Quackenroe claim the top spot for a third time, Mat has been putting in a spot of training out of the water.
A catch up at the cricket ground - 2nd August 2016
Mat headed out of the city and to the coast with his duck pal from ABC Taxis. The pair waddled down to the cricket ground at Denes Oval in Lowestoft where they enjoyed watching the game. They also put in a spot of swimming training in the sea, unsure about the salty water they stayed pretty close to the shore! Whilst perched on a groin, taking in the view a large seagull soared overhead and squawked "watch out for the large windmill thing boys, take your head off that one would!" Thanks for the warning Mr Seagull! The windmill to which he was referring was the wind turbine, Gulliver, seated at Ness Point, the most Easterly place in Britain.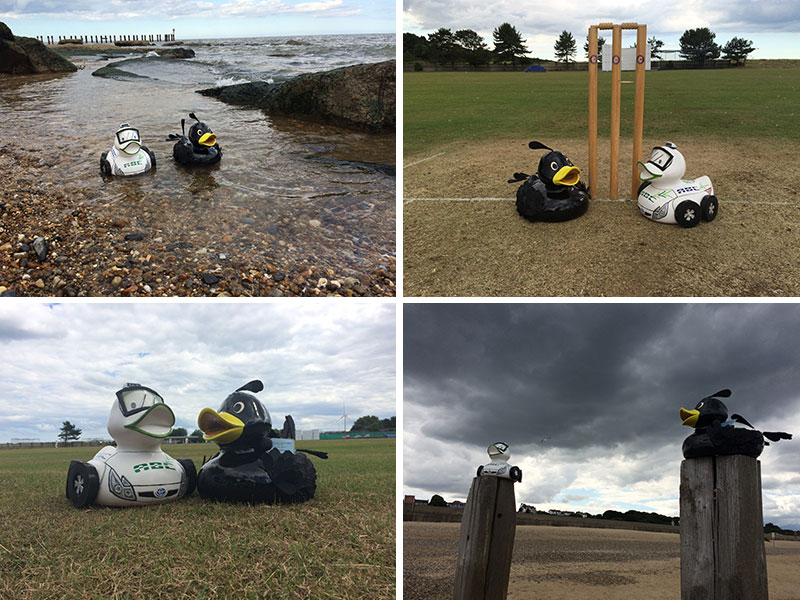 Paddling pool party at No. 8 Thorpe Road - 1st August 2016
With his PA unavailable for a few days, Mat took a trip to his friend H8chi's house. Not a stranger to No. 8 Thorpe Road, Mat had a wonderful time splashing around in the paddling pool. Always partial to a picture or two, he enjoyed posing with his pals especially when even more of his duck mates popped in for the Norfolk Tweet Up creating a particularly packed paddling pool! He also put in a little padding practice, as it's not long now until he hits the water of the river Wensum!
Lunching on the Green - 13th July 2016
What a treat for Mat to attend such an auspicious occasion as The Lunch on the Green. It's an annual networking event for Norfolk-based businesses, hosted by Clapham and Collinge Solicitors with Bright Yellow Marketing with proceeds to Norfolk young person's charity, Break.

Mat and his friend H8chi duck who usually nests at The Business Rooms No 8 Thorpe Road weren't the only attendees of the waterfowl nature, many of his fellow feathered friends were also lapping up the attention. They'd all nested by the hot tub and had a great view of the beautiful Rolls Royce presented by Silverline Limousines and the super-smart Lamborghini Aventador showcased by Epic Studios. What a very lucky ducky he is.

Ducks set off on road trip to The Royal Norfolk Show - 27th June 2016
Mat was invited to join some of his duck friends at the Royal Norfolk Show this week. So, his, and the other duck PA's got together at the Holiday Inn Norwich North to combine ducks transportation seeing as they are not yet old enough to waddle along on their own. Whilst at the hotel, they caught up with an old friend, Archie, the Air Ambulance GoGoGorilla, he didn't appear to mind being surrounded by ducks too much!

Mat was particularly enamoured to finally meet up with his girl, WPC Ducasa Duck. Just how cute do they look?!

You'll find Mat and his fellow feathered friends floating around the hot tubs of Norfolk Spa and Leisure at the Royal Norfolk Showground on Wednesday 29th and Thursday 30th June. He'd love to quack to you and be super pleased to have a selfie with you so please to drop by and say hello!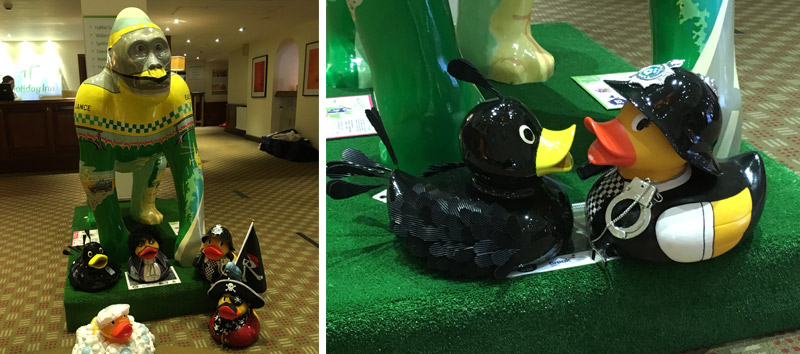 It's a quack up! - 16th June 2016
So, our lucky ducky was city-bound once more. Off he waddled to June's Norfolk TweetUp. It really is becoming quite an event for him and his duck chums, with a gaggle of seven ducks in attendance. Mat was particularly enamoured by this month's venue. Gonzo's Tea Room boasted a host of comfy cushion clad seating, coffee, cakes and conversation! He's requested that his PA lets him return to the welcoming city haunt as he'd be very happy to nest there with his pals and quack up over a coffee.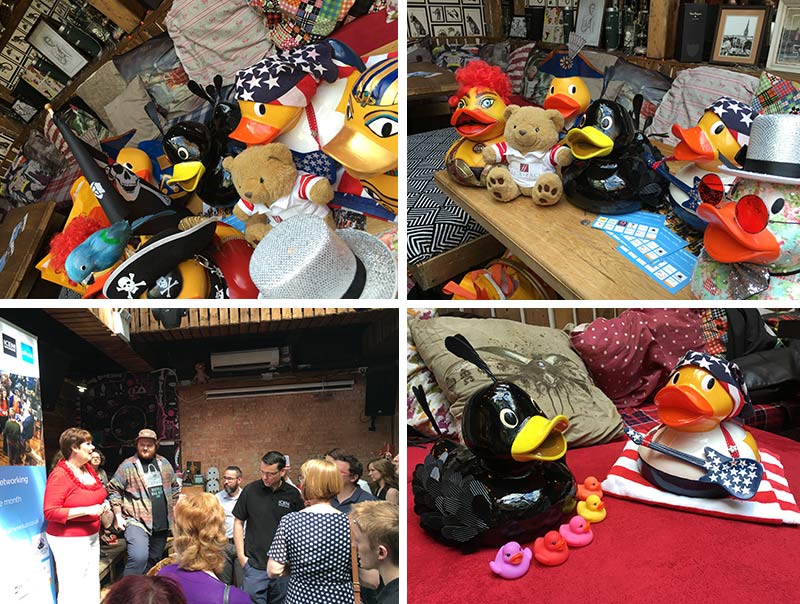 The Great British Summer - 13th June 2016
It may be rather unseasonal, or perhaps not so much these past few 'Summers', but Mat thinks all this wet British weather is just quacking! As they say, it's perfect weather for ducks!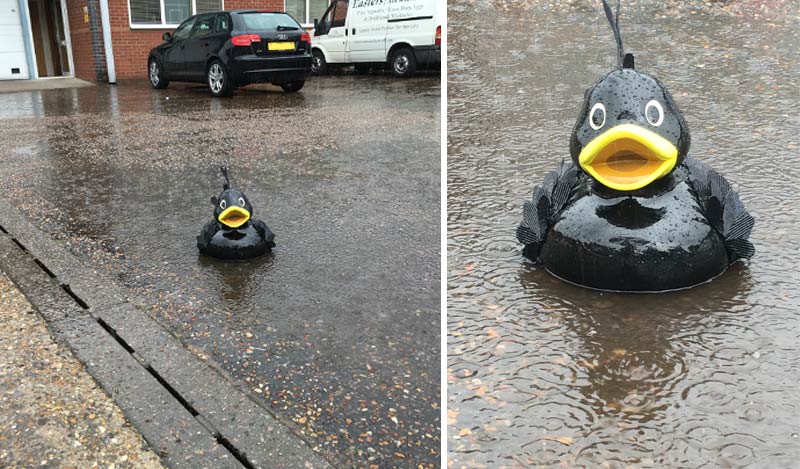 Bubble bath fun - 9th June 2016
Mat thought it was about time he gave his Matlettes a little water training prior to duck race. So, within the confines of a hot bubbly bath he and the girls practiced paddling in the bubbles. In hindsight, super-soapy bubbly baths when you're a really rather tiny duck can prove a little challenging. So, with his girls starting to submerge Mat quickly took action and scooped them up onto the safety his rubbery feathers. Just for fun he took his girls for a spin, they were quacking with delight, except poor Ruby Matlette who took an unintended dive, yikes!* Duck overboard! *It's ok, we rescued her!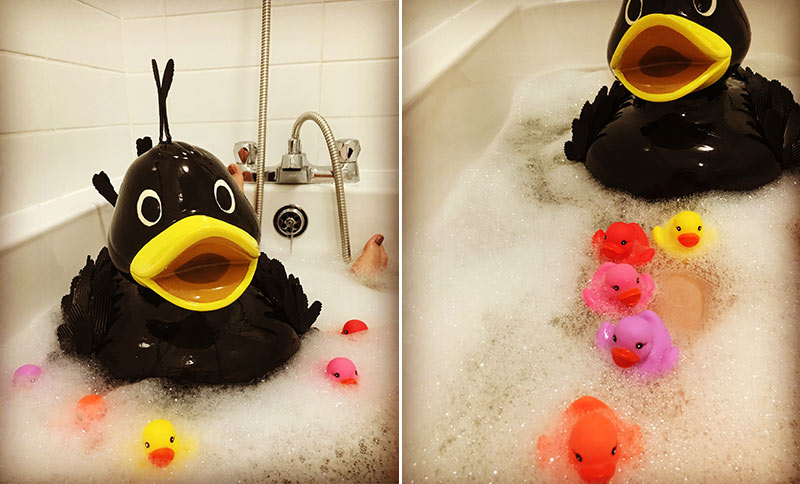 Mat gets 'on brand' - 24th May 2016
It was time once more for another trip to Social Media Hub at No 8 Thorpe Road. Mat and his Matlettes again travelled E.T style with his PA Debs on her bike, he even got a little over-excited on the bumps of St Benedict's Street and shed a tail feather along the way! (Don't worry it was collected from the kerbside!). So, our rubber ducky and his duck friend H8chi Duck had an extra treat today as special guest and The Queen of Brand, Sophie Jewry was in residence and provided a very informative session on branding. Not in need of a rebrand, Mat is more than happy being glossy and black, which apparently promotes authority, luxury and power, amongst other things! He's returned back to his nest one happy quacky.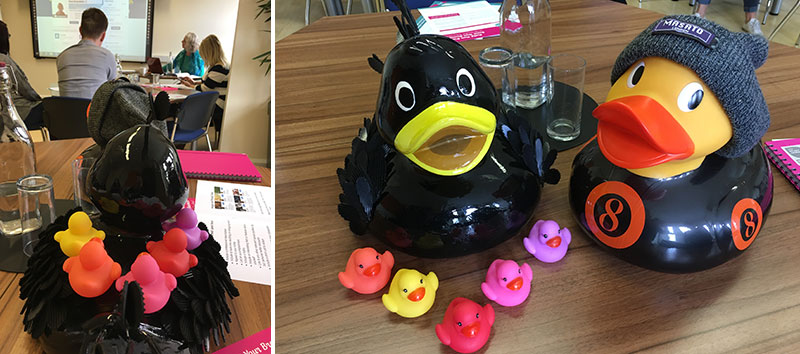 Mat takes a waddle to Whitlingham – 23rd May 2016
The sun was shining, it was a beautiful evening so what better time to take a trip to Whitlingham Broad? Mat adopted a rather unusual method of transport by way of riding E.T style in his PA's cycle basket, but she ensured he was safe and comfortable by way of a blanket. It was a bit of a bumpy ride around the lake and Mat had a whale of a time checking out the rippling water and hiding in the reeds. He even spotted some passing canoeists paddling along the river and the Abellio Greater Anglia train chugging past. Poor little chap was exhausted by the time he'd made it the 2 miles around the broad, but he still had some time left to say hello to the cute little lambs.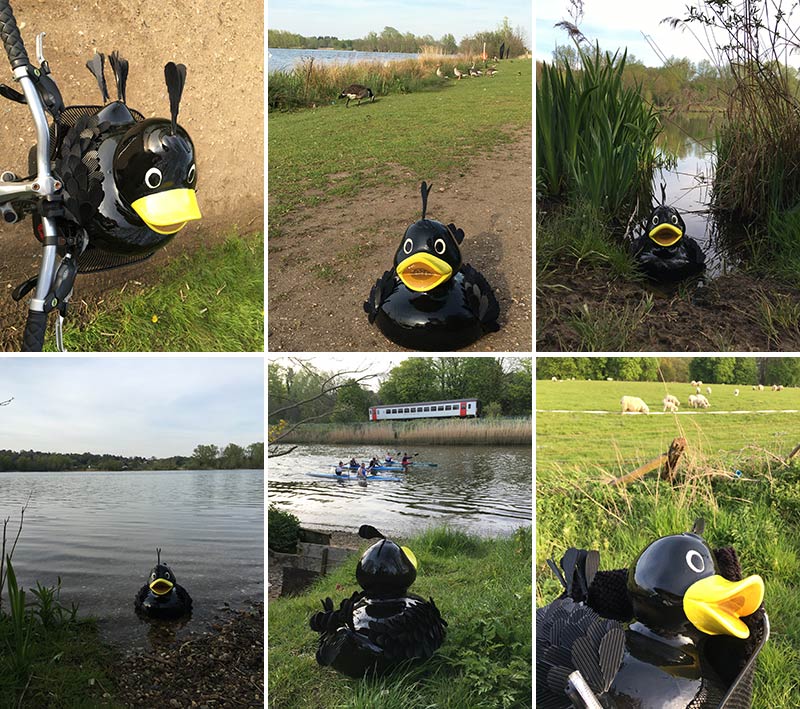 An assembly of ducks (and humans) at Norfolk Tweet Up - 19th May 2016
Time once more for a Tweet Up, or should that be quack up?! Mat paddled along to the beautiful 19th Century Assembly House Norwich. Other ducks in attendance were Duck in the USA, Loved Up Duck, Queen Bouducka, Beaky Blinder and Wipeout Duck. Eddie Teddy from Face to Face Finance tagged along too, he'd attempted to disguise himself as a duck but his furry exterior was a bit of a giveaway. Sorry Teddy! So, not content with the stunning surroundings of the Noverre ballroom, Mat and his feathered friends fancied something rather more familiar; a dip in the fountains. Mat's fabulous five, The Matlettes, joined him in the water too. What fun!
Grand Norwich Duck Race competitors take to the fountains to practice
Time for a Tweet Up – 21st April 2016
Once a month businesses based around Norfolk that are used to communicating on Twitter get together for a Tweet-Up. This basically provides the opportunity for putting a face to a name and building business relationships. Oh, and it usually involves tea and cake too! So, being the sociable duck he is, Mat waddled into the city and to The Benjamin Foundation, hosts of the April Tweet Up and met up with some of his fellow feathered friends. There was much networking. And cake.
Mat waddles on down to Social Media Hub with Chris & Sara Greenfield – 26th April 2016
Never one to miss out on catching up with his buddies, Mat tagged along with his PA, Debs to Social Hub. The hub is held at The Business Rooms at No.8 Thorpe Road, and whilst Debs learned about social media strategy, Mat sat and enjoyed coffee and a catch up with his fellow duck race pal, Duck in the USA. It's a ducks life.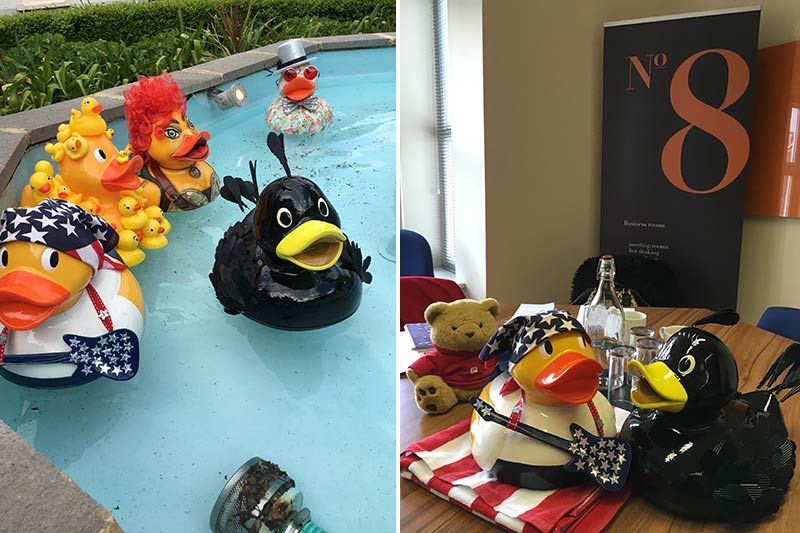 Author Bio -
Debs
Content, marketing, social, graphic design and PA to an unusual small red dragon.