Disposing of Clinical Waste Safely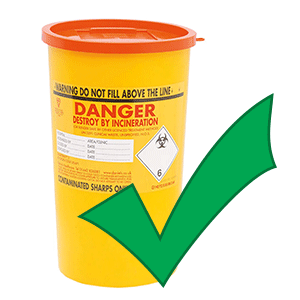 There are a number of different types of clinical waste, all of which must be disposed of in the correct manner. These are as follows:
Human or animal tissue, including blood, soiled surgical dressings and swabs.
Any disposable sharp instrument, such as scalpels and syringes and associated equipment – e.g. cartridges.
Microbiological cultures and infected waste from pathology, diagnosis and research departments.
Drugs, out of date medicines and other pharmaceutical products.
Bodily excretions, such as faecal matter and urine, including pads, disposable bed pans, catheters etc.
Any unit or facility that deals with clinical waste should have a number of procedures in place for dealing with each type of waste. These can range from the frequency of collection, for instance infected waste must be removed on a daily basis, whereas contaminated sharps and scalpels can be removed on a fortnightly basis, through to the type of protective clothing that must be worn by members of staff. Due to the highly dangerous nature of some of this waste, especially the risks posed by microbiological cultures, there are a huge number of guidelines and health and safety regulations in place that govern its disposal.
Training
It is important that all facilities that produce any kind of clinical waste have a strong program of training for all new staff to make sure that they understand the procedures associated with the disposal of clinical waste and the dangers associated with each type. This training should also include refresher courses for staff to check that existing staff members are still complying with all procedures and regulations, as well as tests at the end of each course.
Waste Bins
Most health and research facilities will have a number of different disposal bins that are used for each type of clinical waste. These can range from small sharps bins that use one way lid systems to allow for the safe removal of syringes and scalpels, through to larger units that are used in operating theatres for the disposal of surgical waste, such as blood and other human tissue. It is essential that these are clearly labelled with hazard warnings based on the type of waste that they contain and colour coded so that workers can quickly and easily find the right bin.
Sealing of Bags
Many clinical waste bins are used in conjunction with heavy duty rubbish bags. This allows workers to empty the big and replace the bag without having to remove the bin from the facility. There is a special procedure that is commonly used for sealing such rubbish bags. In the first instance these should only be filled to around the two thirds full level, which is usually denoted by a warning line. When this has been achieved, the bag needs to be removed from the waste bin and the portion of the bag that's above the warning line should be twisted and doubled over before it is sealed with a cable lock tie. This is sometimes known as the swan neck method, and it ensures that even airborne bacteria is kept contained within the bag.
Protective Clothing
All staff who deal with the removal and disposal of clinical waste must be provided with the right kind of protective clothing. The type of clothing provided will vary with the dangers posed by the various types of waste. This can range from simple disposable gloves that are worn by nurses and doctors who're dealing with swabs and dressings, through to masks, eye goggles, and heavy duty gloves that protect workers who are transferring waste bins from a facility into removal vehicles. It is recommended that all employees within any medical research or care facility wear thick soled utility shoes, which will prevent punctures from broken glass or dropped sharps.
Vaccinations
It is also important to make sure that all workers who deal with clinical waste are adequately vaccinated against dangerous diseases associated with its removal, including polio and tetanus. Each worker's vaccination record should be made available when they join the facility or unit, and where necessary they should be re-vaccinated to ensure that they are not at risk from scrapes or minor grazes in areas where clinical waste is handled.
Accidents
There must always be an accident book kept close to the unit in which clinical waste is stored before it is taken off for processing. Any problems such as spills or split bags must be recorded in this book so that the manager responsible for waste disposal can assess any long term dangers caused by the accident. In addition to this there should be a number of supplies that are kept close to any areas where clinical waste is processed, such as sawdust and disinfectant, to deal with any spills. Finally there should also be clear warning signs around any clinical waste handling area that make people aware of the dangers of entering the area without wearing sufficient protective clothing.
Collection Vehicles
Any collection vehicle used for the transportation of clinical waste should be compartmentalised, with the driver contained in a separate section to the waste. It should also use a mechanical lifting system to ensure that all waste can be transferred into the holding section of the vehicle without causing spills or damage to containment bags. This holding section should also be lockable, well ventilated, equipped with adequate light and should be easy to clean and disinfect between runs.
Record Keeping
When clinical waste is dropped off at a processing facility, there are a number of regulations that must be fulfilled concerning record keeping about the origins of the clinical waste. These include the full details of both the agency that handled the waste as well as the facility from which it came and the nature of the waste. This is to minimise the amount of risks to both workers and the environment associated with any handling and further disposal of the waste.
Overview
There are no half measures when it comes to dealing with the disposal of clinical and medical waste. All procedures are put in place to ensure there is no risk of contamination to both the public and employees, and must be rigorously followed without exception. It only takes one breach of the regulations to create a major problem, which can end up costing the facility thousands of pounds in lost productivity.