Emergency expanding barriers
ESE Direct, the UK's experts in products for business, is now selling the new Armorgard InstaGate Expanding Barrier – a new line in emergency, modular barriers.
These modular solution barriers are an innovative solution for emergency crowd-control that can be installed in seconds and will arrive just 3-5 days after ordering.
"The new Armorgard InstaGate Expanding Barrier is a new, flexible and portable barrier solution that can be quickly deployed to provide an instant highly visible and physical deterrent to access," says Mark Perkins, procurement manager at ESE Direct.
Manufactured in the UK, customer orders will arrive in just three to five working days - unlike many other barrier systems that can take weeks or even months to arrive.
"However well you plan, sometimes there can be an unforeseen and urgent need for fast-deploy barriers to set up a no-access zone and keep people safe," says Mark Perkins.
"Emergency construction works, a broken elevator, dangerous areas that suddenly need to be fenced off, public events, demonstrations and pedestrians that need to be kept in safe zones. When you need to safeguard public safety, it's essential to find a practical and easy solution."
This lightweight expanding-barrier system is available in 4ft and 6ft-tall versions. The modular system means multiple units can be locked together to form a crowd-control barrier that protects public safety.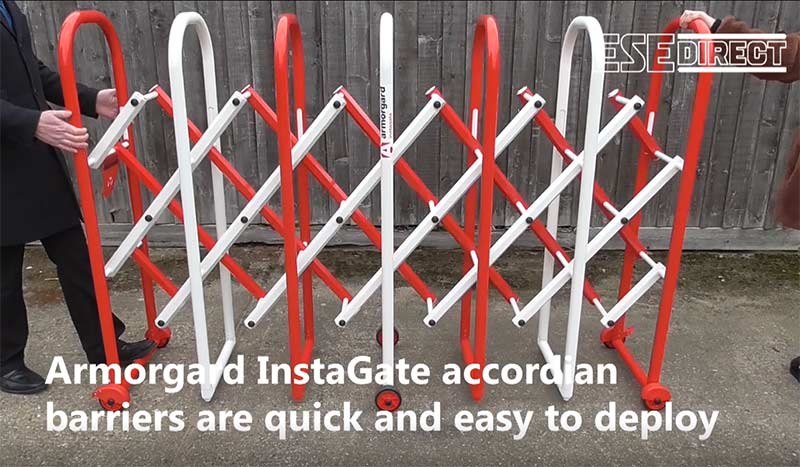 "It's a simple, but highly-effective retractable barrier that you can have deployed within seconds," says Mark Perkins, "It's light and can be moved and assembled by one person, making it flexible and easy to use."
"We sell similar products so we know they are popular with customers but we decided to offer InstaGate as an addition to our range because it is particularly easy to manoeuvre as well as being compact and easy to store when not in use."
The barrier is made from ultra-strong but lightweight aluminium and is weatherproof and wind-resistant and can be used indoors and outside. The modular units latch together with a unique system that both secures the barrier when not in use and also allows multiple units to be connected.
Locked together the units can create a long-run of barrier when and wherever needed. It can also be repositioned as and when works are completed or public safety issues change.
"These type of barriers are perfect for crowd control and to fence off restricted areas. They arrive quickly after ordering and then can be easily deployed by just one person in seconds to create a cordoned off zone," says Mark Perkins.
Purely for pedestrian use, they can also be used to block off unsafe areas such as the top of a staircase or ongoing works.
"They have a huge variety of application and are an alternative to the inflexible aluminium crowd-control barriers that you see everywhere. They are used to guide people in certain directions and fence off areas where you don't want pedestrians to go."
"They are perfect for facilities companies, events, such as firework displays, shows or festivals and are easily stored because they compact down into an area around the size of a wheelie-bin. They also have wheels on so they are easily moved and installed by one person. You can load quite a few of them on the back of a truck or lorry and then one person can set them out."
"They are great when you need to react quickly. Some similar products have a 10-12 week lead time because they are manufactured in the FarEast and shipped from there. But these are made in the UK and can be with people in three to five working days."
More information about Armogard InstaGate Expanding Barrier
Design details
From £799.80 each (ex VAT) with free delivery
Lightweight, ultra-strong aluminium
Powder coated red and white for visibility and durability
4ft gate
Extended dimensions 1380mm height x 2185 width x 540 depth
Closed dimensions 1380 x 440 x 540
Weight 30kg
6ft gate
Extended dimensions 1884mm height x 2380 width x 542 depth
Closed dimensions 1184 x 450 x 542
Weight 40kg

Author Bio -
Debs
Digital marketer, social media, content writer, musician, sloth-lover, tea-drinker.