ESE George visits the GoGoDragons
ESE George our resident dragon is on his travels again. This time he is visiting his friends the GoGoDragons who are currently residing in various locations in and around the fine city of Norwich.
Each month we select a charity to support, to which we donate 5% of our online profits for the last Friday of that month. For August we will be doing something a little bit different...
We will be donating £5 to the charity Break for every GoGoDragon that ESE George visits and has a selfie with.
Break provides children's homes, care and support for families going through separation, aid for at risk children and a selection of community based services throughout East Anglia.
Find out more on the Break Charity website.
We will be keeping this page updated regularly with information and pictures of his dragon adventures.
The Rise and Demise of the Dinosaurs
ESE George found GoGoDragon number 1 hanging out on Millennium Plain. He has a lovely view of the spectacular Forum, home of BBC East, Pizza Express and the Norwich Library.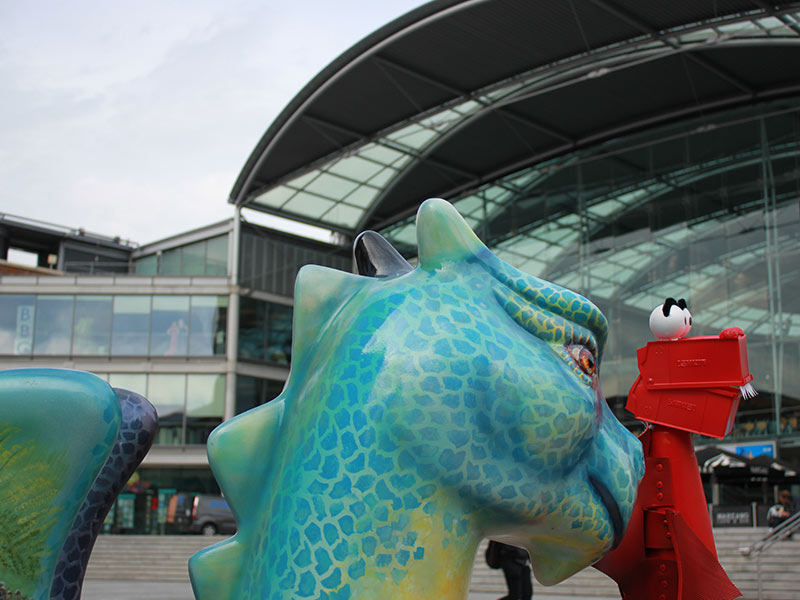 McFly
What a great vista of the Norwich market and castle McFly Dragon has from his proud home outside City Hall. George is rather envious of his flaming wings.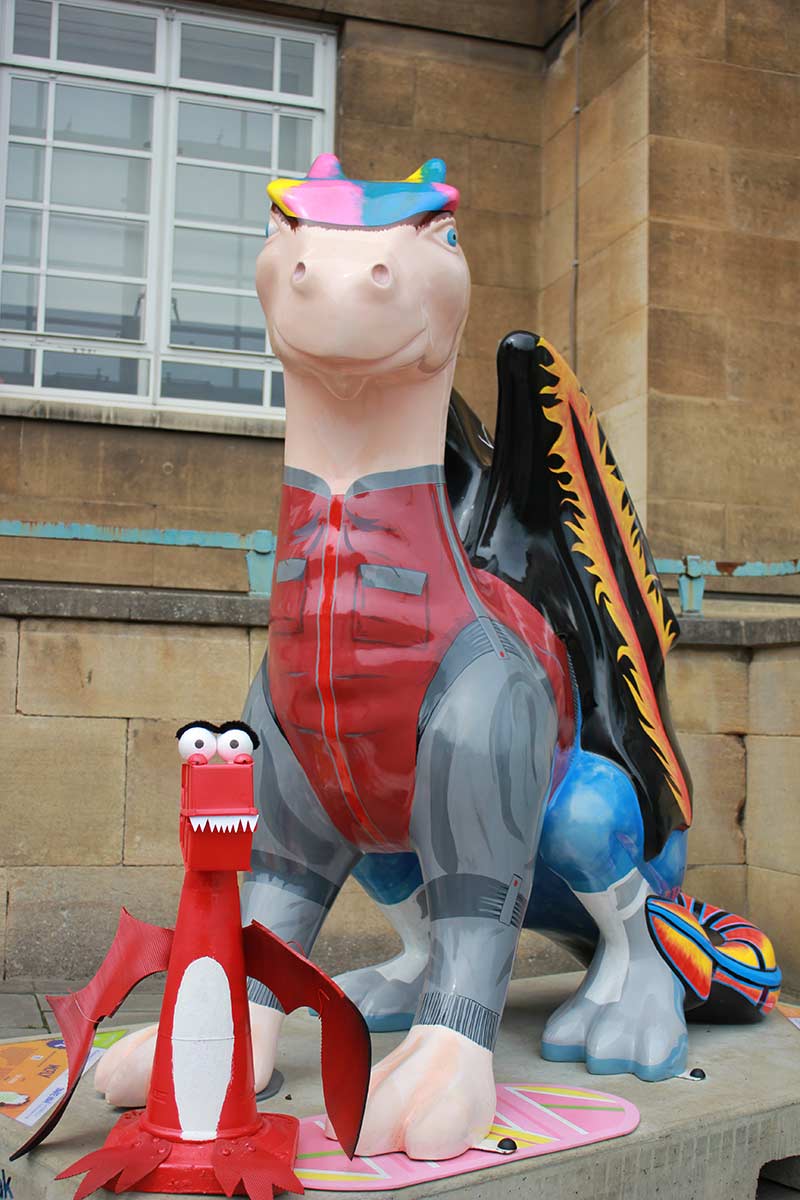 Sunbeam
What a perfect summer's day to meet Sunbeam the super-shiny sunshiny dragon. She's a stunner. She was chilling out on the green at St. Giles along with a few humans also soaking up the sun.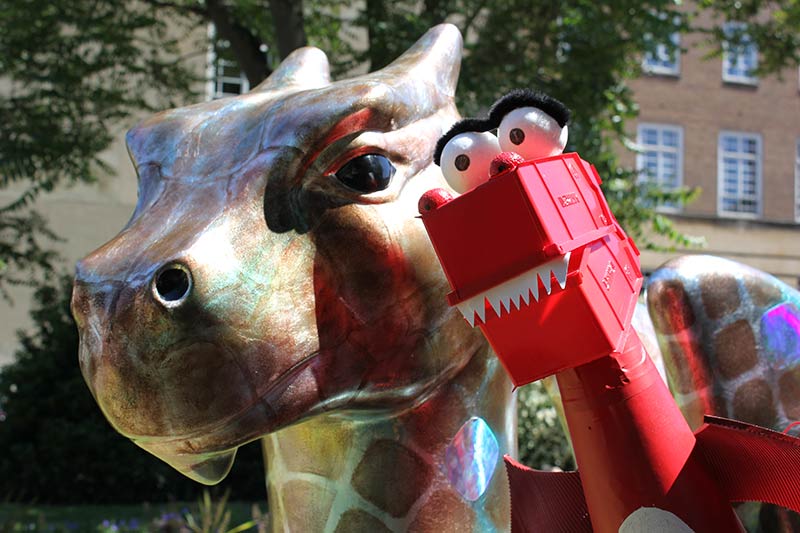 Ascalon
Black and white dragon, number 4 on the trail was found outside the 15th Century Norwich Guildhall on Gaol Hill. Ascalon blends beautifully with the lovely flint of the historic listed building. ESE George wanted to stop off for hot chocolate at Caleys Cocoa Café but we suggested water may be more suitable for a fire-breathing dragon.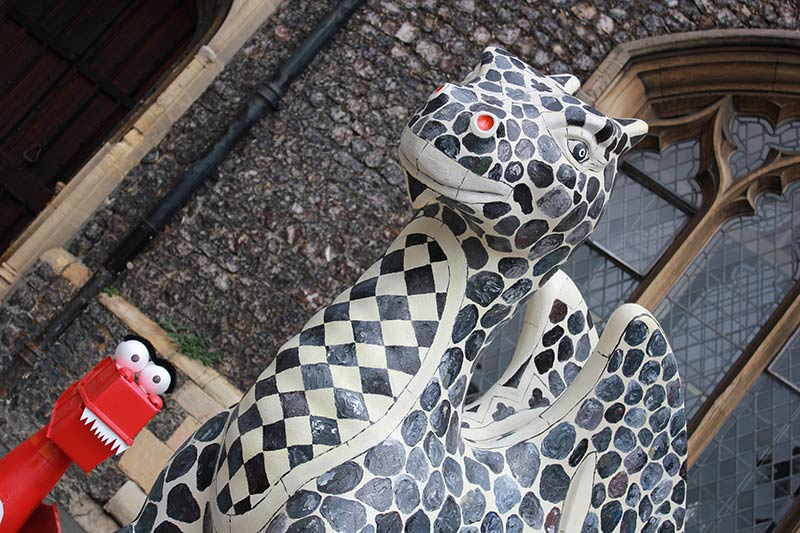 Gorgeous George the Beast of Beeston
George met George! What a star! Gorgeous George resides outside the Library Restaurant, we wonder if he ever gets to pop in for a spot of brunch?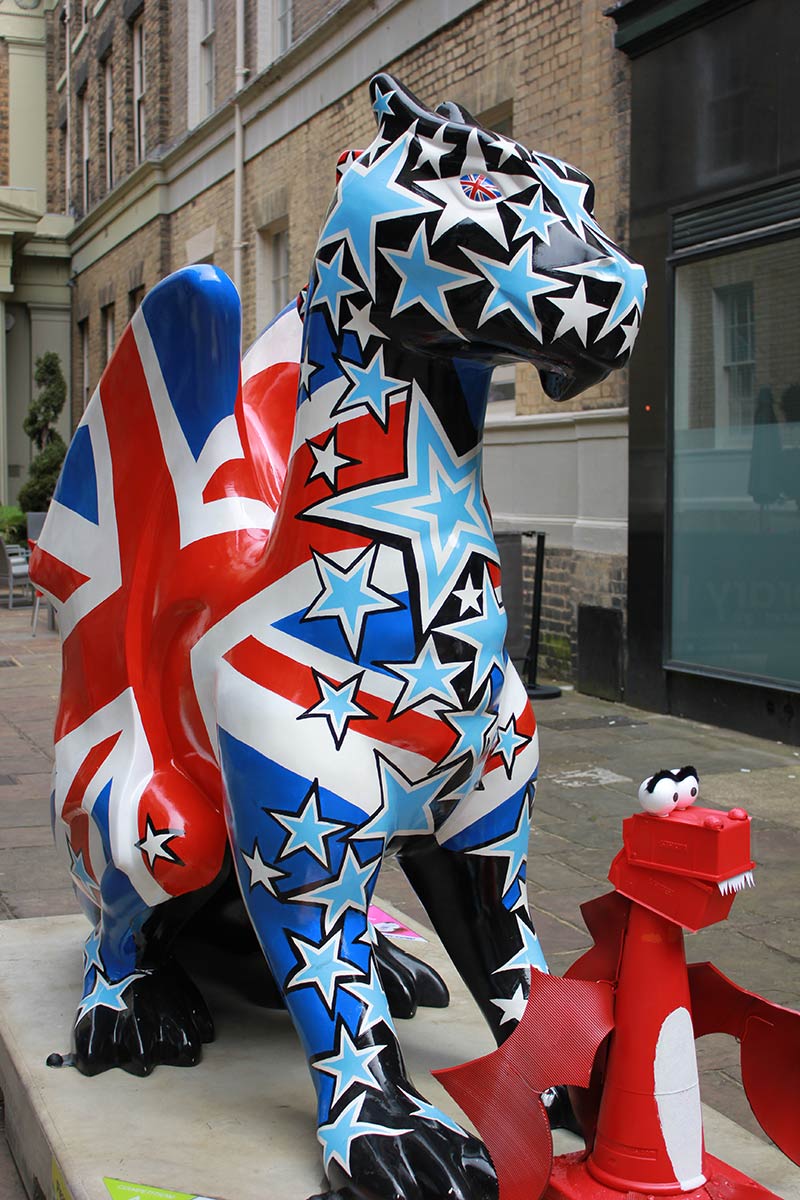 Norwich Twilight
Surrounded by the sights and sounds of Norwich Market, Twilight was even being treated to the musical entertainment of some Jesters… and market chips for dinner? What a lucky dragon.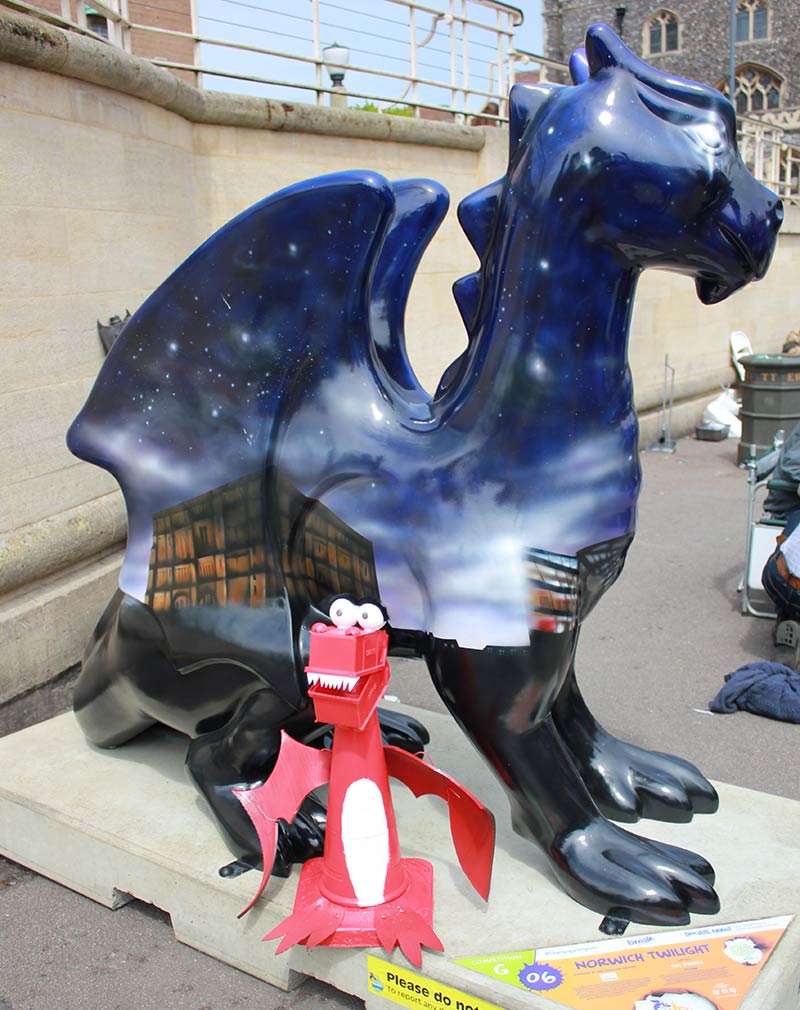 Bling
This diamond dragon really lives up to his name! He was hiding away amidst the market stalls but George was pleased to finally find his seventh dragon friend of his journey.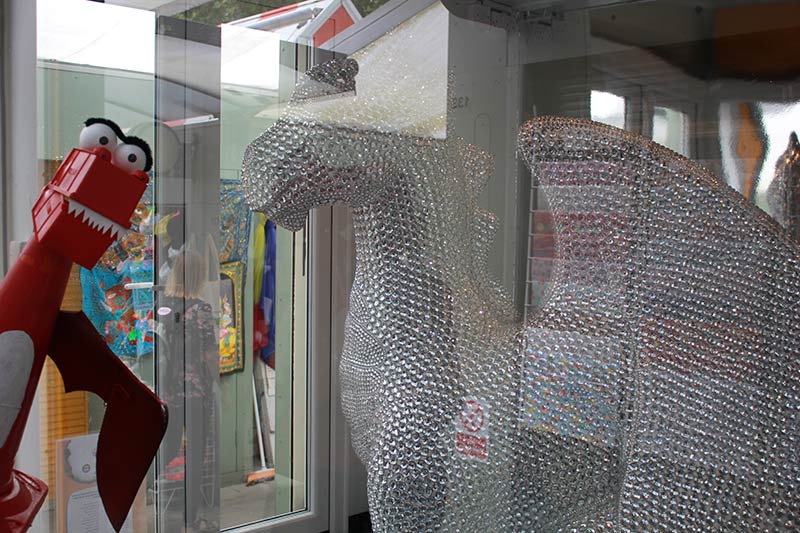 Child's Play
After a hot hop up many stairs and a brief 'hello' to Earl Grey the GoGoElephant, who was watching the world go by out of the window, ESE George found his colourful friend in Jarrold's toy department. He would have been more than happy to stay here all day. Fancy a game of dominoes Child's Play?.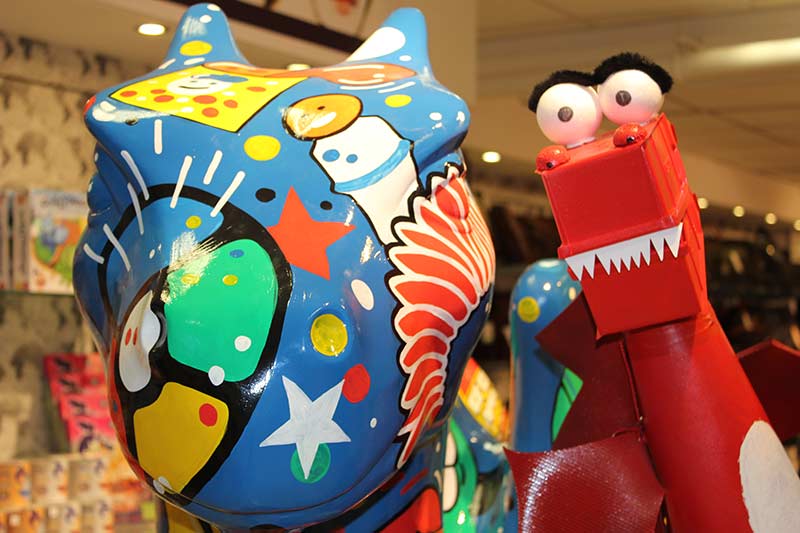 Sabra
Sabra looks stunning nestled at the bottom of St. Gregory's Alley, she compliments beautifully with the green trees in the gardens of St. Gregory's church and the brilliant red traditional telephone box.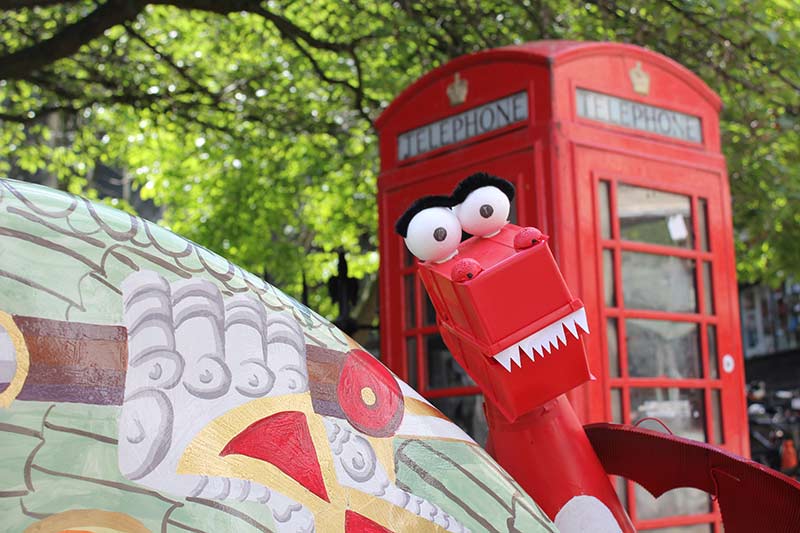 Flambeau
You won't miss flaming Flambeau, his lovely orangey-red glow provides Upper St. Giles with a happy sunny feeling. He watches the world go by, why not give him a wave as you go past.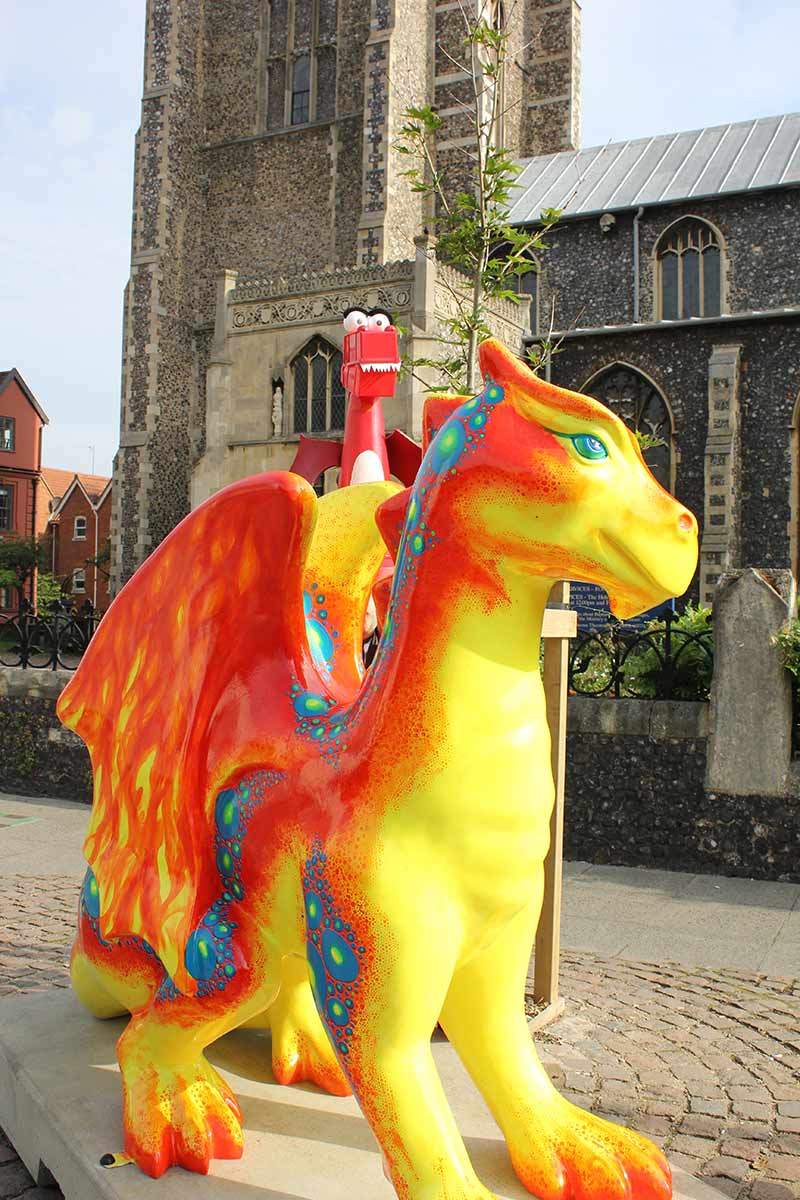 Dragon Heart of Norfolk
Dragon Heart is proud to be the resident dragon at The Cathedral of St. John the Baptist. If he were to fly to the top of the tower he would be at the highest point overlooking the fine city of Norwich. ESE George is envious of Dragon Heart's palatial home. Room for a cute little red dragon?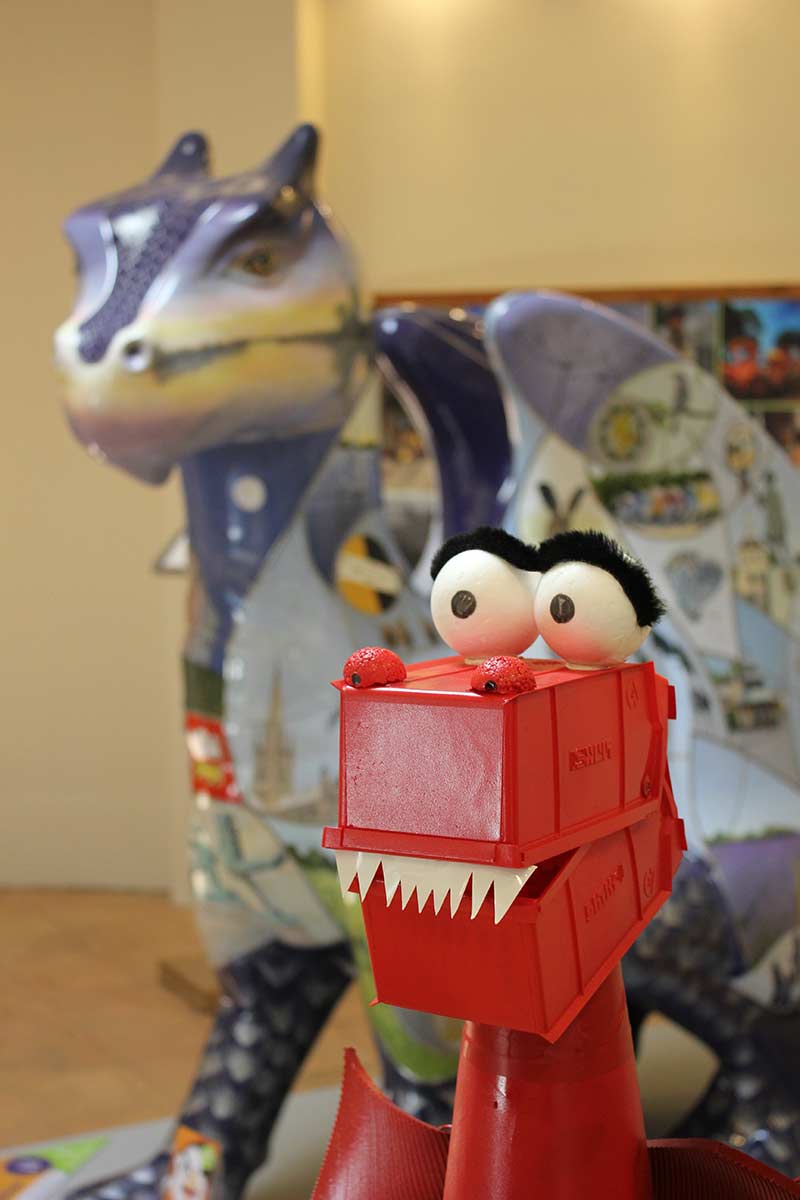 Storr Hiroa
George found his beautiful blue dragon friend on Unthank Road, she is standing guard over one of Norse Care's care homes. She sits in the shade of a big tree, perfectly peaceful with her butterflies for company.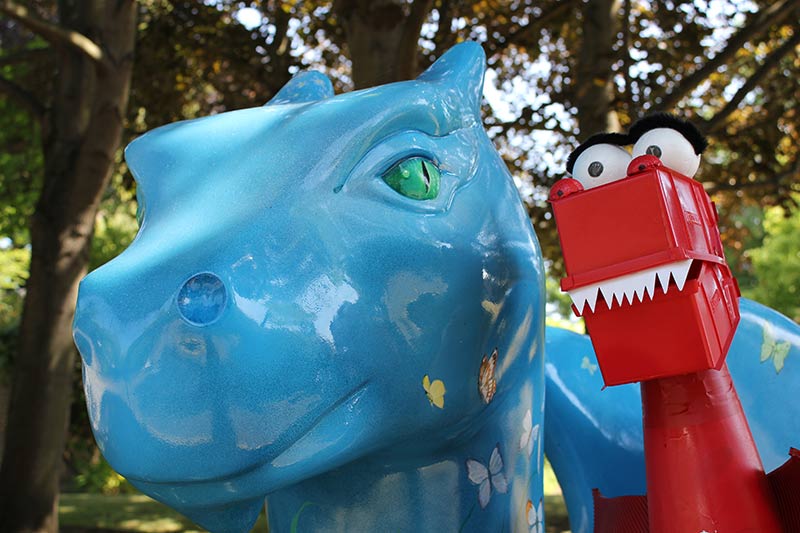 Webby
What a wonderful Webster's Estate Agent dragon! He is superbly decorated with a map of Norwich city. Rumour has it, Webby was spotted captive at the Lord Mayors Procession (July 4th). George is relieved to see Webby back home safe and sound.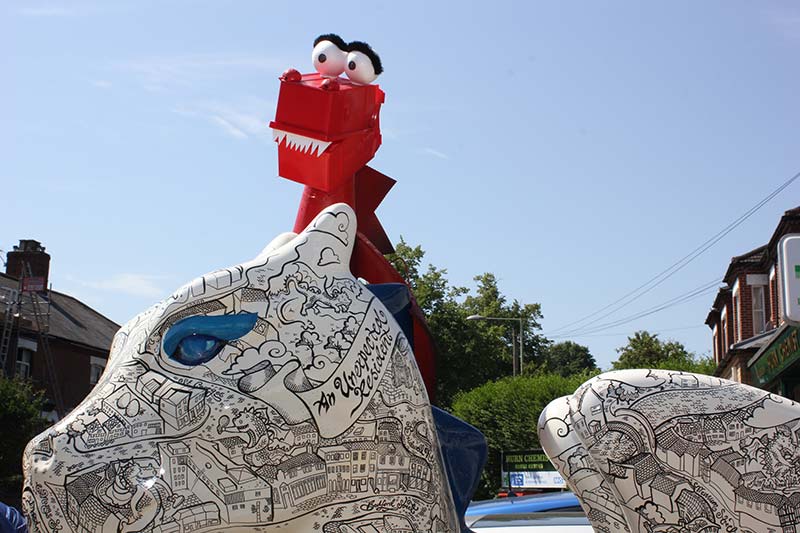 The Queen of Norwich
This silver Queen is situated on Little Bethel Street with cyclists and pedestrians stopping off to say hello. Her colourful print is inspired by Pakistani truck art, she portrays the message 'Look at me but with love'. Well we love you Queen of Norwich!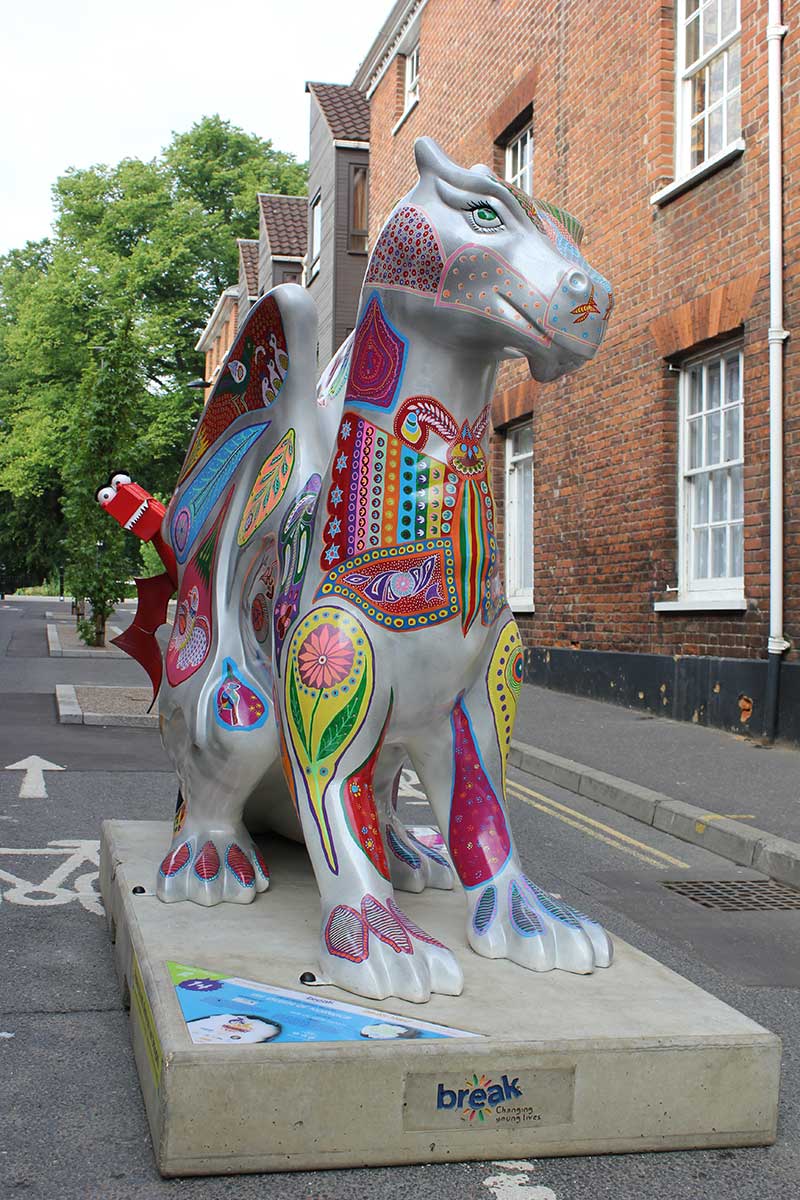 GoGoMadder
To be or not to be? There is no question! GoGoMadder is fabulous! He is garnished with images of Shakespeare's famous plays from Bottom to top (sorry!) GoGoMadder is a veritable potion of perfection.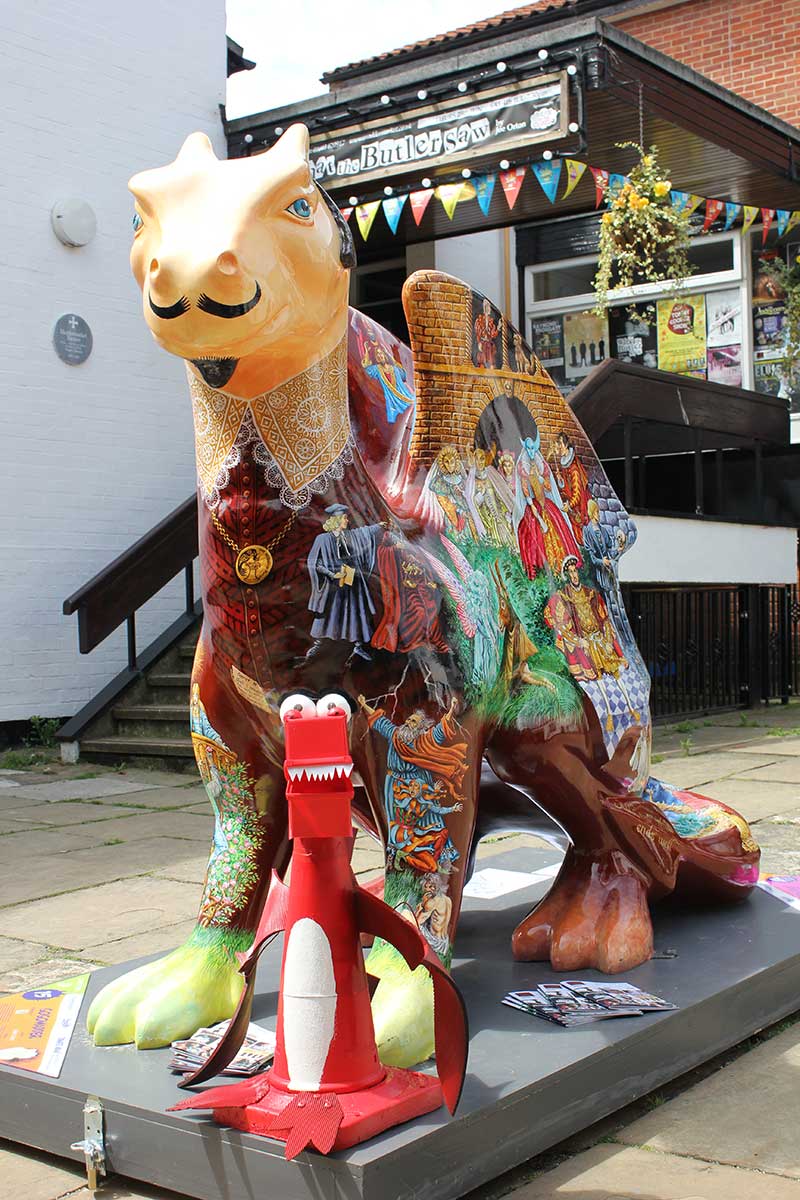 GoGoSteggles
What a firecracker – GoGoSteggles stands tall smiling at the passers-by on Charing Cross. He is decorated based on a Japanese legend about a fisherman. Maybe he and Sabra get together in the evening for some fish a cooling drink at one of the lovely bars on St Benedict's Street?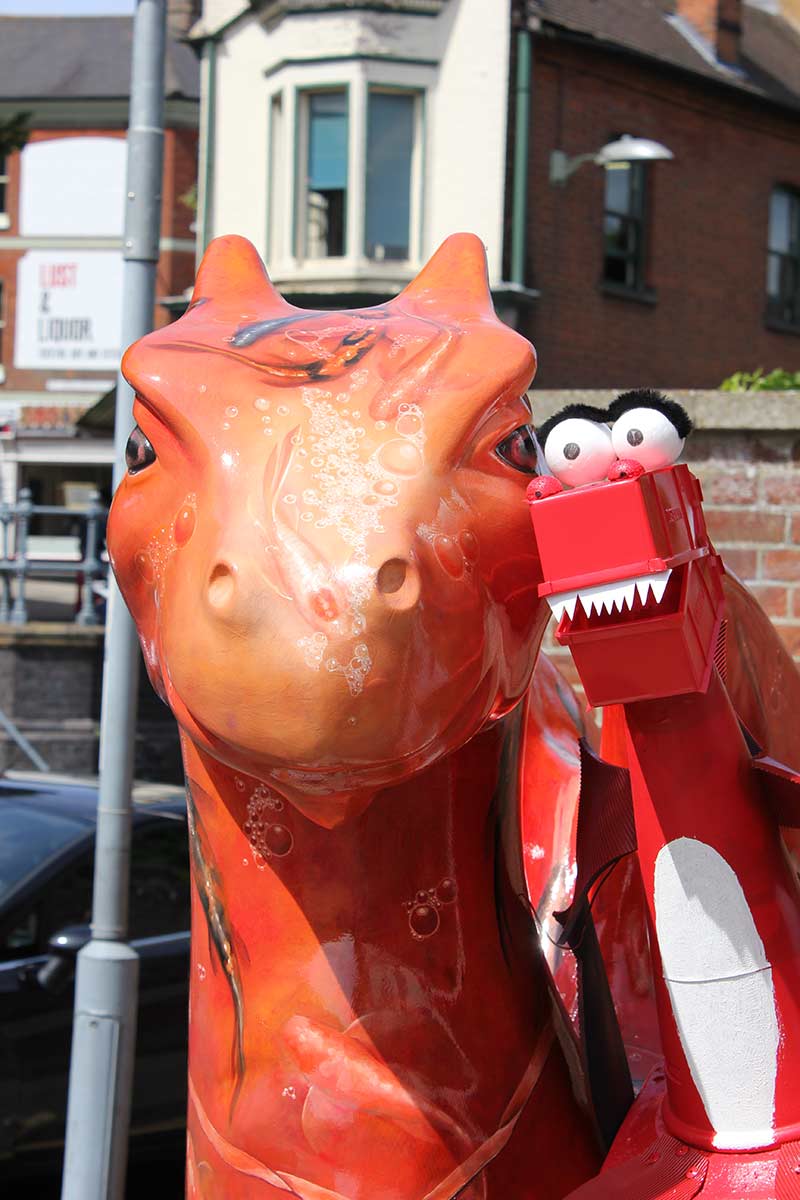 Argon
Wow, Argon you are super-scaly shiny dragon. George found his friend Argon just down the road from his pal GoGoMadder… perhaps they could all head to the Maddermarket Theatre and catch a play. Shakespeare obviously, right GoGoMadder?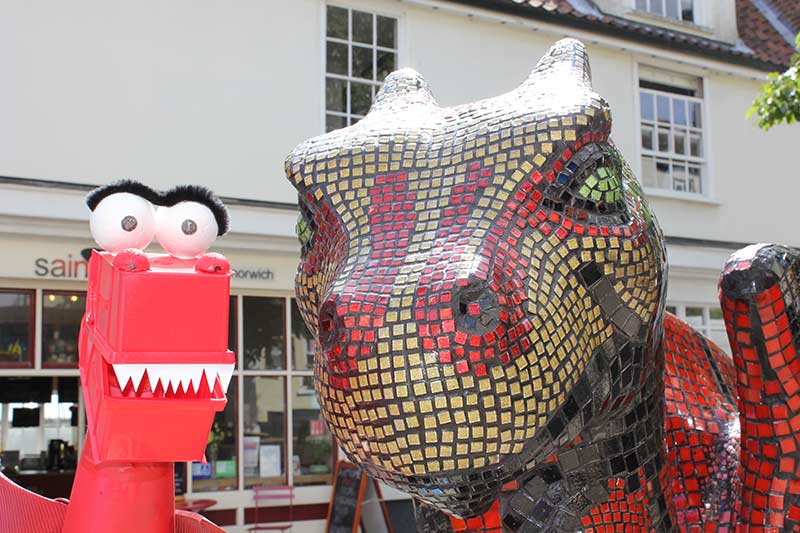 Maestro
Music maestro please! This musical dragon is covered in a collection of composers, from Mozart though to Britten. He resides outside The Wharf where hears music drifting across the grass from the church all day long. It must be difficult for him not to join in with a dragon song.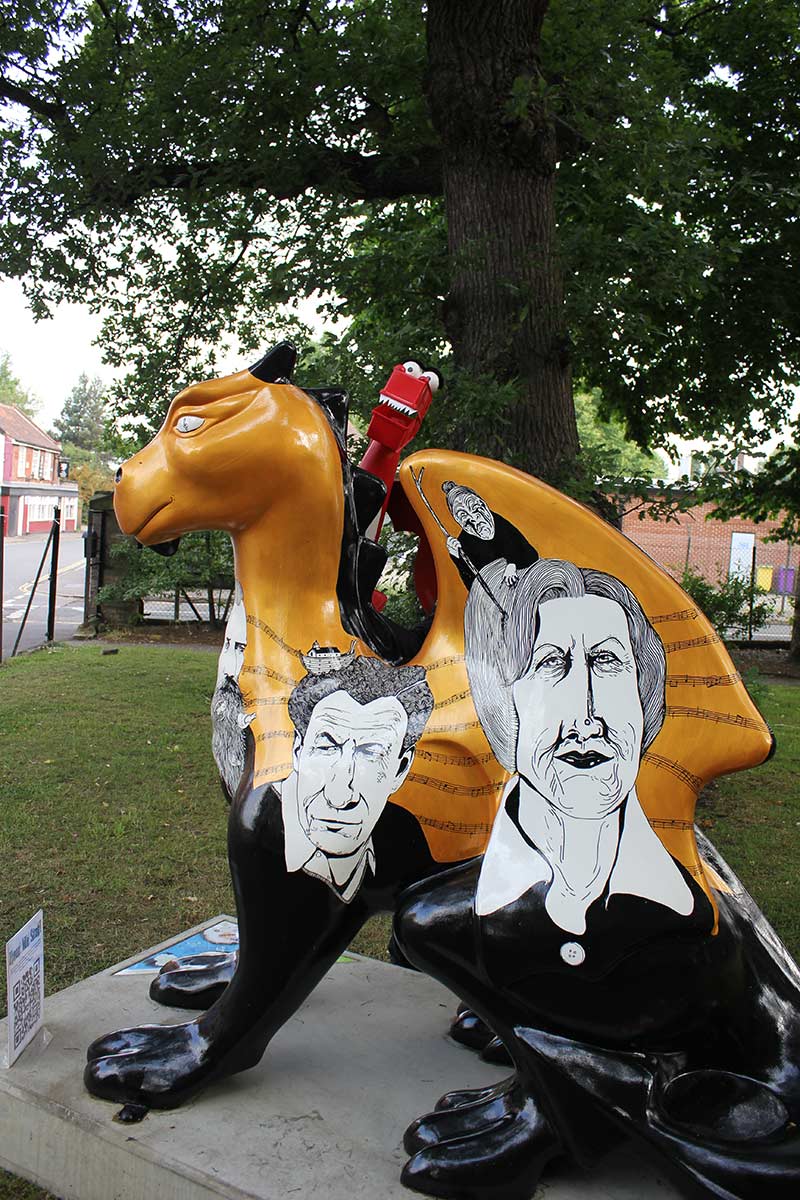 Gloria the Garden Dragon
A beautiful lady in a beautiful setting, she really lives up to her name. She sits serenely in the gardens of St. George's Church Colegate. George thinks Gloria is rather gorgeous.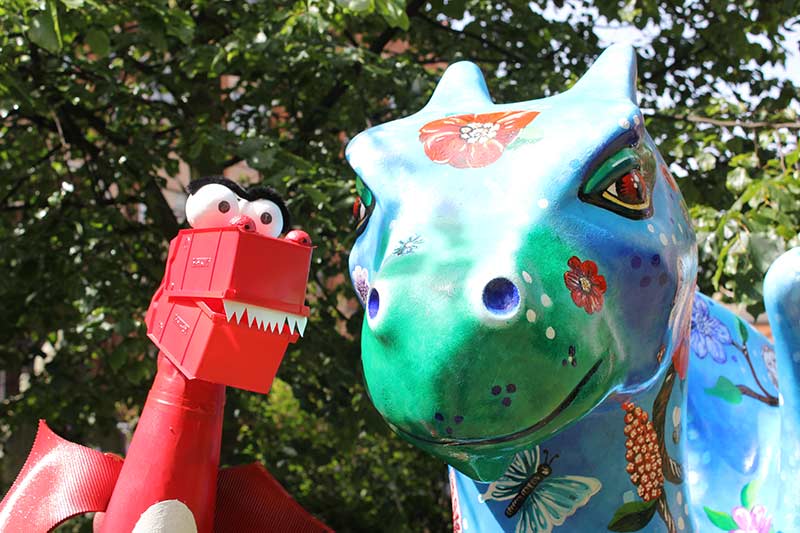 Wellington
Named in remembrance of the 200th anniversary of the Battle of Waterloo, Wellington is one of the most colourful dragons. He's covered in a plethora of creatures and flowers, including a robin wearing wellies! George wonders if having a butterfly on your nose tickles?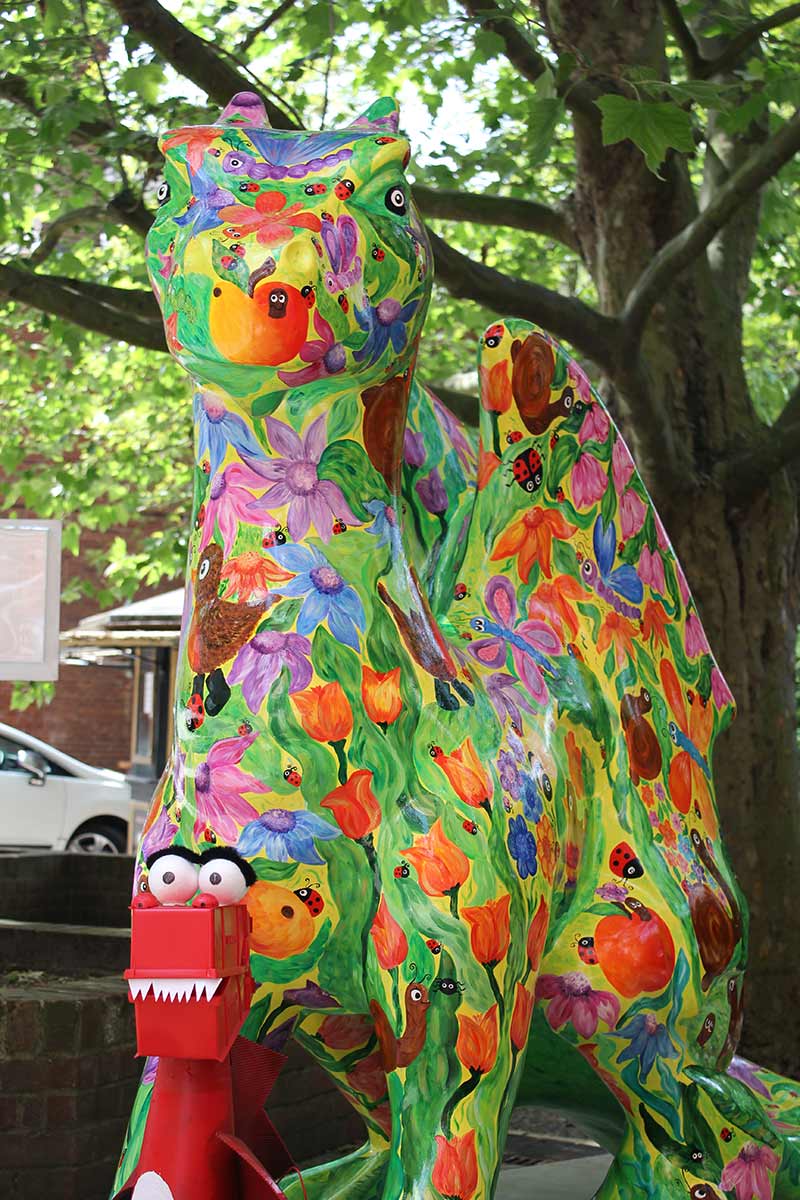 Nod
This is no ordinary dragon! Give Nod a nod, just to ensure he's not in the land of Nod! He overlooks the Norwich Playhouse Theatre and bar so he's never a thirsty dragon. George would like to be a Prefect when he's a big dragon.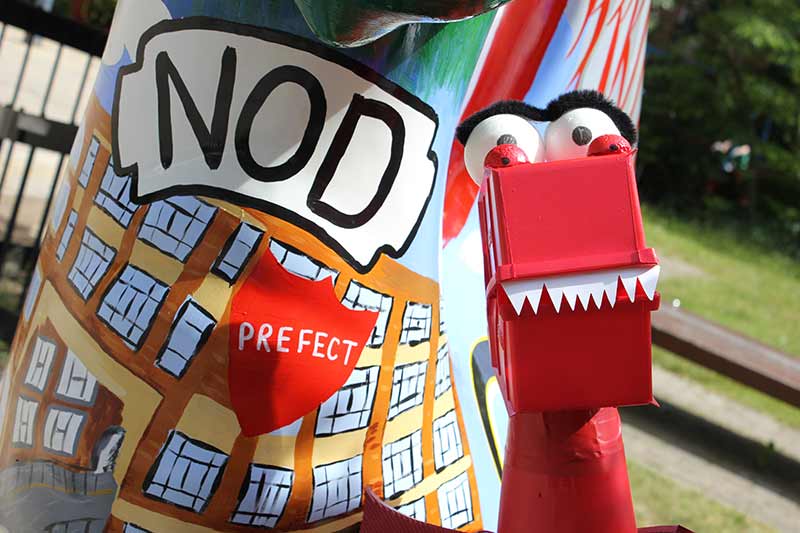 Snap Sprite
A true spectacle of a dragon! Sprite snap stands tall at the bottom of St. Augustines, outside his home Coleman Opticians. His markings are based on the series of novels by Sheridan Winn, Sprite Sisters. If you can't find his resident hamster, pop into Coleman's we're sure they'll have something to help!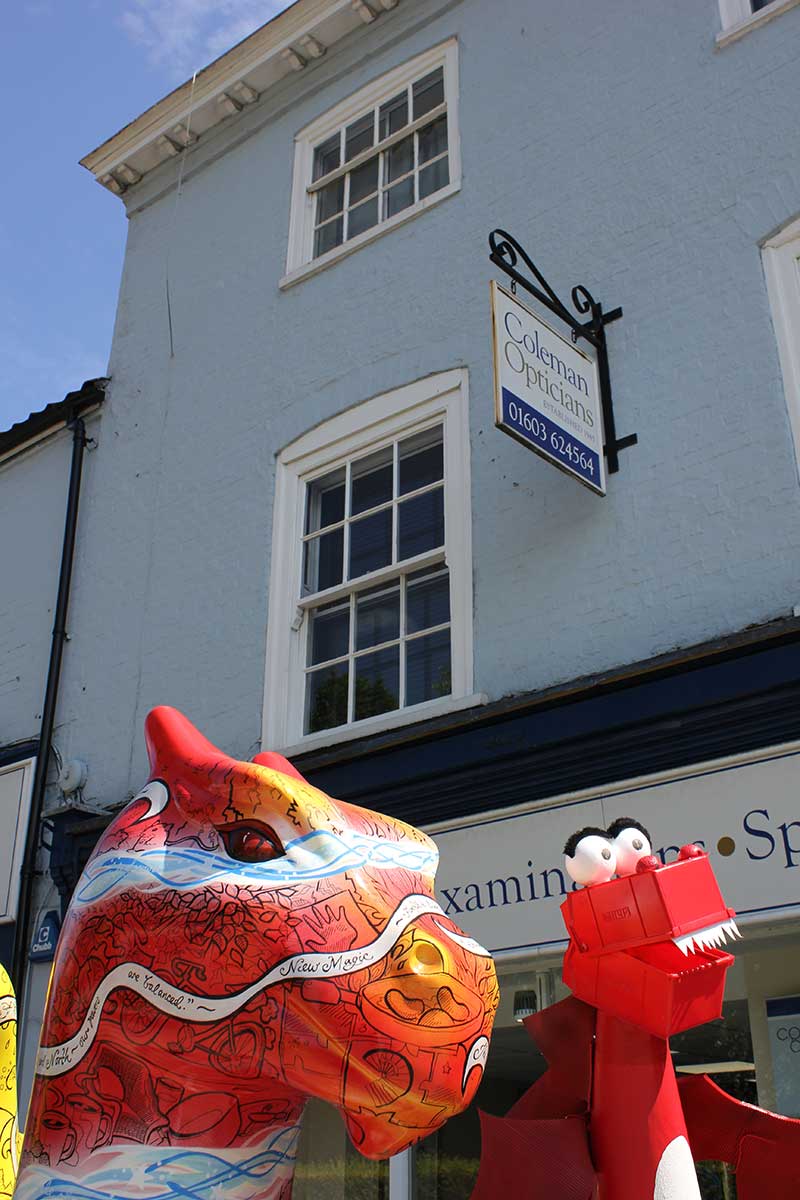 Wish You Were Here
And here we are! It's destination dragons at Norwich International Airport. ESE George hopped on the Maretts Chariots dragon bus and joined a number of fellow dragon fans who welcomed George on an exciting trip to the airport. George hasn't been to an airport before, there's not much requirement for an aeroplane when you are a dragon.
Fun at the Seaside
What a lovely sight to see waiting for you at the arrivals gate. Fun at the Seaside dragon shares his home with Wish You Were Here at Norwich International Airport. He displays a lovely beach vista which puts you in the holiday mood.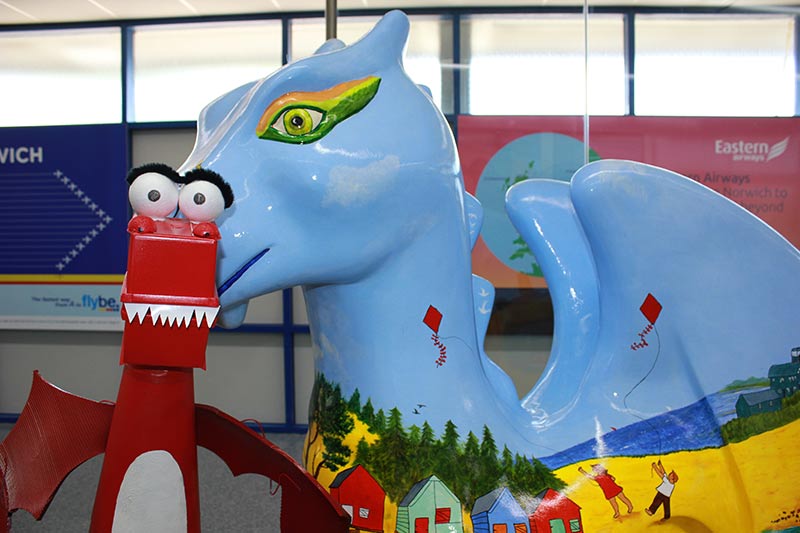 VroomVroom
Get down to Dingles and you'll find VroomVroom contemplating his choice of Toyota and Hyundai vehicles. George was unable to see over the steering wheel of most of them… he's still a little dragon. Bless.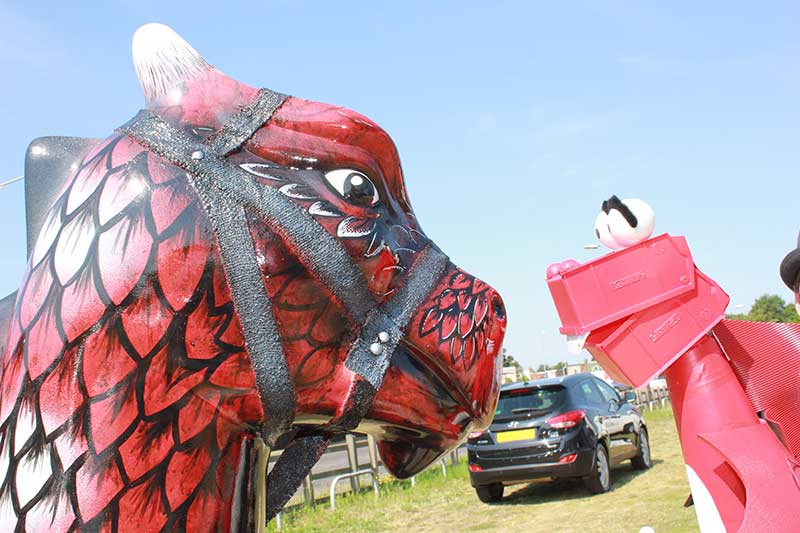 Dragtabulous Delores
Fabulous darling Delores! George has been so excited to meet this Dragtabulous dragon. He was so enamored that he decided to dress for the occasion, much to the delight of some of Delores' guests at the Holiday Inn Norwich North.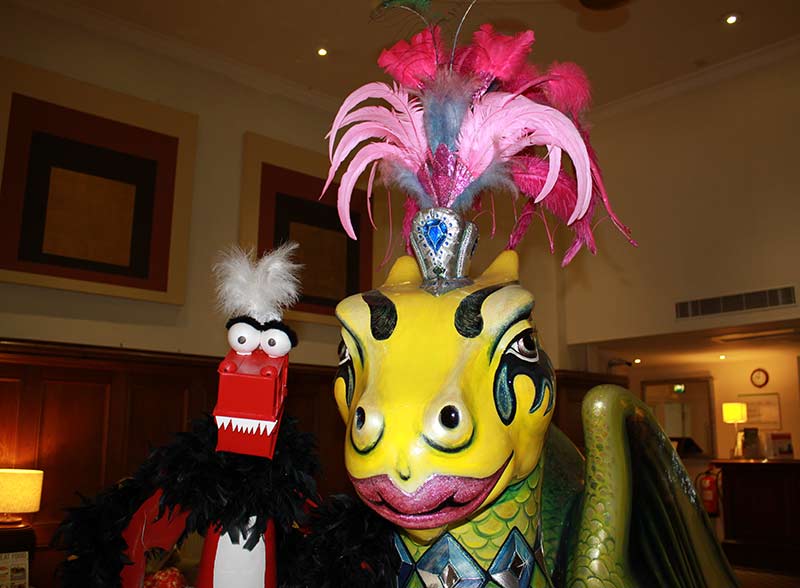 Spidy
Don't worry, you won't get caught in his web. Spidy must love to have visitors as he is stood all alone up the stairs at Anglia Square. As Alan Partridge says "knowing me, knowing you, Spidy".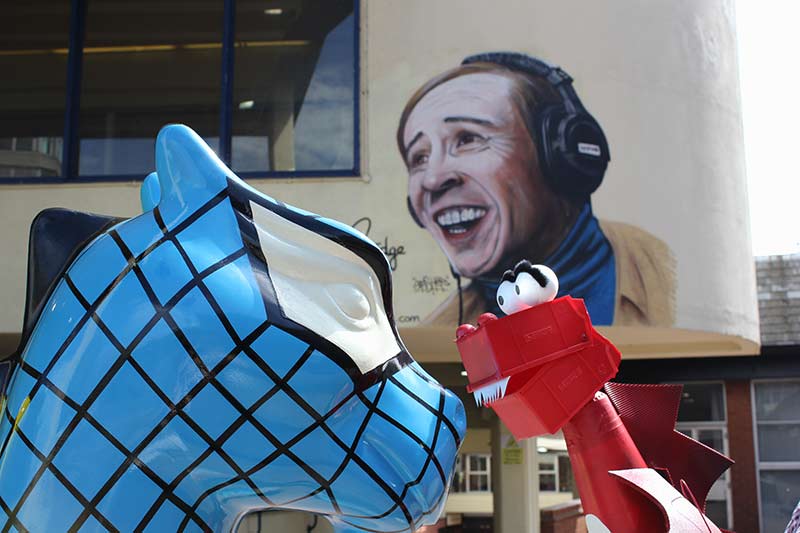 Fun Square
This fun fellow will great you as you enter Anglia Square Shopping Centre. We like to think that he and Spidy are great at hunting out the bargains to be had. Perhaps they could start a new television show, Dragon Bargain Hunt?.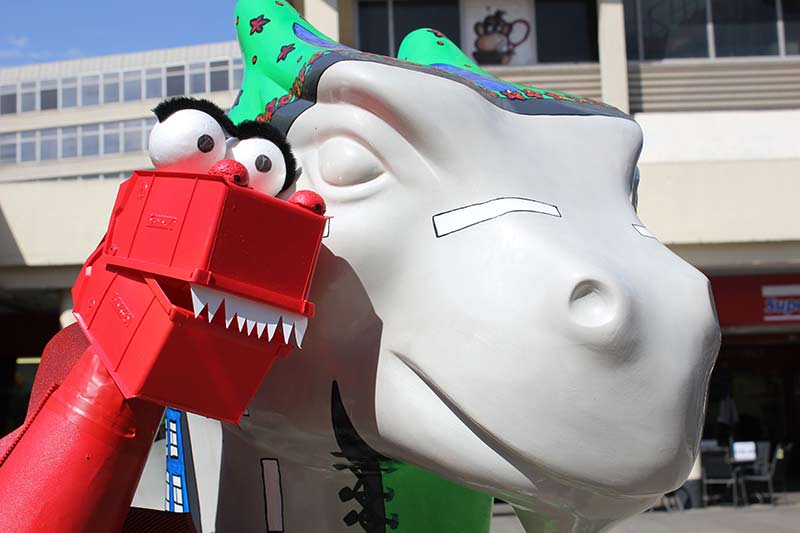 Draco
Beautiful and black, covered in constellations of stars, Draco has a wonderful outlook while he stands proud on Fye Bridge. He can watch the world go by on the River Wensum. Be sure to visit him at night as he is a glow in the dark dragon!.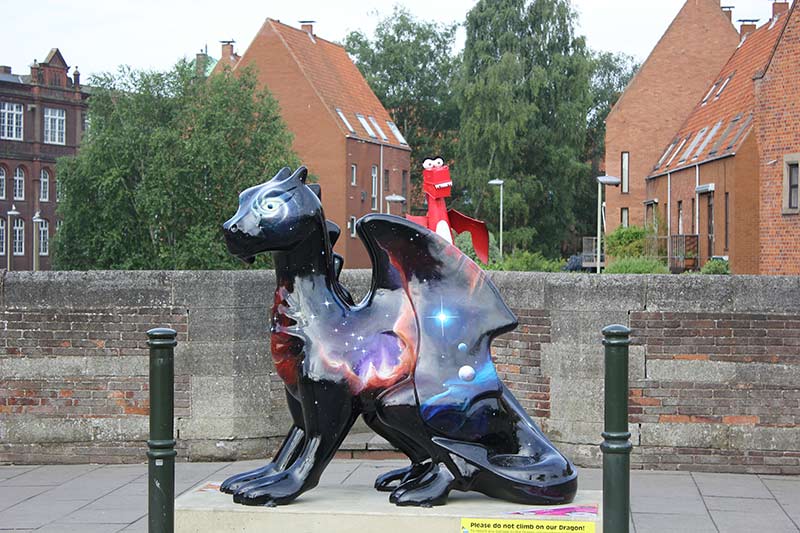 GoGoHoratio
Eye-Eye Captain! You won't need a telescope to find this dragon. When George met Horatio he was still residing on the Quayside, we imagine he is much happier now in his new home on Fye Bridge as he gets to have dragon chats with Draco who stands on the other side of the bridge. They will also be surveyors of the Grand Norwich Duck Race on Aug 1st 2015.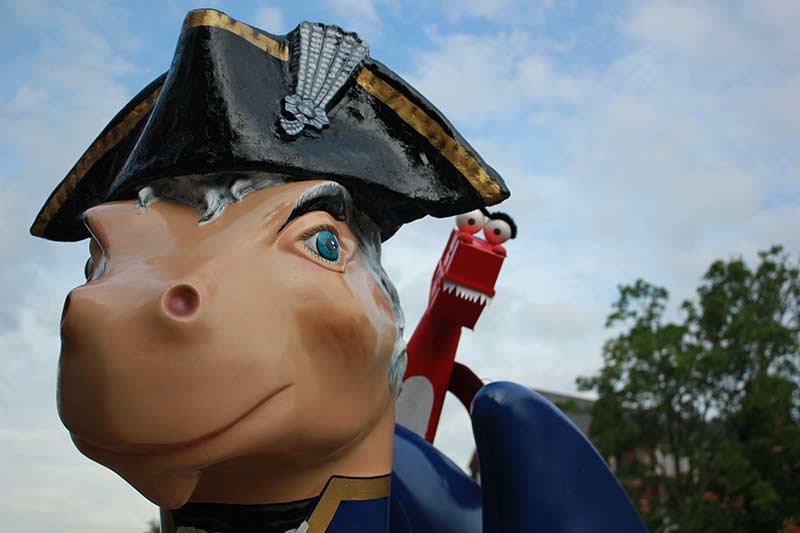 Steam the Clockwork Dragon
It's not a wind up - Steam is a fusion of futuristic technology and old fashioned clockwork creations. He stands in the shade of the trees on Palace Street. Always on time, George was up extremely bright and early to make friends with Steam. He may have stopped off for a cheeky McDonald's breakfast afterwards.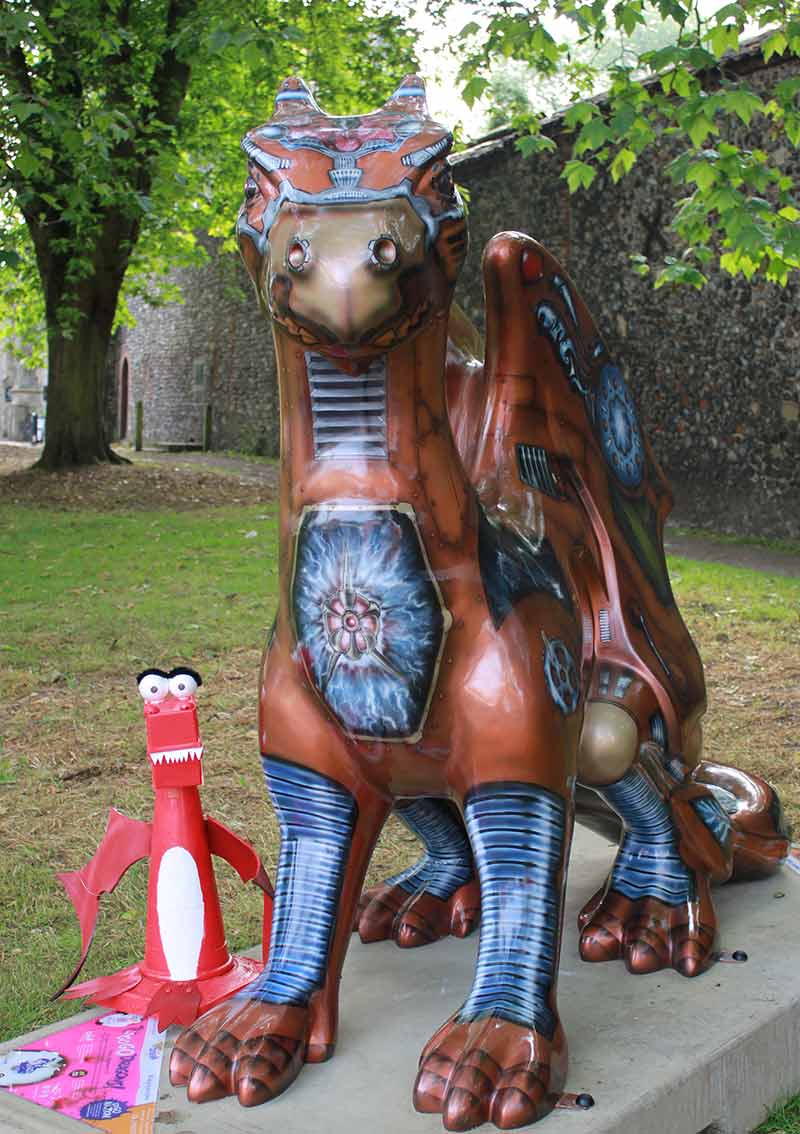 Crypto
Called Crypto due to the legend on which he is based, the Pockthorpe Dragon is said to live in the Crypt of St. James' Church which is home to the Norwich Puppet Theatre. If you notice him away from his plinth, perhaps you'll find him in the Crypt…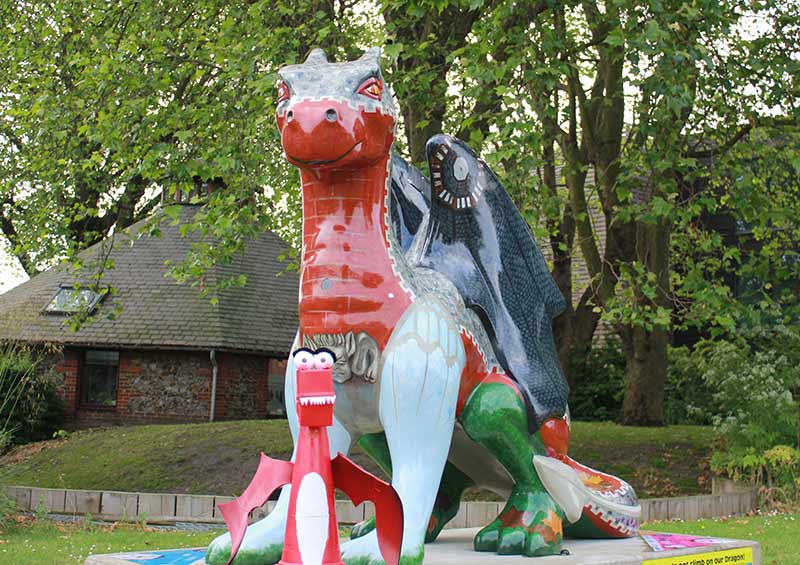 Oakley
Based on a carving from a beautiful old oak tree, Oakley is a wonderful wood-like fellow. George particularly likes his bowtie - Does Oakley have a bowtie for every occasion?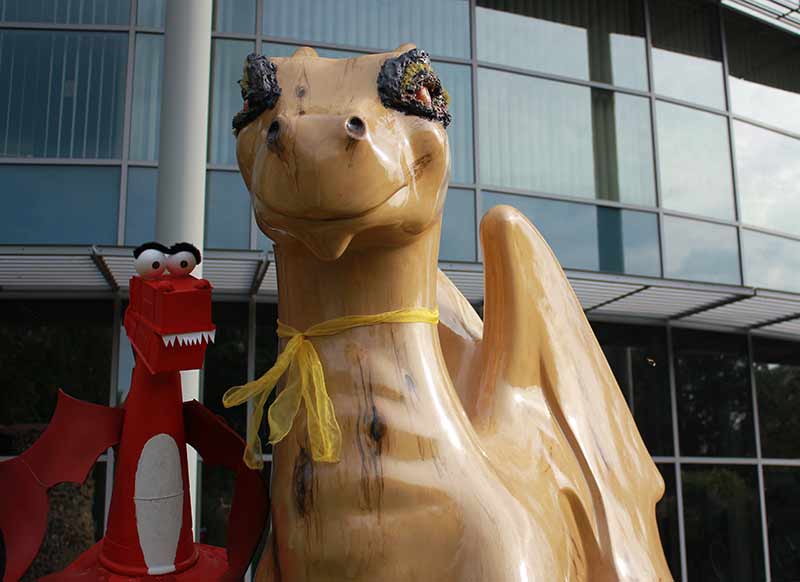 Drewscilla Dragon
What an illusive dragon darling Drewscilla is! She's a cheeky dragon playing hide and seek like that! Following some extensive research George discovered that Drewscilla's home wasn't where it was marked on the map! But, he flew back another day and found her at The Great Hospital in a stunning location overlooking the magnificent Norwich Cathedral. Finally, fantastic to meet you Drewscilla!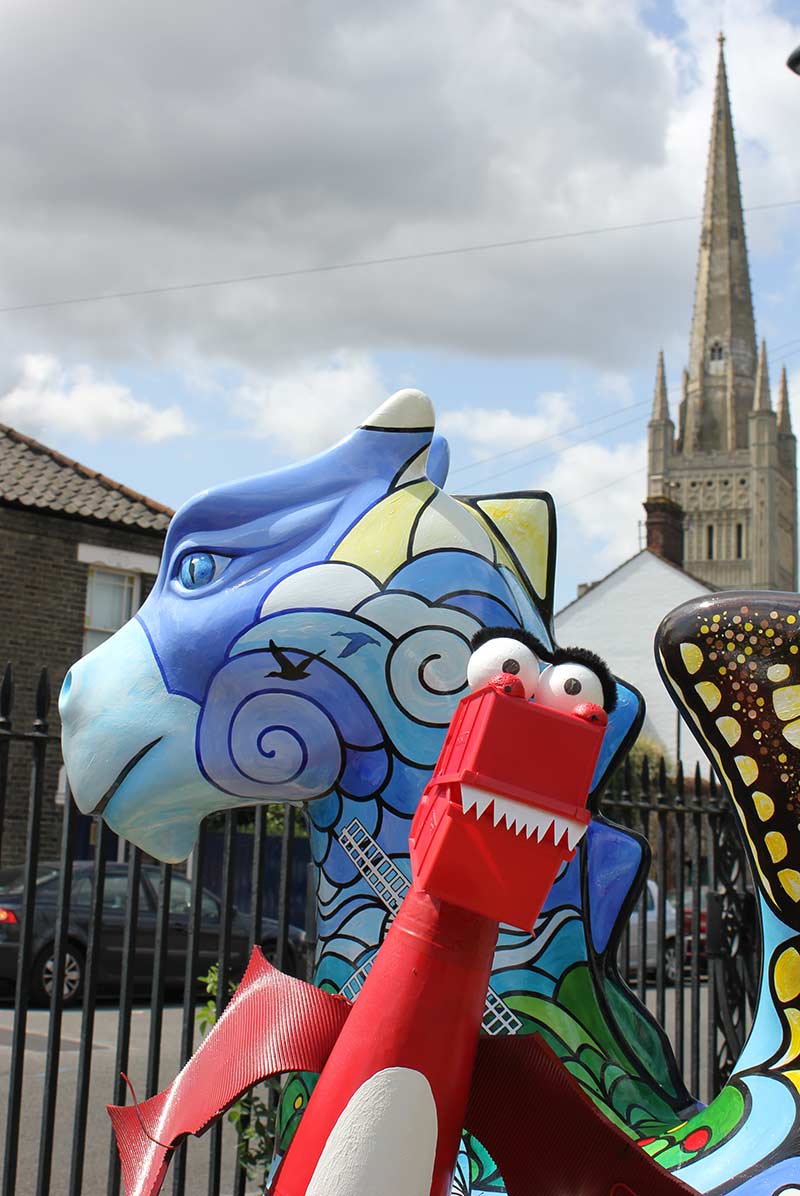 Dragle
Is it a bird? Is it a plane? No, it's Dragle! He's inspired by the Bald Eagle which is the national bird of America. He is the most unusual of the GoGoDragons with his bird-like demeanour. This dragon never goes hungry as his home is Fatso's, why not stop off for a burger while you visit Dragle and be sure to share a chip or two with him.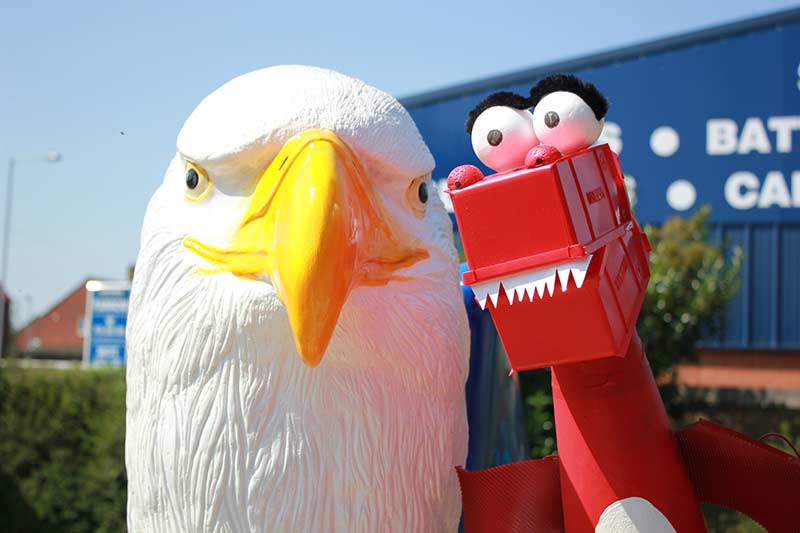 Stormy
A storm is brewing at The Racecourse. This is one fiery Stormtrooper of a dragon. He is following on from his friends Darth Vader Gorilla one of the GoGoGorillas of 2013 and YoDuck in his Star Wars themed attire. May the fire be with you.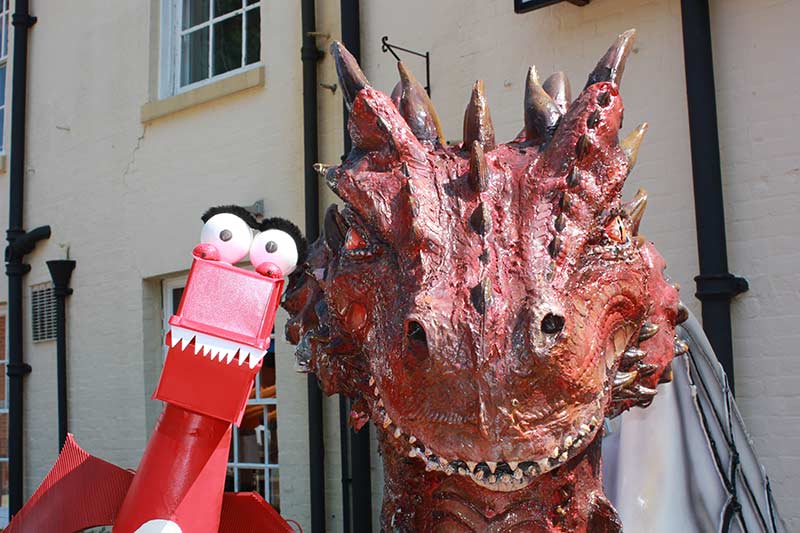 Birdie
What an awesome view of the River Wensum Birdie has from his plinth on Bishop Bridge. A smiley, happy dragon who just loves to wave at you as you pass along Riverside Road. George met Birdie super-early in the morning, what a nice way to start the day. Dragon o'clock.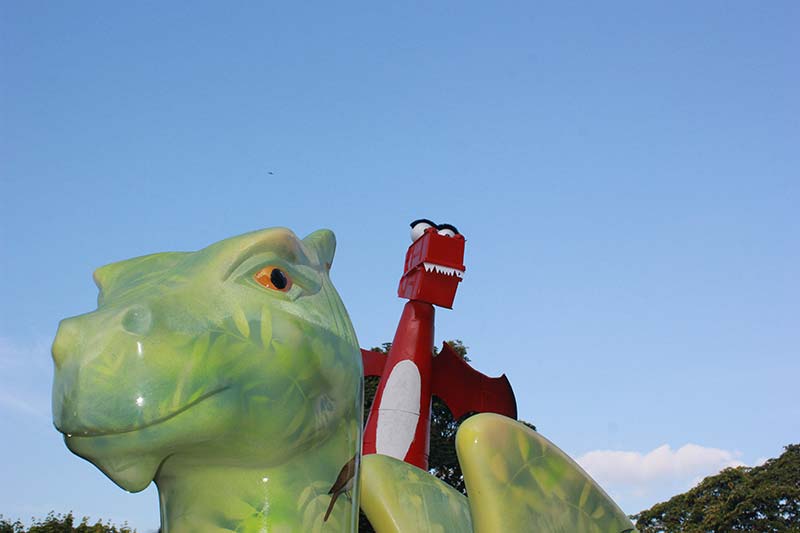 Raptorsfire
Wow he's a firey one! Really living up to dragon's reputation, not only does he breathe fire - he IS fire, and feathers. It must be fabulously warm being a fire dragon. And probably exercising good Health and Safety practice to have an extinguisher handy!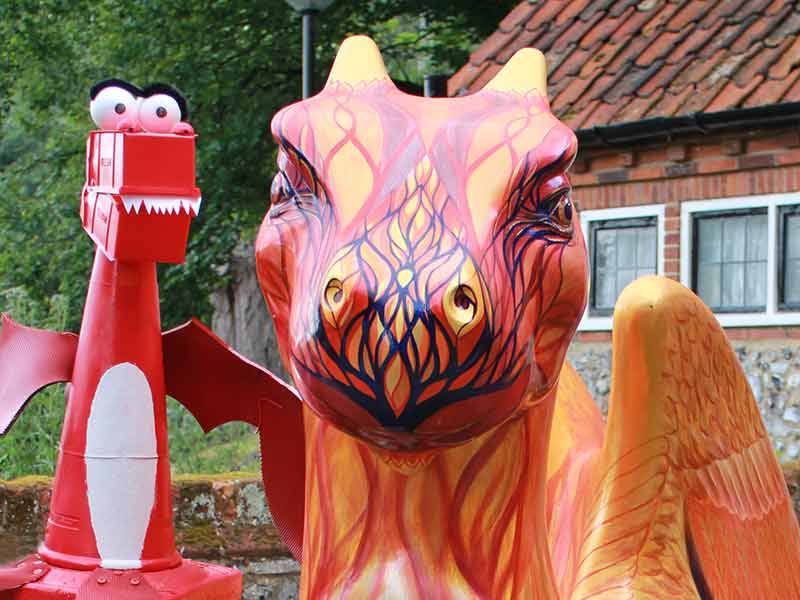 Daisy the Dragon
A true delight is Daisy. George is rather taken with her beautiful floral etchings. She lives in the serene setting of Cathedral Close. Her friends Norvica Serafina and Biggles are nearby, we should probably rename it Dragon Close.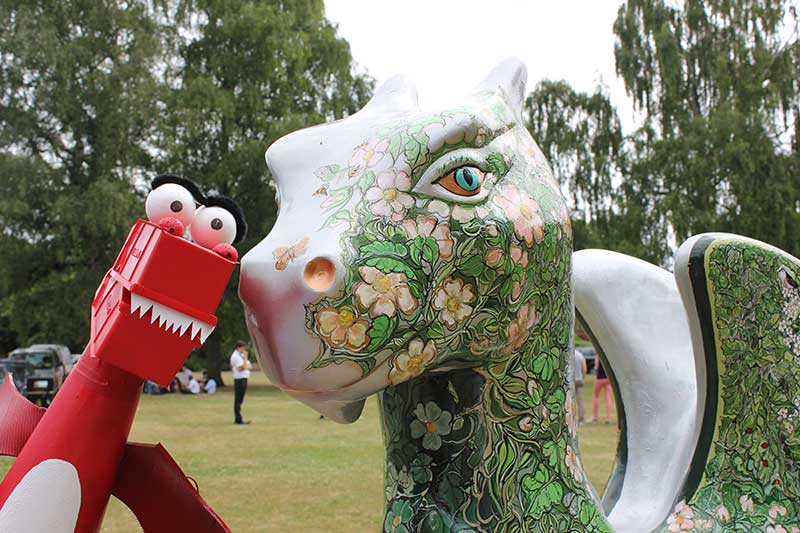 Norvica Serafina
Meaning 'fiery one', his scales were created using the finger prints of the staff and pupils at Norwich School. He stands next to Nelson and has a glorious view of the spire of Norwich Cathedral, but school's out for this dragon.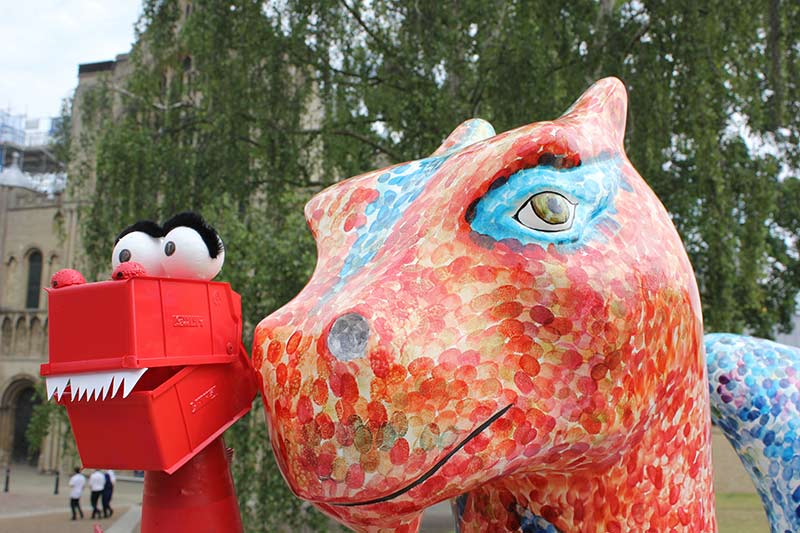 Cavell
Complete with captivating scenes of Norfolk, reminiscent of the railway posters of the 1920's, Cavell is a true ray of sunshine. He is perfect dragon to visit during the great British summer.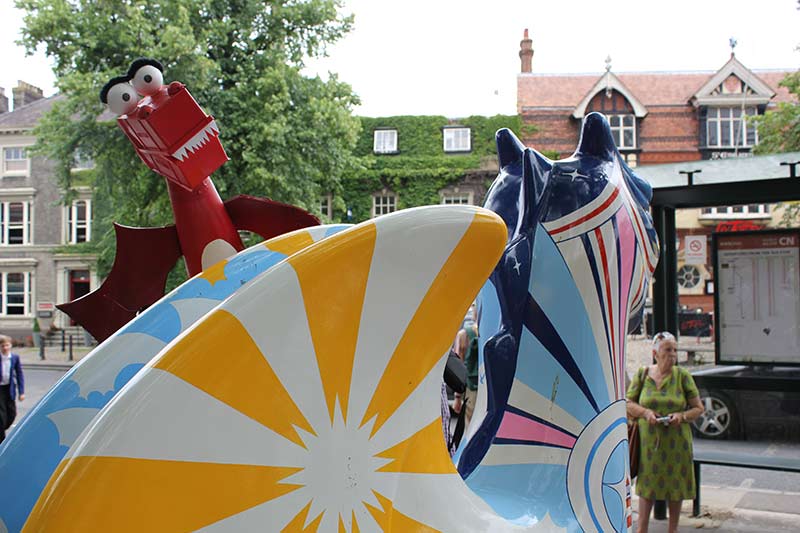 GoGoMosaic
A revelry of reflective gloriousness. Mosaic takes pride of place in the centre of Tombland and shines bright like a diamond. He is a green dragon as he is created using thousands of pieces broken materials such as mirrors, crockery and brooches. George felt rather dull in comparison. Bless.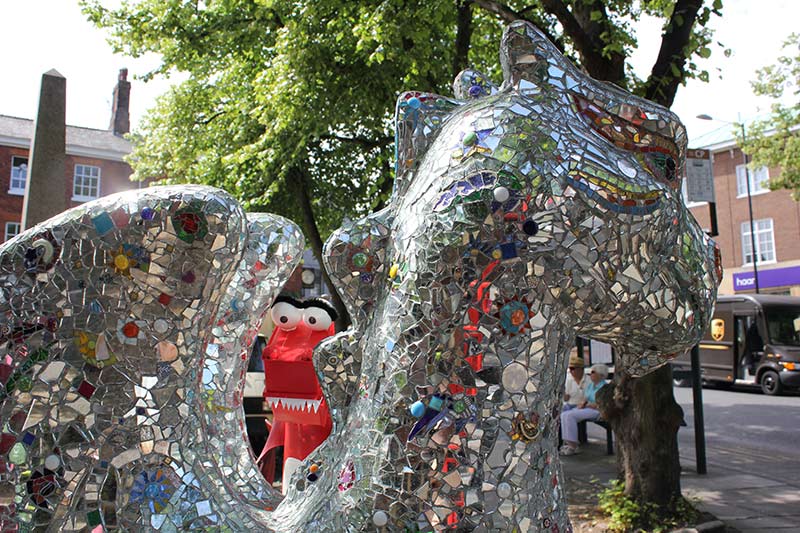 Biggles
Beautiful Biggles was meaningfully created as 2015 marks the 70th Anniversary of the end of World War 2 and the 75th Anniversary of the Battle of Britain. He was born to be his own Spitfire plane – however, being a dragon he won't need any help swooping through the skies.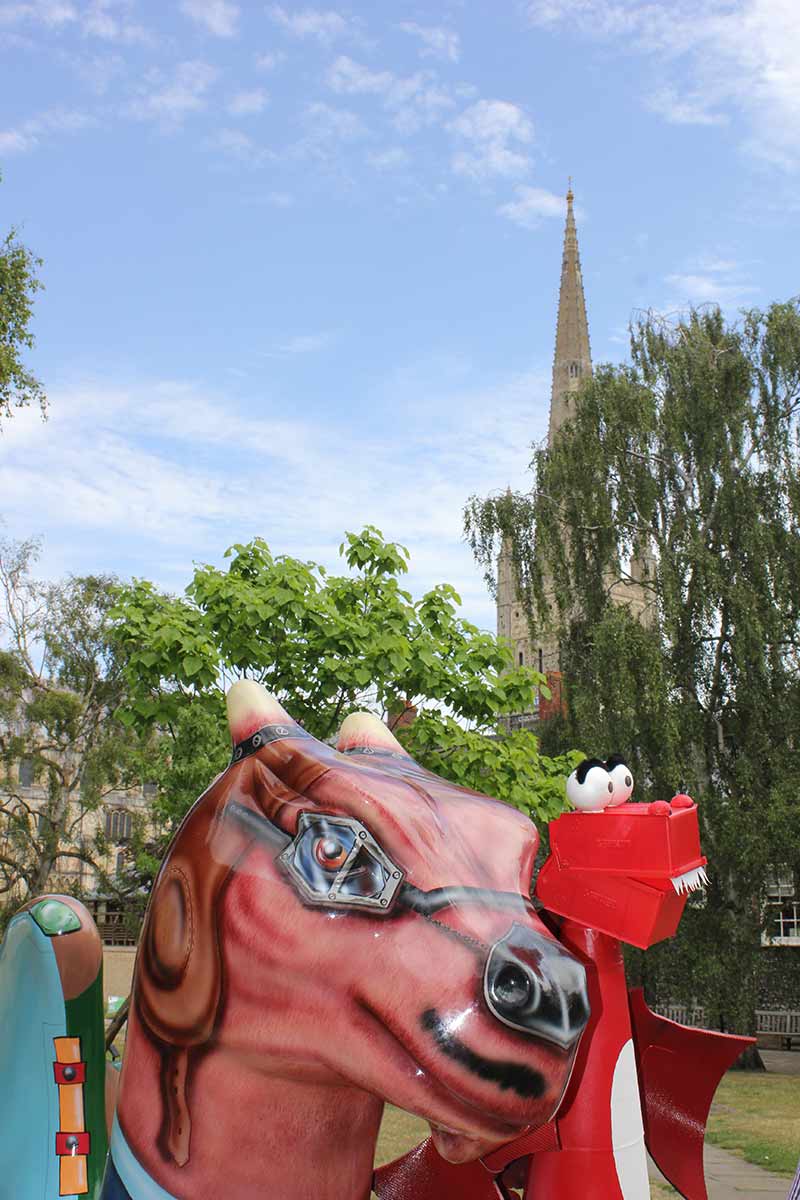 Bittern and Wherry
It's time to hop on board and meet Bittern and Wherry dragon. Named after the Wherry railway line to the coastal towns of Lowestoft and Great Yarmouth, and the Bittern line to the North Norfolk towns of Sheringham and Cromer, he is adorned with captivating scenes of beautiful Norfolk.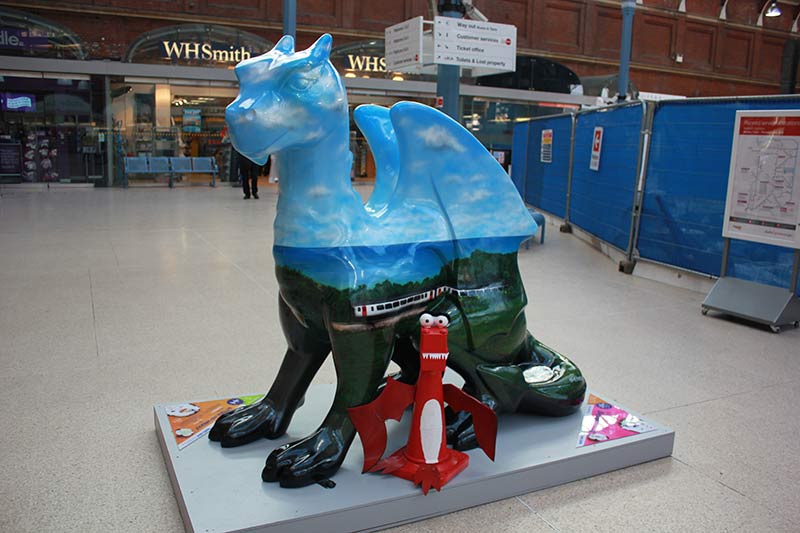 Falkor
This mythical dragon watches the world go by at Riverside. We expect he's become very popular at the many bars and restaurants. He could even pop to the Odeon and catch one of the latest films. Pass him the popcorn.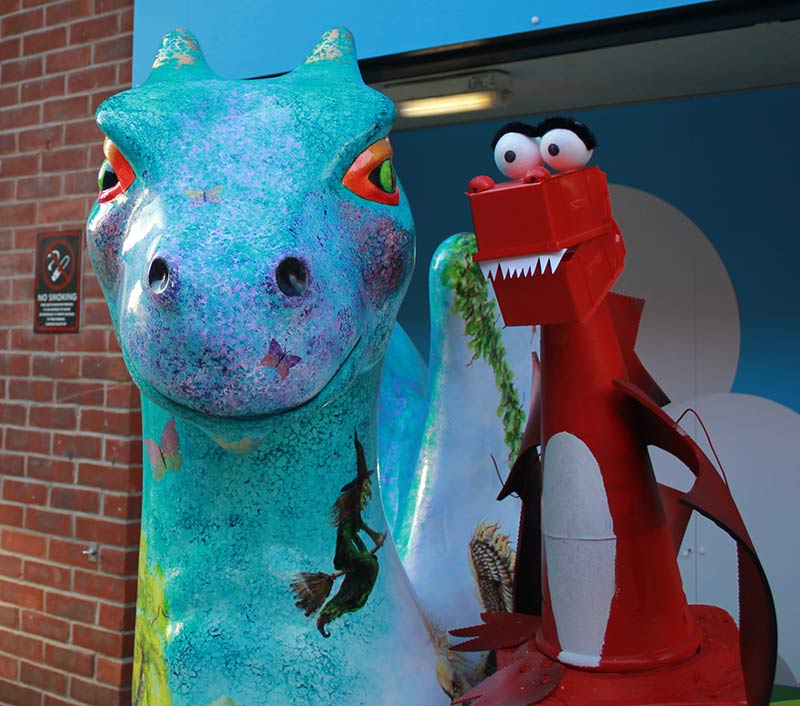 Duelling Dragons
These guys are going head to head in a dragon battle outside the Odeon cinema on Riverside. Created by Norfolk Antique and Reclamation, this pair of recycled dragons really do live in a castle. But George had to wait outside the gate.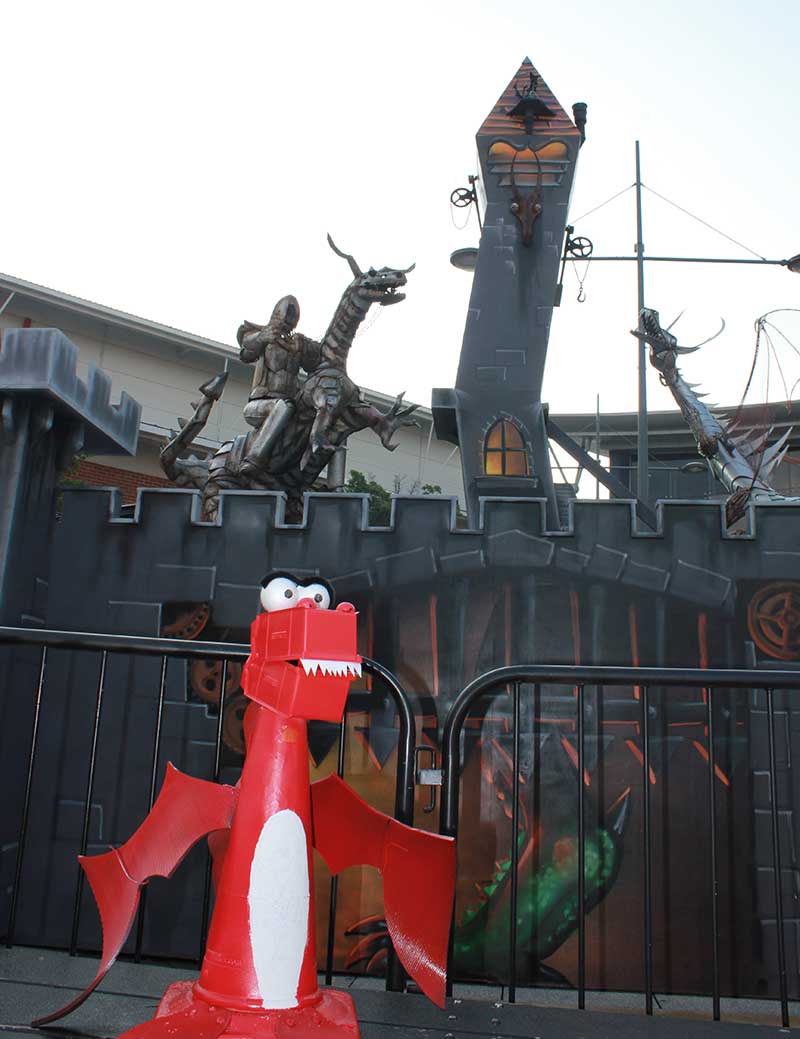 Ashman
Let's be 'aving you! Ashman is dressed in his Canaries football kit and stands proud to be supporting Norwich City Football Club - careful not to leave any dragon footprints on the pitch now!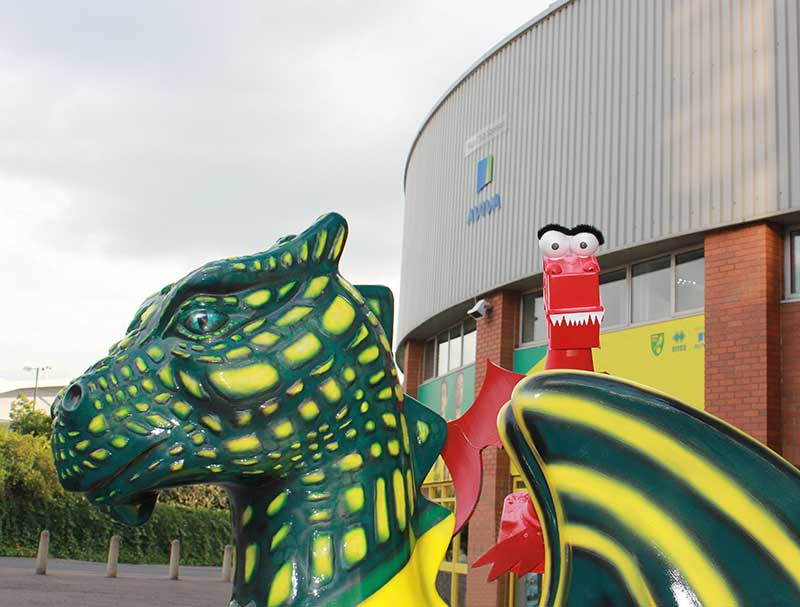 Cassiopeia
Snuggled by the entrance of St. Julian's Church, this armoured heritage dragon represents the ancient art of calligraphy and lettering. She bares medieval iconography that is important to the fine city of Norwich.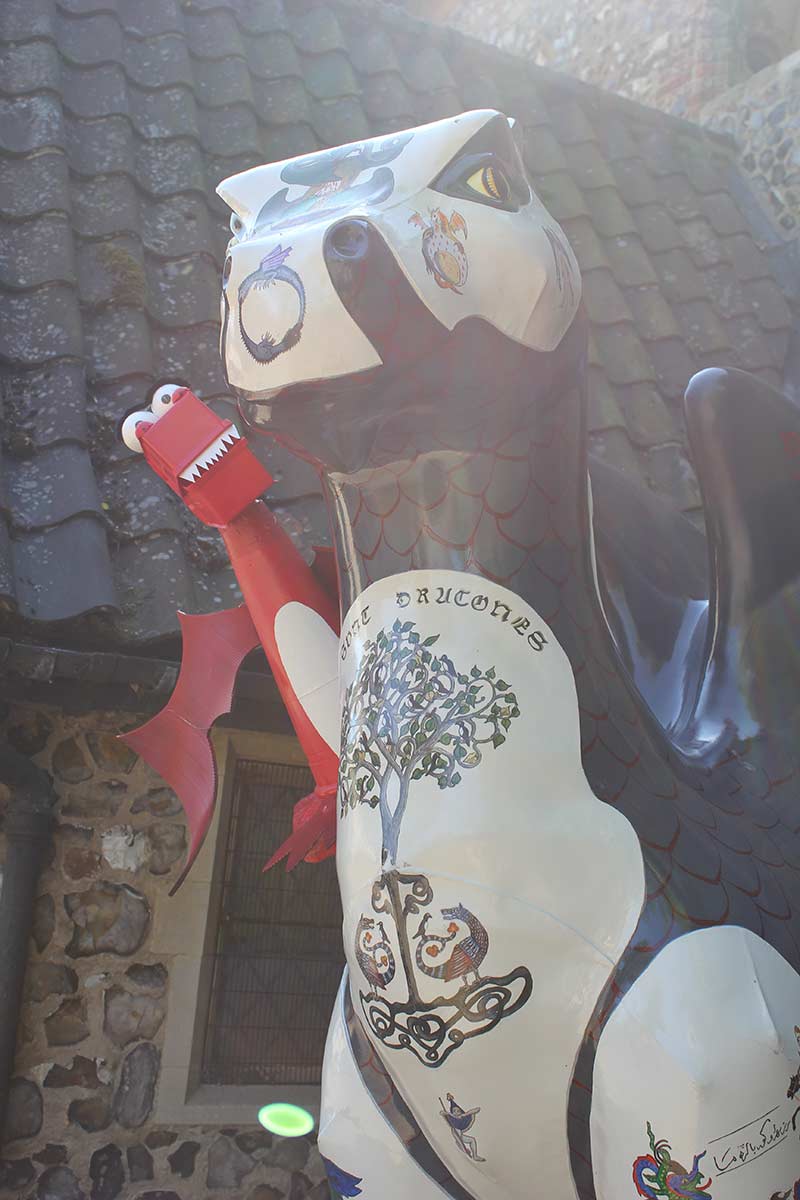 Scorcher
Phew what a scorcher it was when George met Scorcher! George is rather in awe of his fiery friend. He is a combination of a flaming dragon and a powerful feathered phoenix. His designer Hannah Nelson describes him as an 'uber-beast'! Yikes!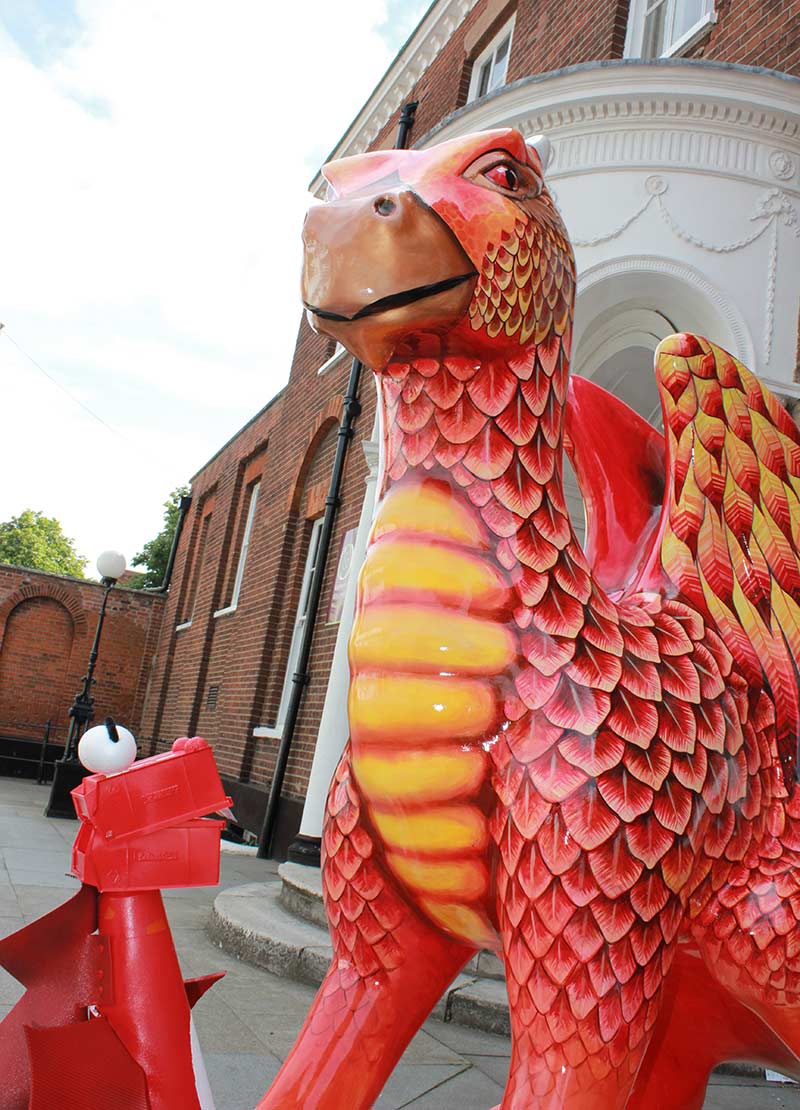 Bajestic
George was definitely prepared to meet Bajestic. He's very smart in his Scouts uniform which is decorated with all 44 Scout district badges for Norfolk. What a clever dragon!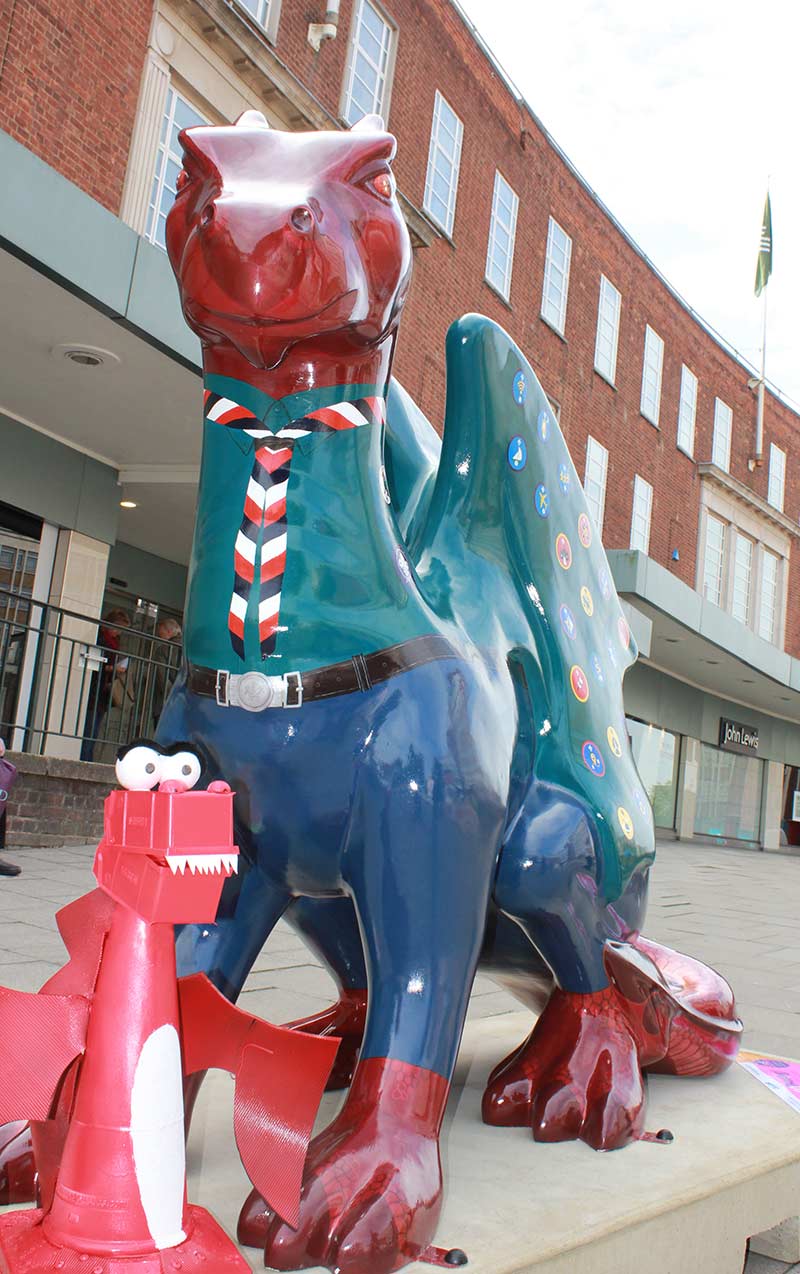 Sapphire
What a sparkler! One of the few dragons that reside indoors, Sapphire's at home in John Lewis department store. She is embellished with materials from the haberdashery department and was created by some talented members of staff.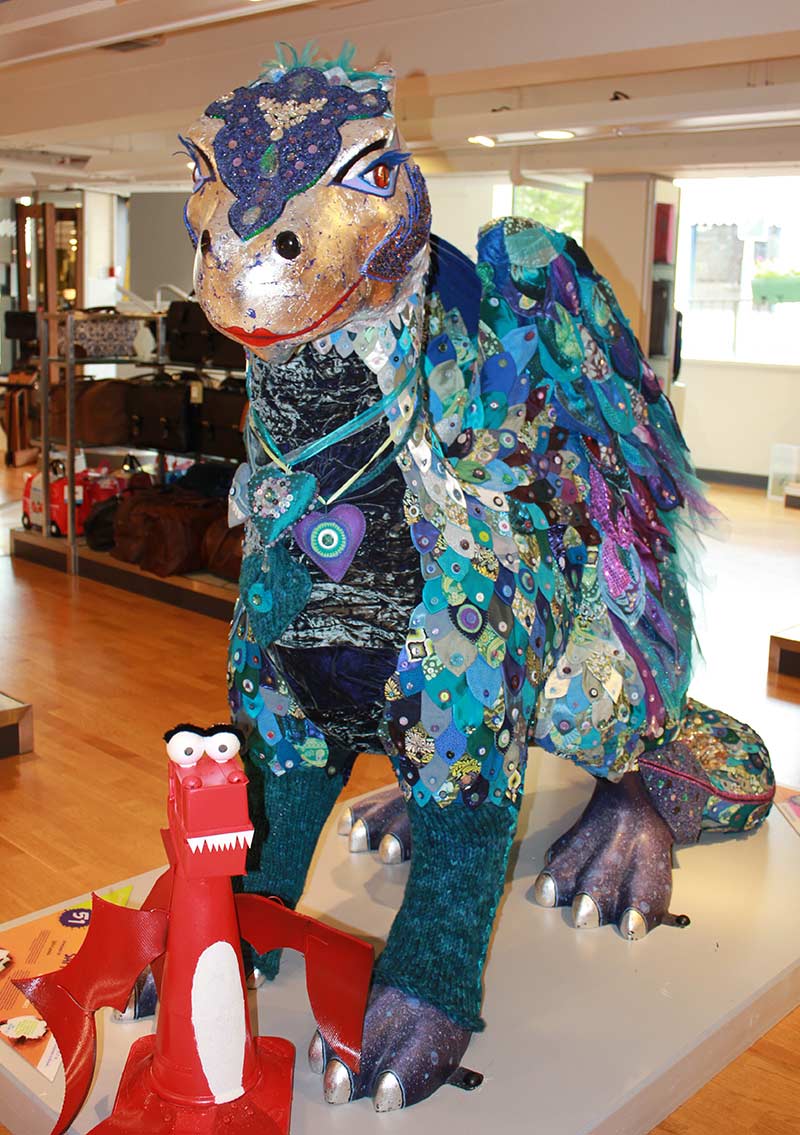 George the dragon
Well this was a meeting and a half! On one of the hottest days of 2015 George was getting to know his new friend and namesake George whose dwelling is by the entrance of the Eastern Daily Press and Norwich Evening News office. He was keenly spotted through the window by friendly Arts Correspondent Emma Knights, she interviewed us and we were very proud to tell her all about George's GoGoDragon journey so far. George was beaming after sharing a picture in the newspaper with his new dragon friend (and Martin and me obviously!) He suggested moving forward that he may need to wear sunglasses to avoid being recognised seeing as he is now somewhat of a local celebrity. Ahem!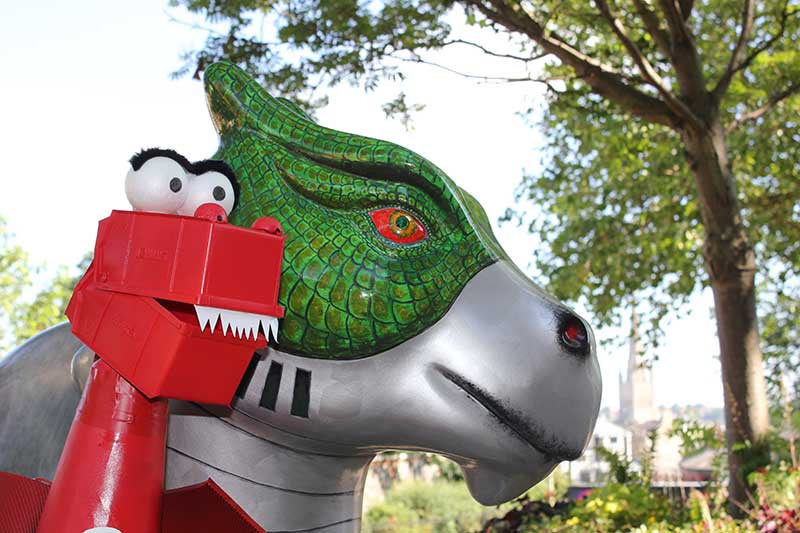 Clang
Covered in images of his kinfolk, Clang will never be lonely. He has a prime location outside the old Anglia, now ITV Television Studio. He's a lovely bright and colourful sight to behold.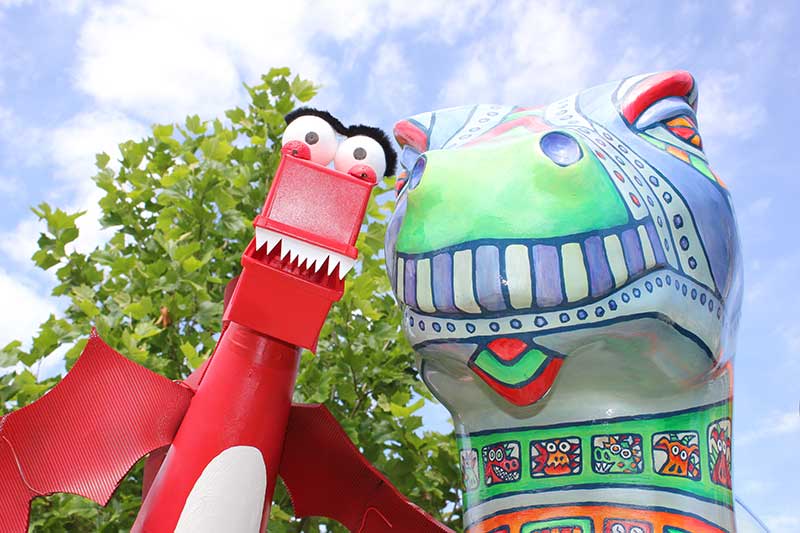 Sherlock
It doesn't take a detective to find Sherlock! He's very grand in his tweed waist coast and finery. He is named with reference to his sponsors, Watsons Property Services. In the absence of Dr Watson, perhaps George could take on the role of his sidekick? Dr rather unusual little red dragon I presume?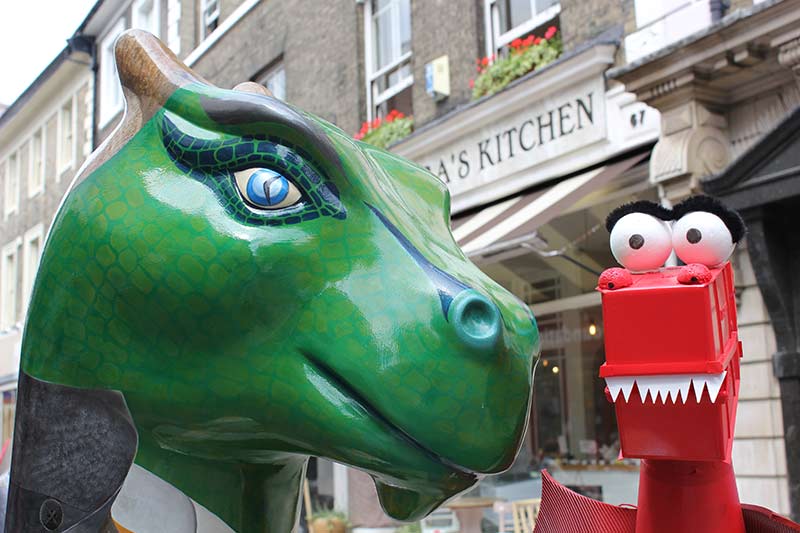 Cyril
Masked in maps of Norwich, old and new, Cyril will never get lost. He represents the past, present and future of the fine city of Norwich. He's lives in a sheltered corner by historic St Andrew's Hall, perfect for meeting up with Nod (No Ordinary Dragon) for a fiery breath cooling lemonade at The Playhouse Bar.
Fiesta
Fantastic Fiesta watches the world, mostly buses, go by on Castle Meadow. Why not chat to him while you wait for the bus to arrive, he's a very friendly dragon.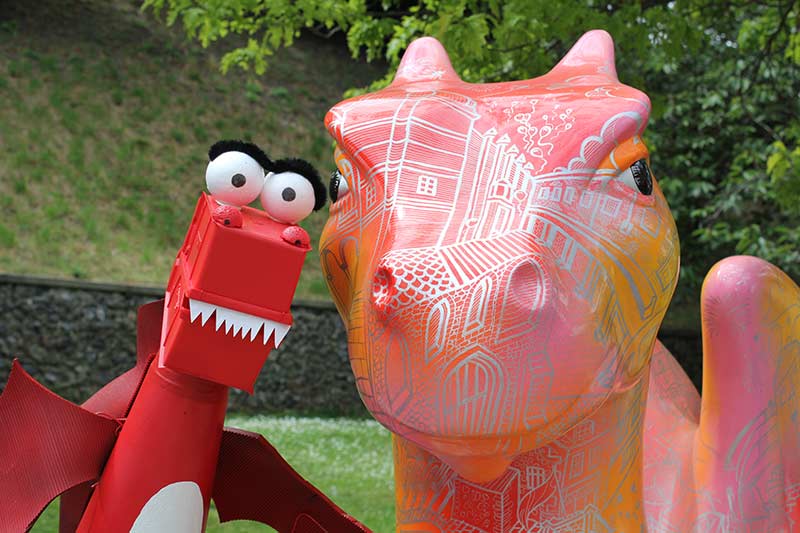 Dragon's Hoard
Dragons love to hoard treasure. This one is no exception. She has gorgeous gold dust sprinkled all over her back which is already glistening due to her lovely black scales. She's appropriately homed outside her sponsors Dipples Jewellers.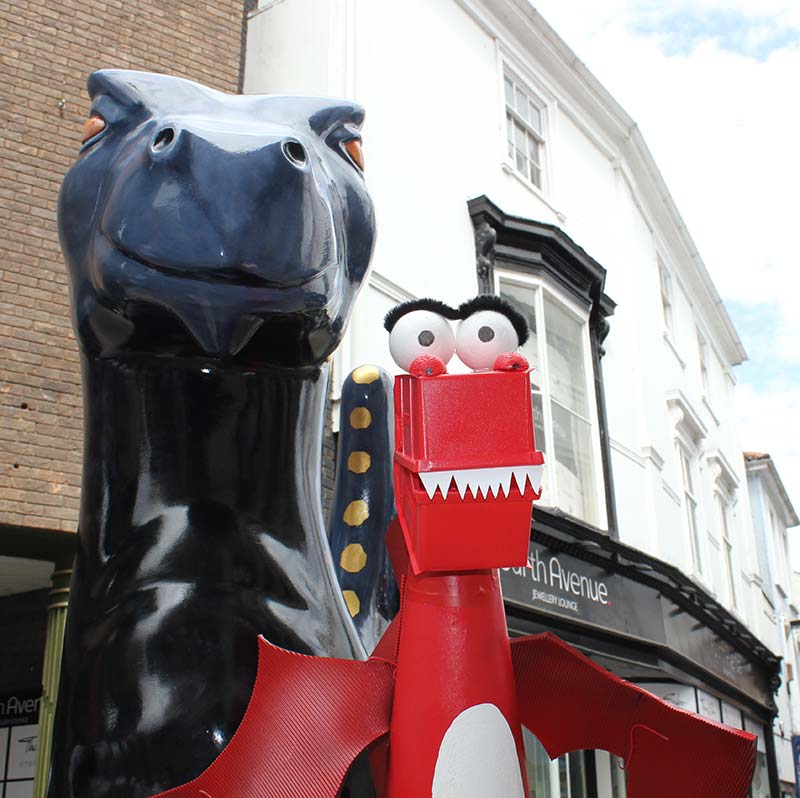 Dragon with the Girl Tattoo
George swooped all the way to the top of Norwich Castle mound to meet his inked friend. She is a celebration of famous women past and present who are from or associated with Norfolk. From her plinth she has a fantastic view over the city so that she may keep a keen green eye on her fellow GoGoDragon pals.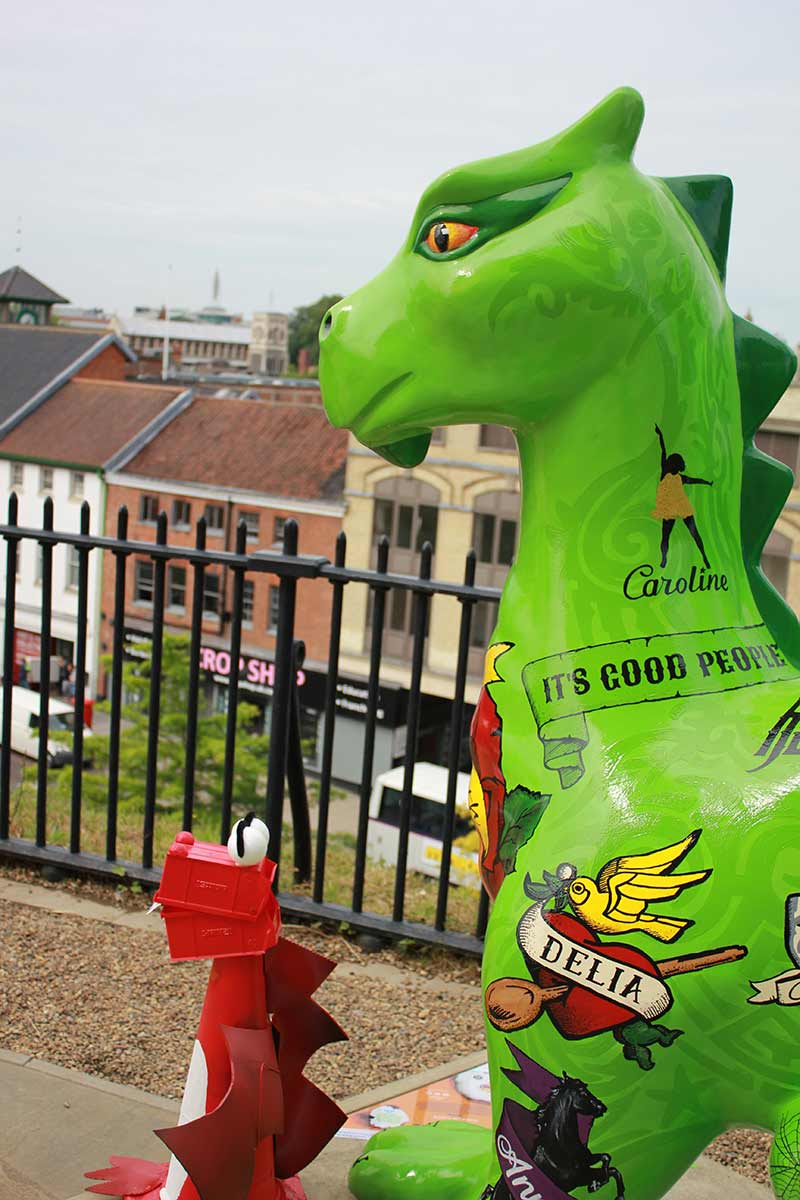 Double Decker
Aptly named by his owners First Bus Group, Double Decker dragon mirrors the rooftops of Norwich market on a sunshiny day. Dragons are a bit like buses on Castle Meadow… you're looking for one and then two come along at once!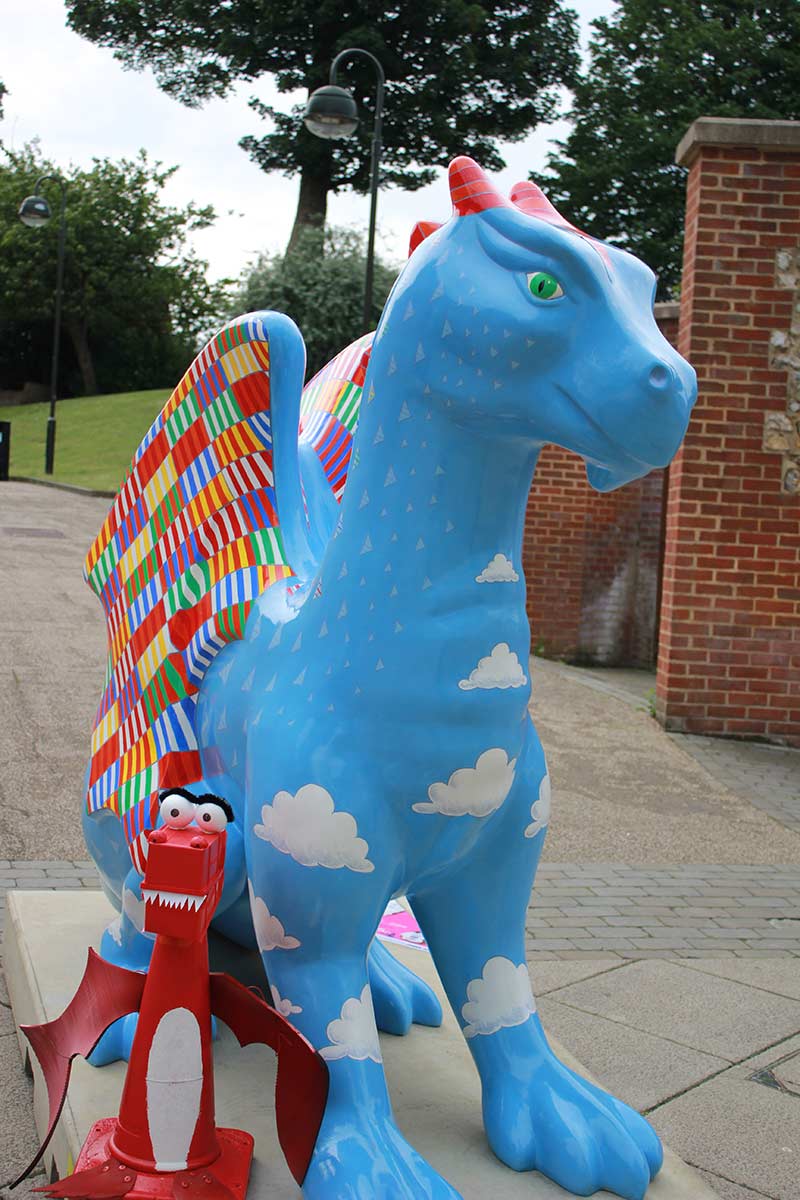 The Mother of Dragons
She's a fierce one! She is a cacophony of dragons and inspired by Merlin and Dragon-Lore in Britain. She subtly surveys the city from her plinth on Castle Mound.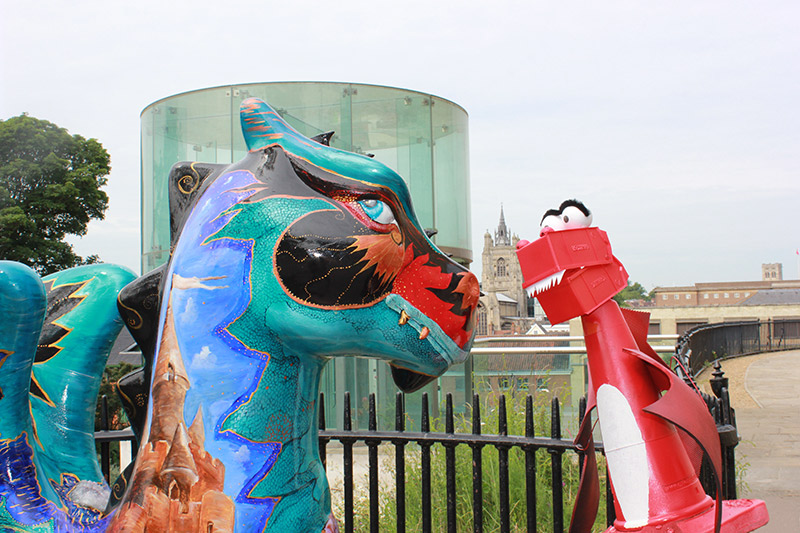 00Mustard
This dragon is definitely shaken but not stirred! What a fine gentleman he is in his tuxedo complete with numerous gadgets on his wings. His glowing gold face is in reference to Goldfinger, he has those too. Well, toes anyway.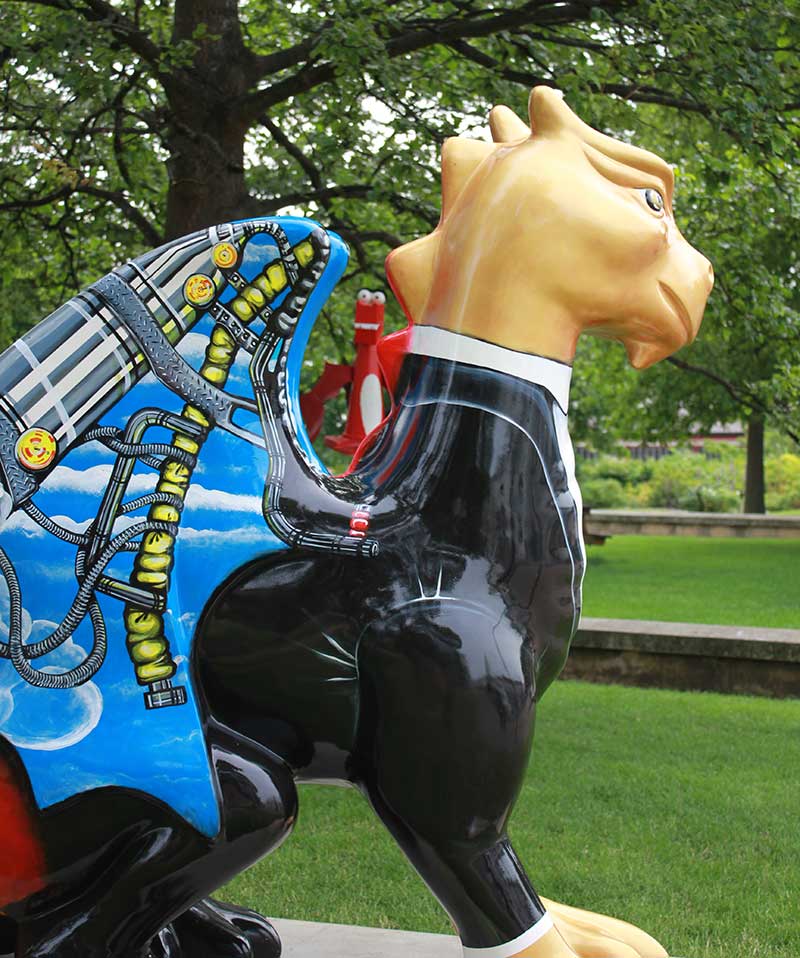 Buzz
Which dragon creates a real buzz in Castle Mall Shopping Centre? It's Buzz of course! He is designed to reflect the beauty of Norfolk countryside with his lavender, big blue sky and fluffy white clouds. George thinks it may be a little bit tickly having Bees buzzing around your head, even if it is a honeycomb one?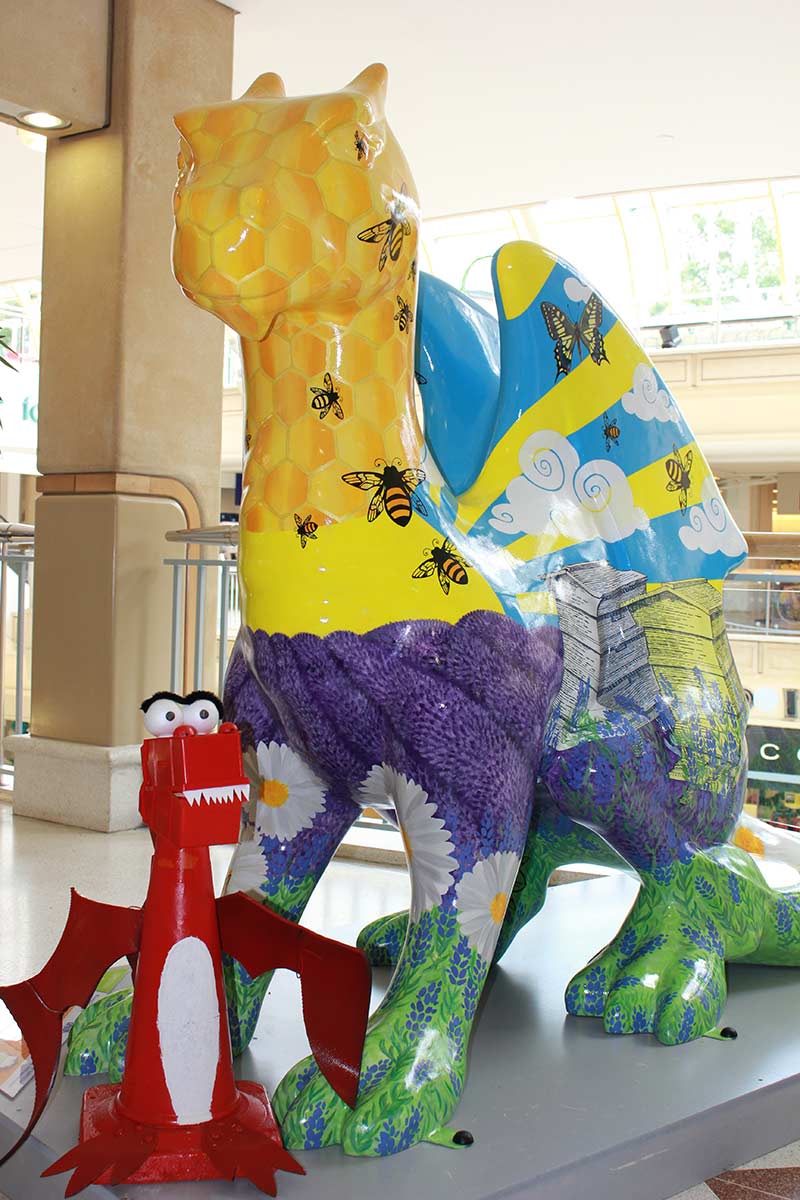 Snap
Snap the Orchard Toys Dragon shares his home with Buzz dragon. He has images of his colourful friends from Wymondham all over his scales. They are all in pairs, except one lonely chap. Have you found him yet?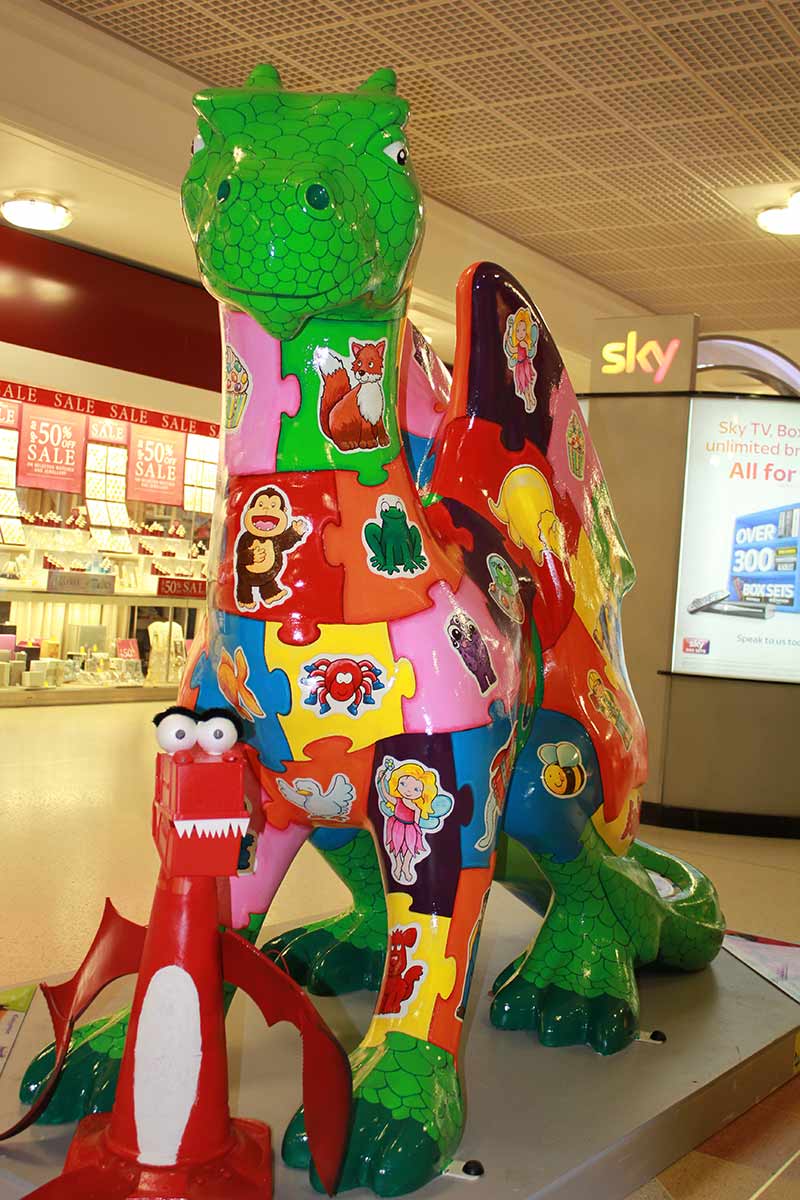 Dreamland
You're not dreaming, he really is this dreamy. Dreamland's designer Hannah, created this beautiful dragon as a vision of an idyllic dream, with lush landscape set against the dramatic backdrop of the dragon.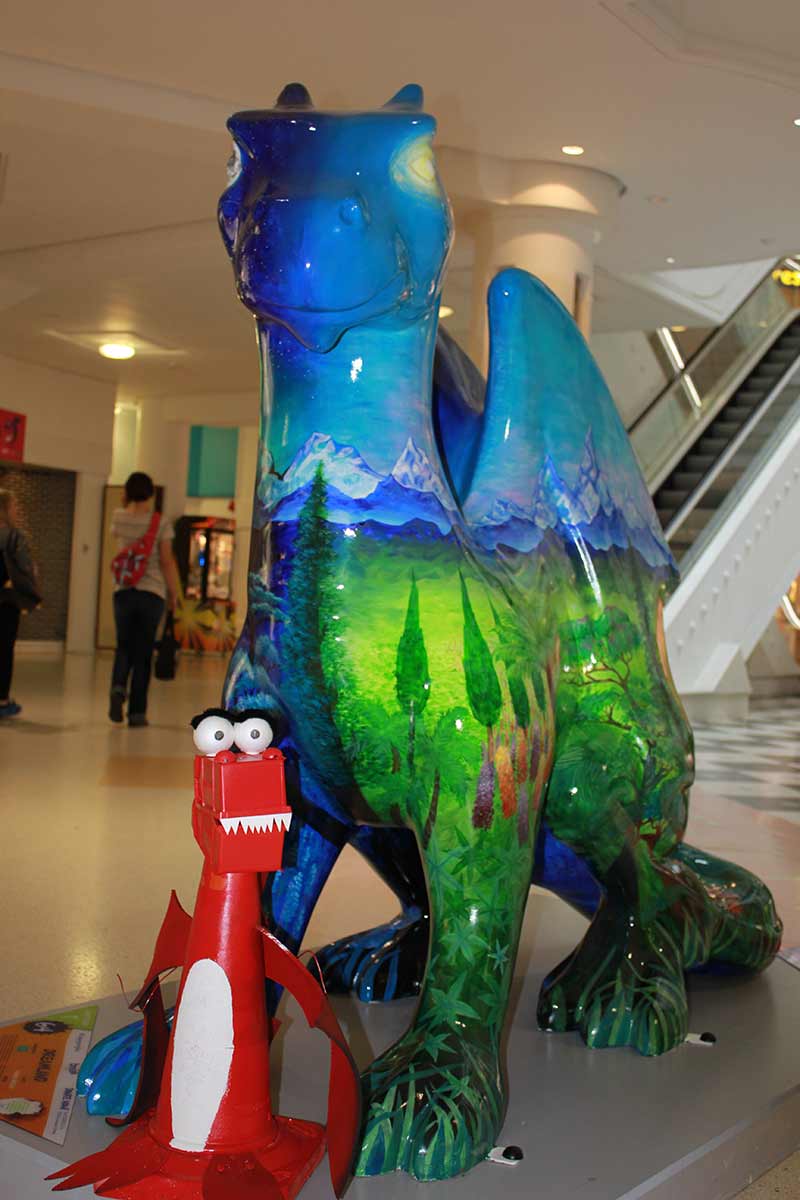 Mighty Oakus
Entwined with foliage representative of the 1500's and Kett's Rebellion, Mighty Oakus stands tall and strong. He shares his shrubbery with a selection of animals often found residing in Wayland Wood, including a rather cute little squirrel.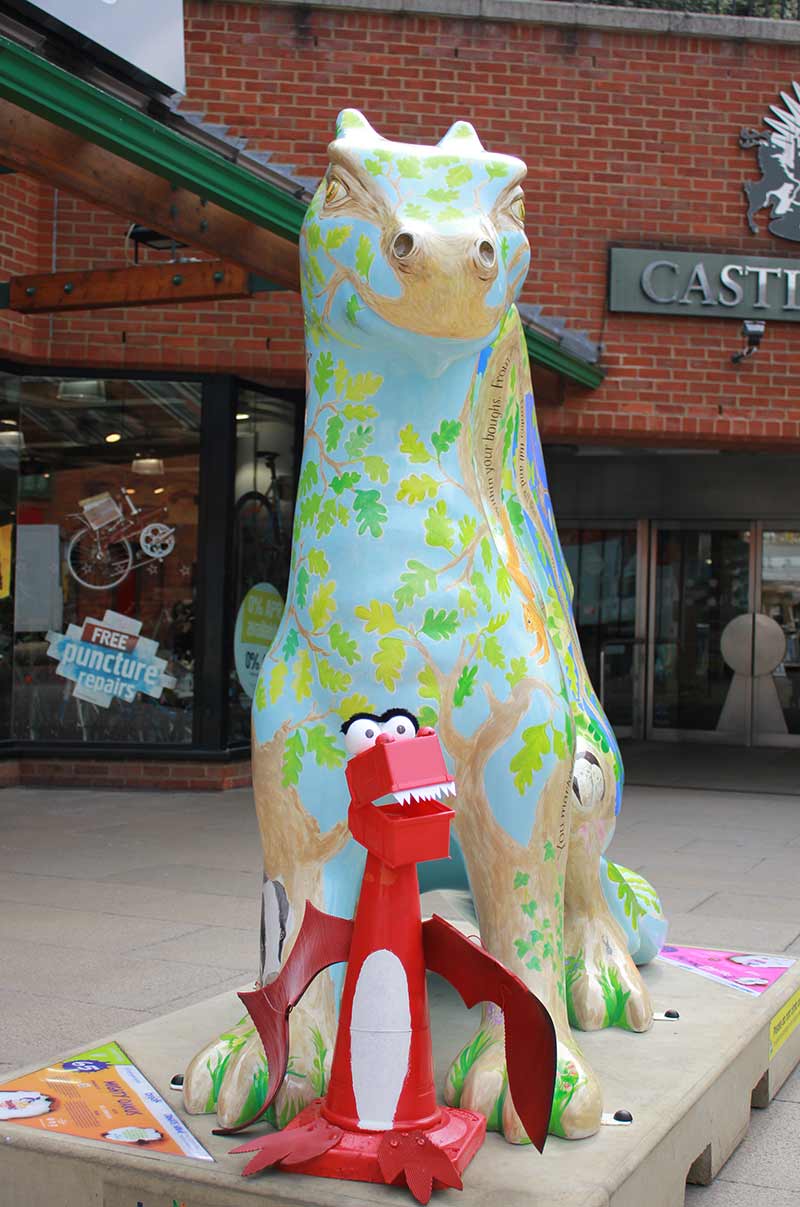 Skipper
Shop in style with sensational Skipper. She lives in the Royal Arcade, a Victorian shopping mall designed in 1899 by George Skipper. This Art Nouveau style dragon involves aspects of nature including peacocks, flowers and flying birds.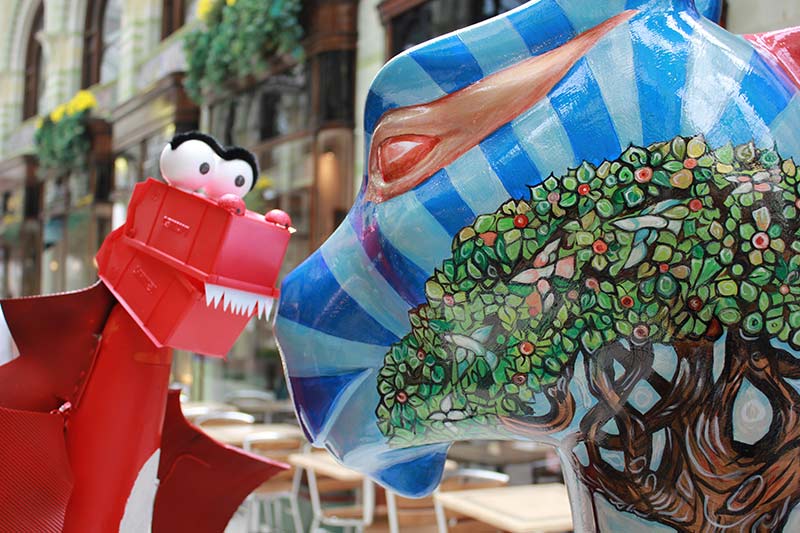 Eye Spy Cecil
Be sure that this beady-eye dragon will be watching you! Sponsored by Cecil Amey Opticians, Cecil's scales are replaced with eyes with each one depicting a different view of the world. We wondered what the world looked like through the eyes of a dragon…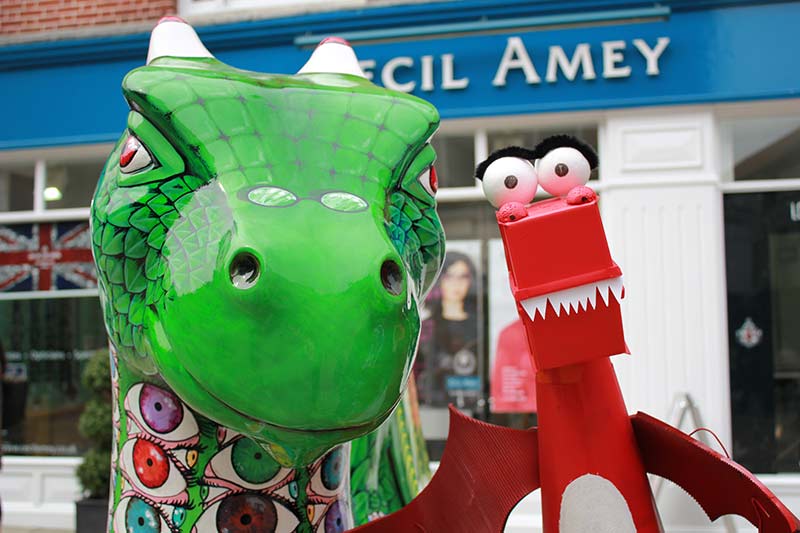 Morgan
This is a dragon with a big heart. Morgan's skeletal design is to encourage more people to sign up to the NHS Organ Donor Register. With his big cheeky grin how could you resist?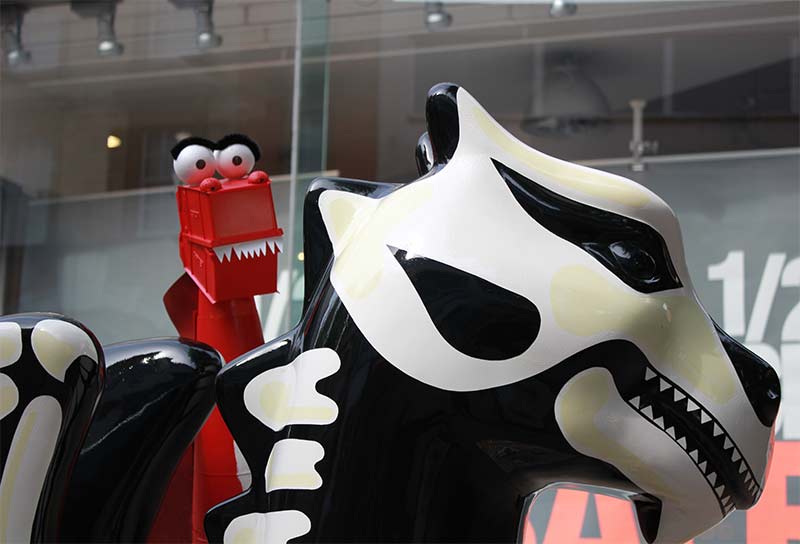 GoGo Captain USA
If you find yourself in a sticky situation this is the dragon to call! This American superhero will swoop you up and remove you from danger. George would rather like to be a superhero dragon when he grows up.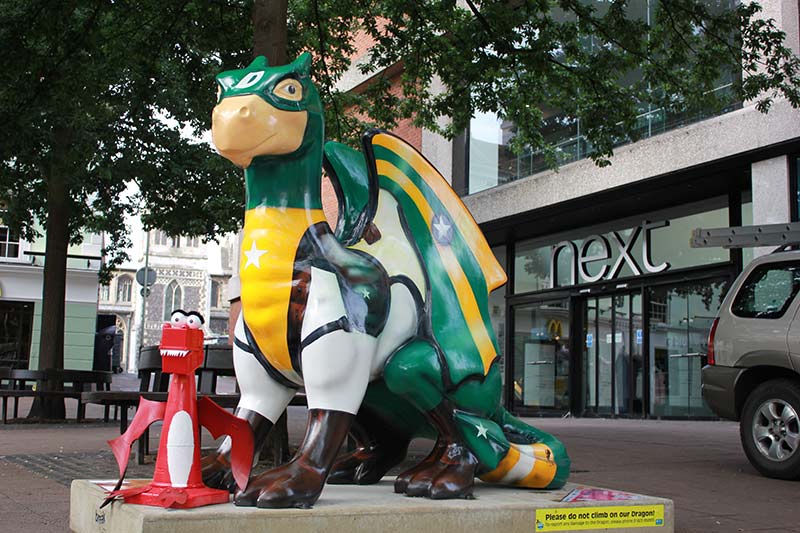 Rosie
What a beauty Rosie is. She represents inspirational women from the first and second world wars. She has very beautiful scales and skin, George would rather like to book into the Cottage Hair and Beauty for a spruce up – perhaps an eyebrow thread eh George?!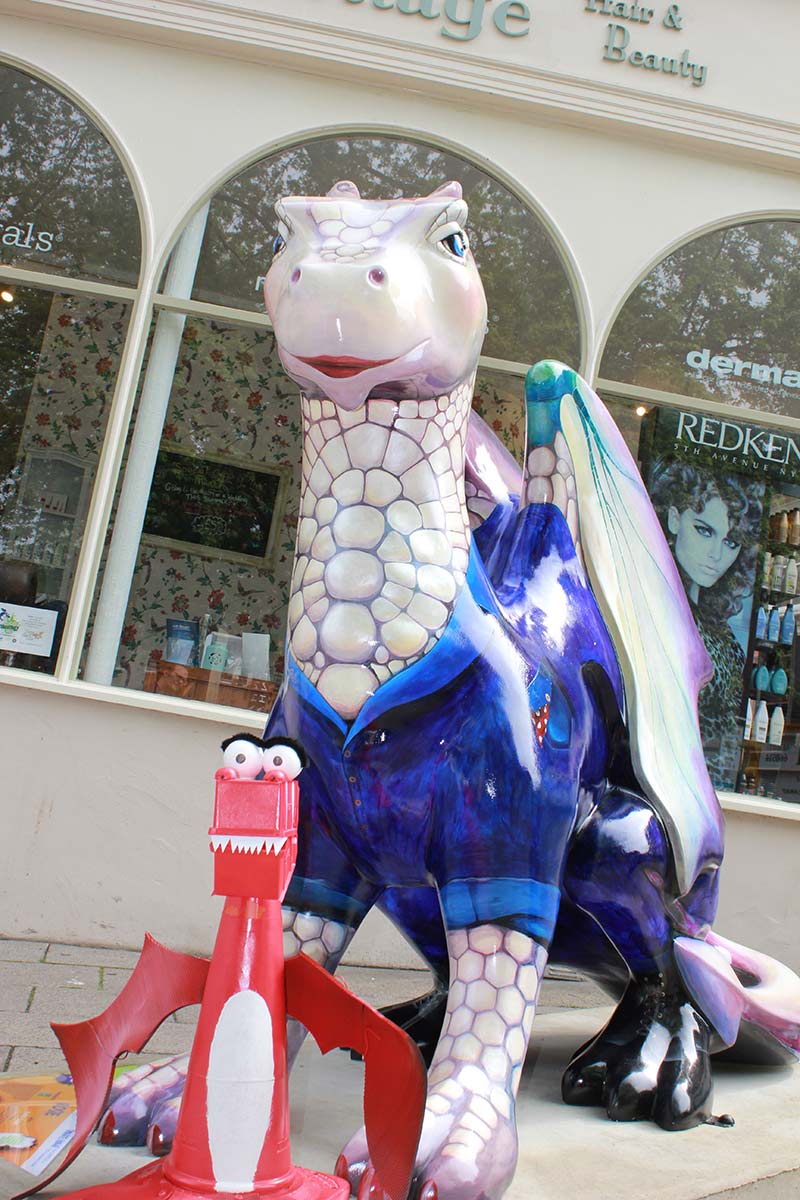 Aurelia
Black and sleek, adorned with Art Nouveau inspired golden scrolling designs and gilded chest, Aurelia is a dragon who likes the finer things in life. This is not just any dragon, this is a Marks and Spencer dragon.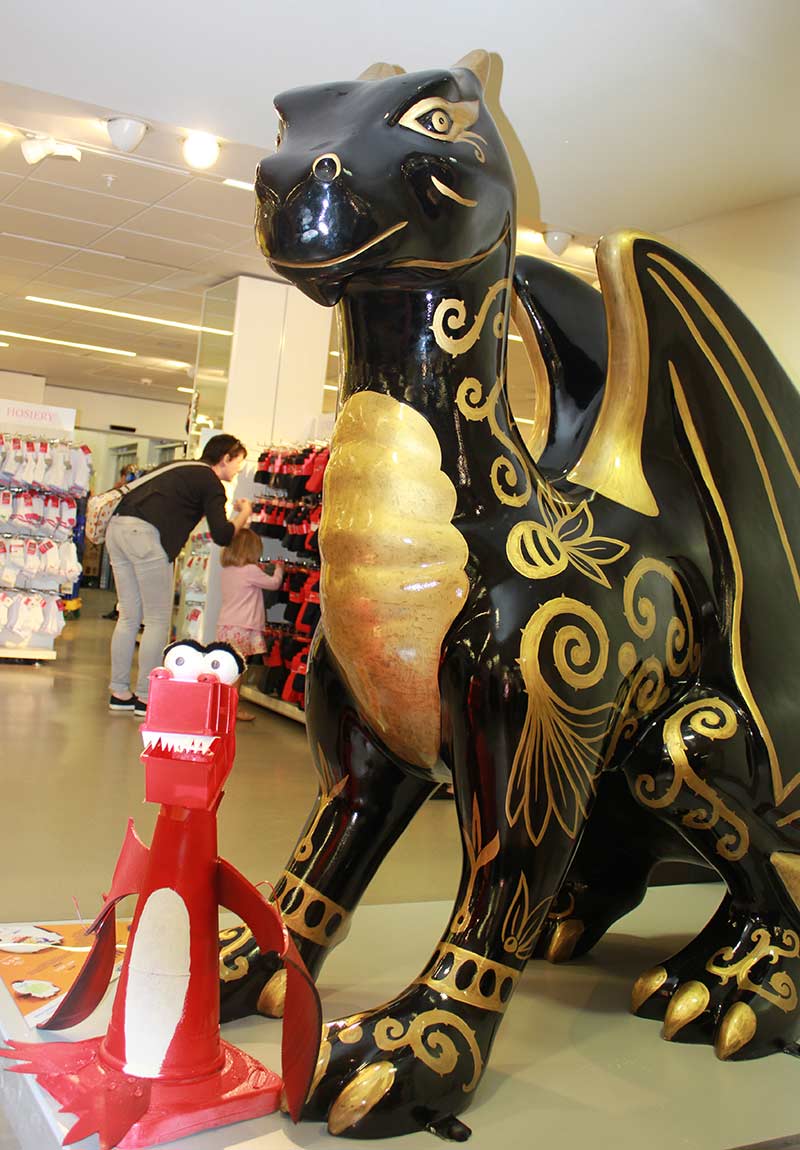 GoGo Wonder Dragon
Now, this glamorous lady certainly made an impression on George. He's rather smitten with her smouldering eyes and rouge lips. She's inspired by 1970's heroine Wonder Woman and is protective of the fine city of Norwich. And we think she's extra protective of a certain unusual little red fellow…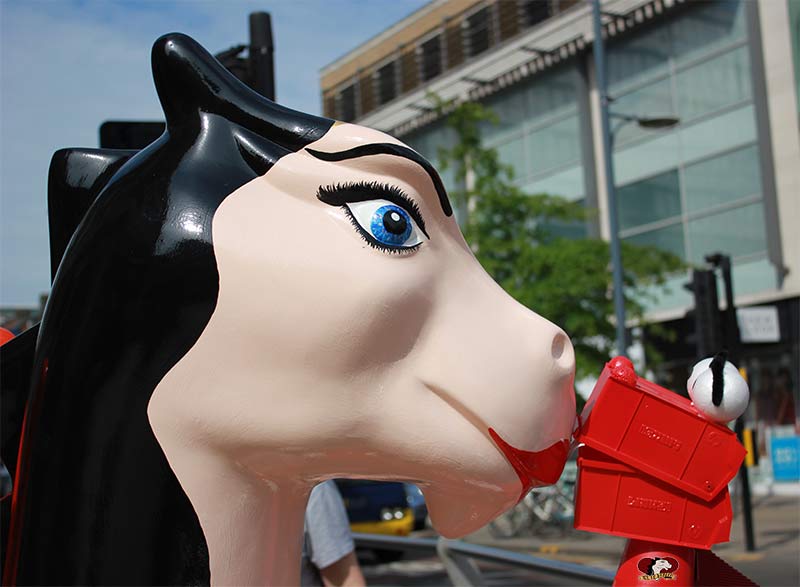 Dennis
A medieval dragon who enjoys life on an ocean wave, Dennis is inspired by medieval maps and the saying 'here be dragons' which illustrates the danger of uncharted waters. Dennis won't cause you any harm though, just watch out for the many busses that pass as you cross St Stephen's Street to say hello!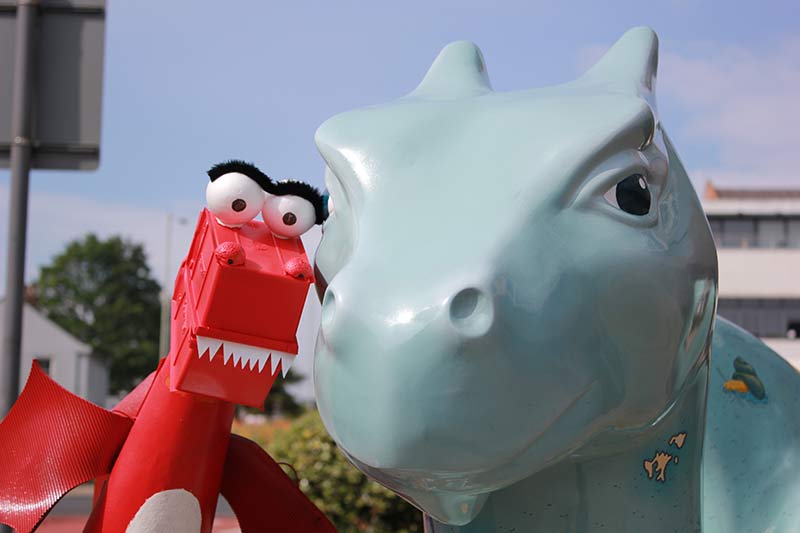 Duff
Decorated with a collage of animals for which Duffields, his owners, provide animal feeds, he's a caring agricultural fellow. George thinks it might be a little bit noisy being surrounded by farmyard animals all day long. Moo.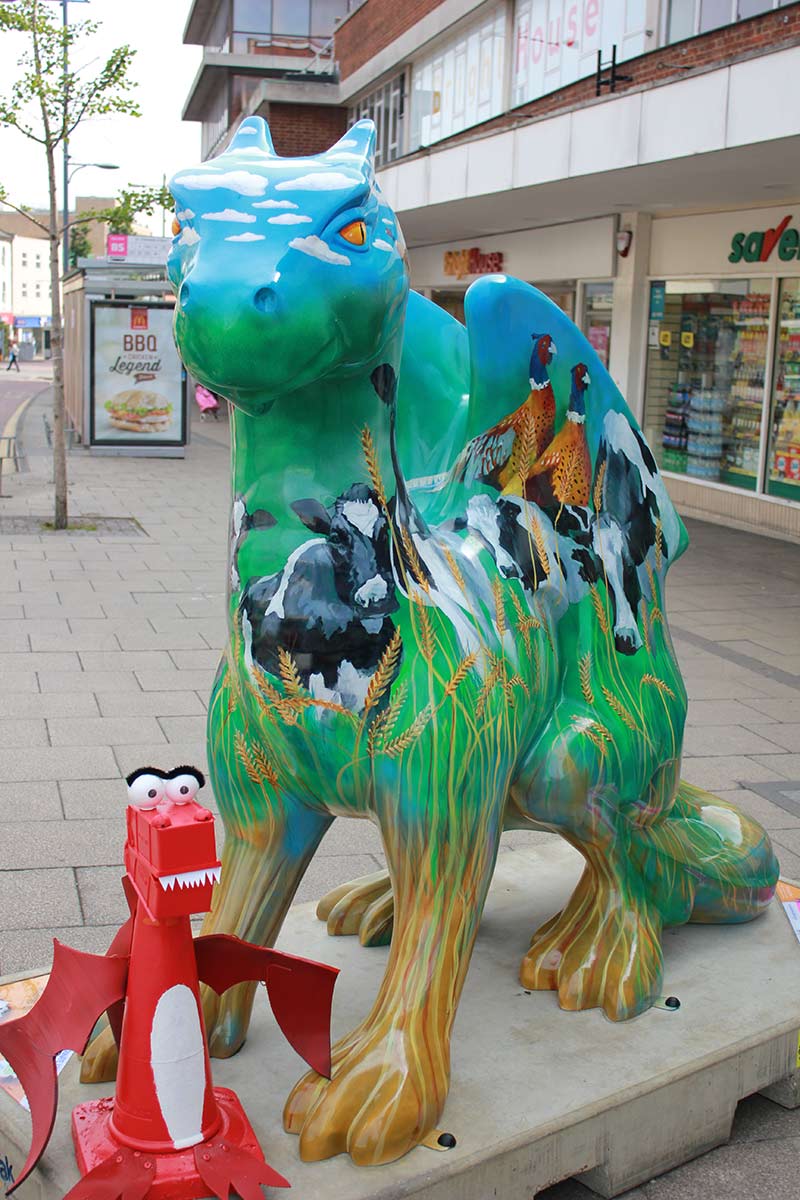 Circuit
Bright green with little red lights you certainly won't miss Circuit dragon. She's guarding the entrance to Intu Chapelfield shopping centre. She's designed for the University Technical College Norfolk, she is printed with circuit-boards aplenty, wonder what might happen if we connected her to some power? Maybe GoGo McFly Dragon could help out with his Flux Capacitor?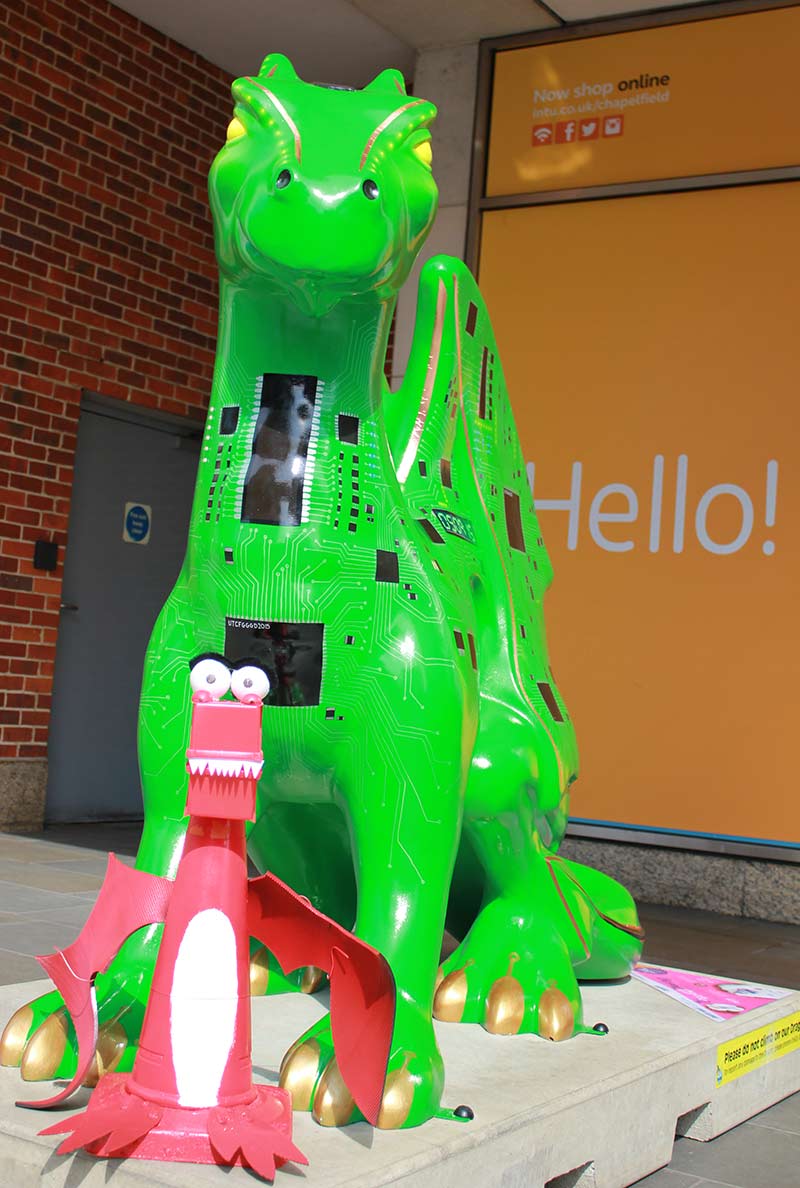 Patch
This dragon has it sewn up. His bright colourful patchwork is a pleasure to see as you approach the main entrance to Intu Chapelfield. This chatty dragon will have you in stitches. Surrounded by a plethora of restaurants Patch will never go hungry.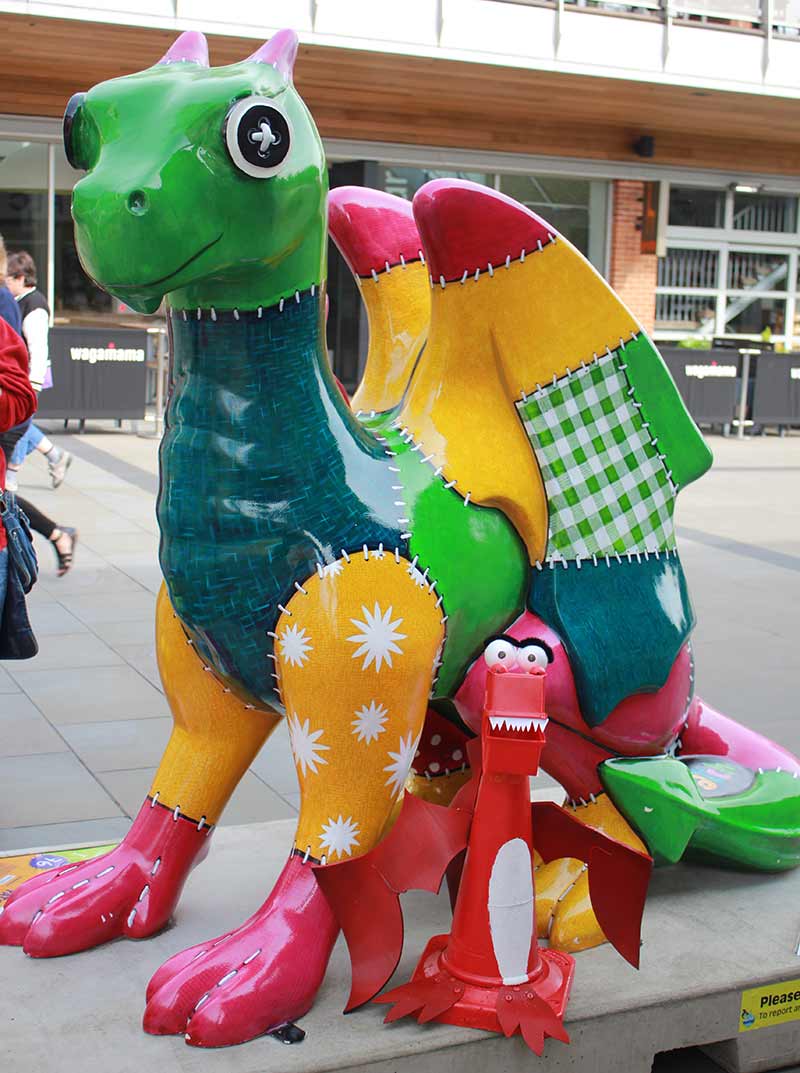 Soup Dragon
A super dragon perfectly at home on the dining terrace in Chapelfield mall. If you speak to him nicely he might let you taste his special dragon broth.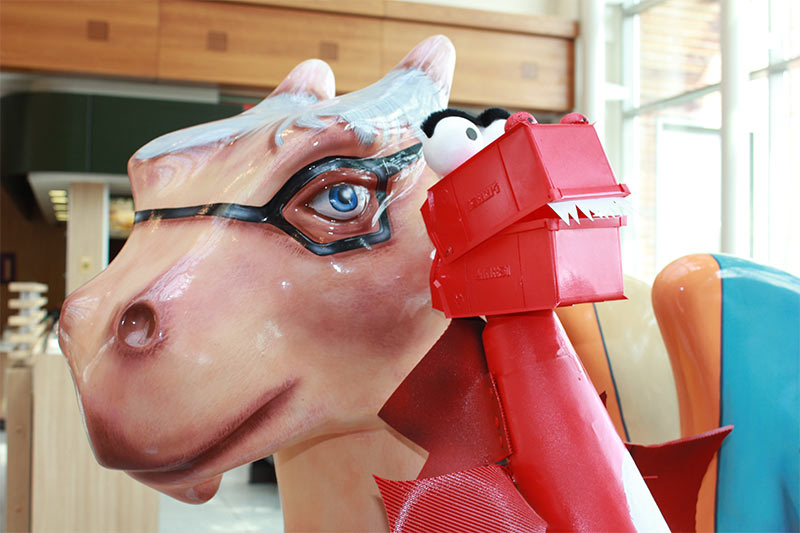 KnickerBockerGloria
You won't fit this delicious dragon in a sundae glass! Her chocolate sauce swirly design is inspired by a visit to an ice cream parlour in Blakeney. Rumour has it that dragon rumblings have been heard at Mariners Hill, keep the noise down KnickerBockerGloria!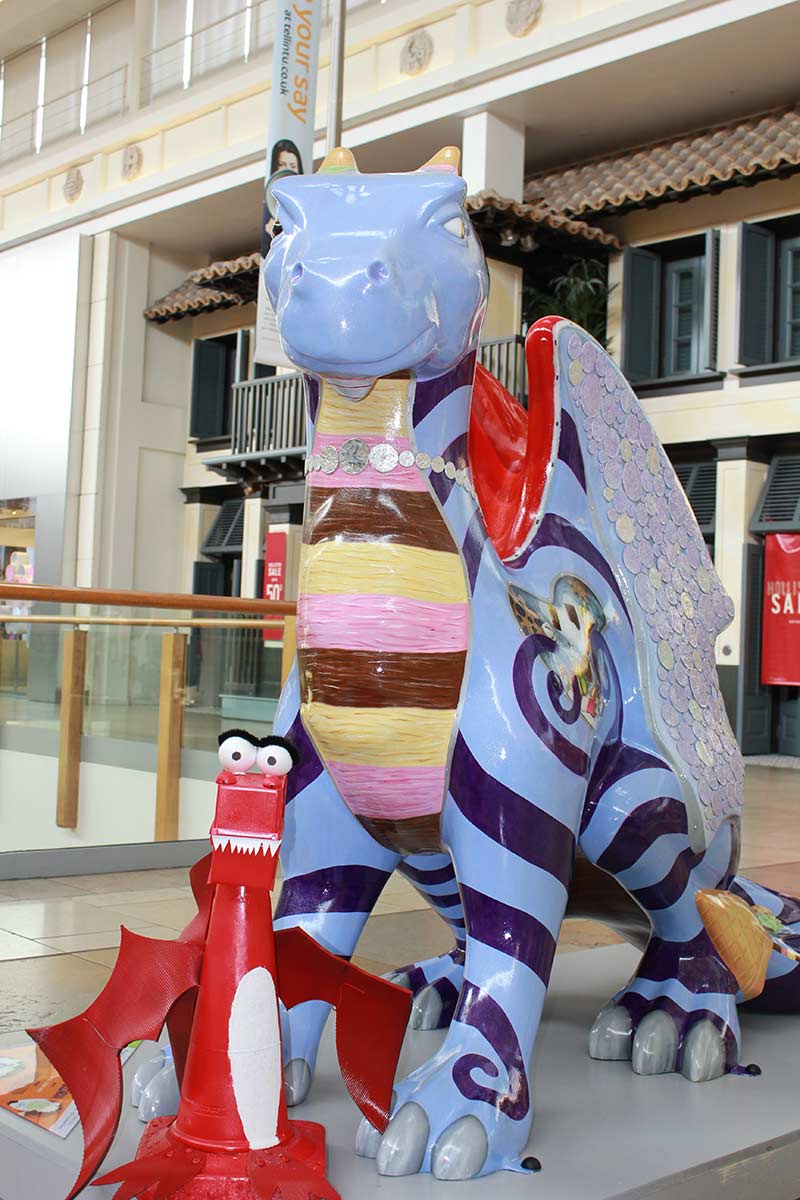 IndyGoGo 500
This speedy dragon will challenge you to a race – and almost certainly win. He's wearing full Indy Car gear, complete with goggles! George would challenge him to a race, but he has trouble driving, his little feet won't reach the pedals.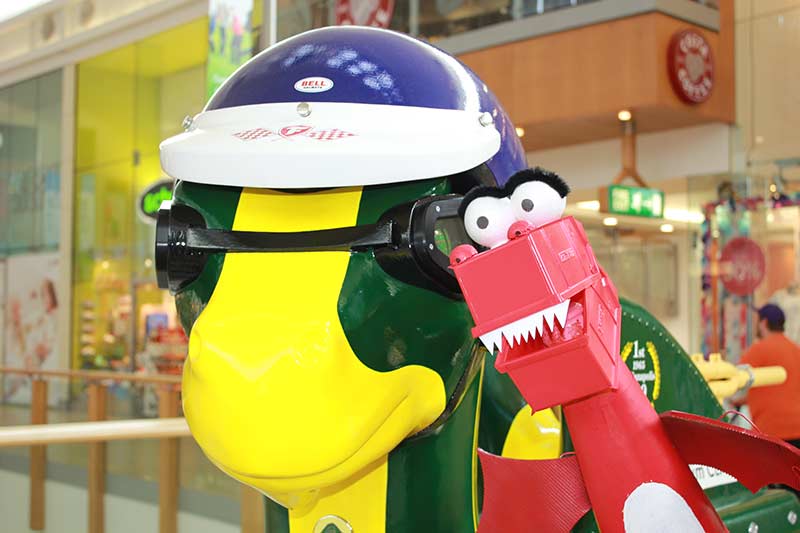 GoGo King Tut
Bow down to his Majesty the Egyptian King. 'Tutters' stands proud outside the TV and Movie Store which hosts a cacophony of characters from Minions and Merlin to Doctor Who and The Daleks. Perhaps King Tut and his dragon friends could create their own film? GoGo Dragons the Plinth Generation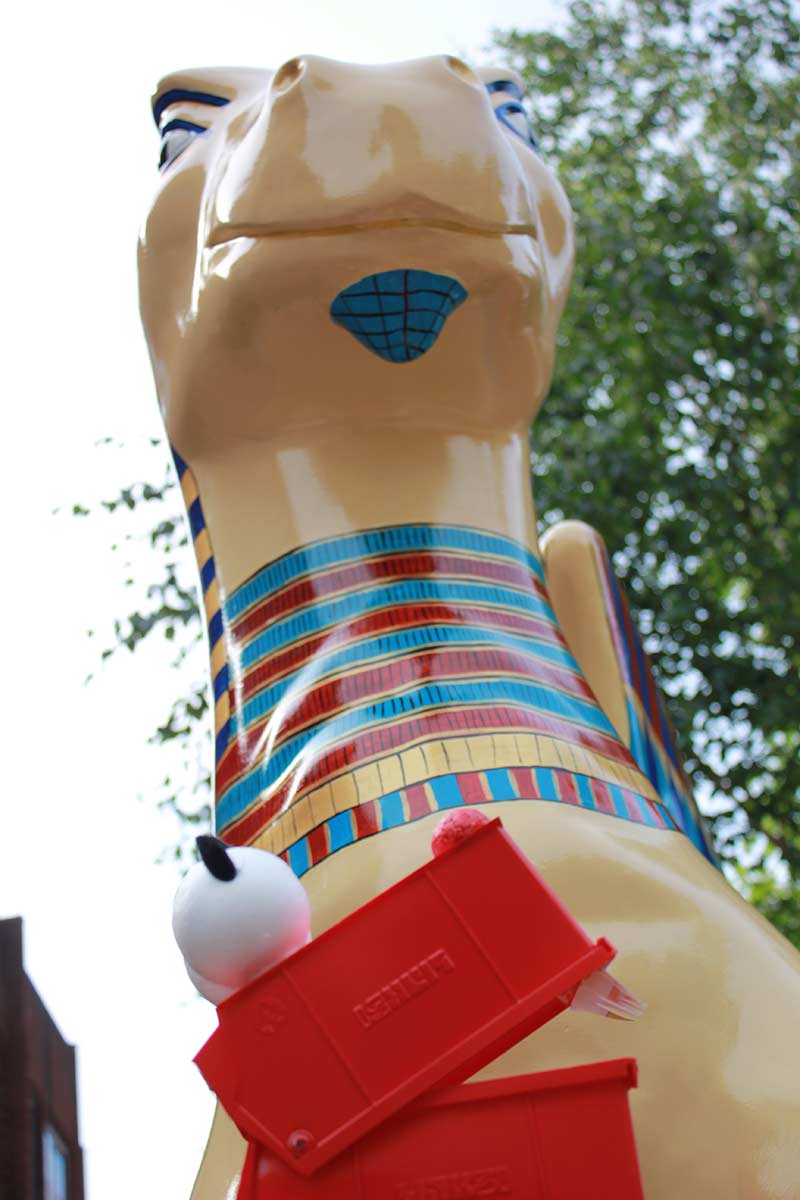 Tuppence
Feed the dragons, tuppences in a bag… although we're not convinced Tuppence requires anymore as she already looks mint covered from neck to toe in two-pence pieces! This Forum dragon is part of a complete interactive learning experience, with gargoyles, giant dragon eggs and Tuppence's home, a gothic castle. This dragon selfie raises the amount to be donated to Break Charity to £405, that's 20250 tuppence's!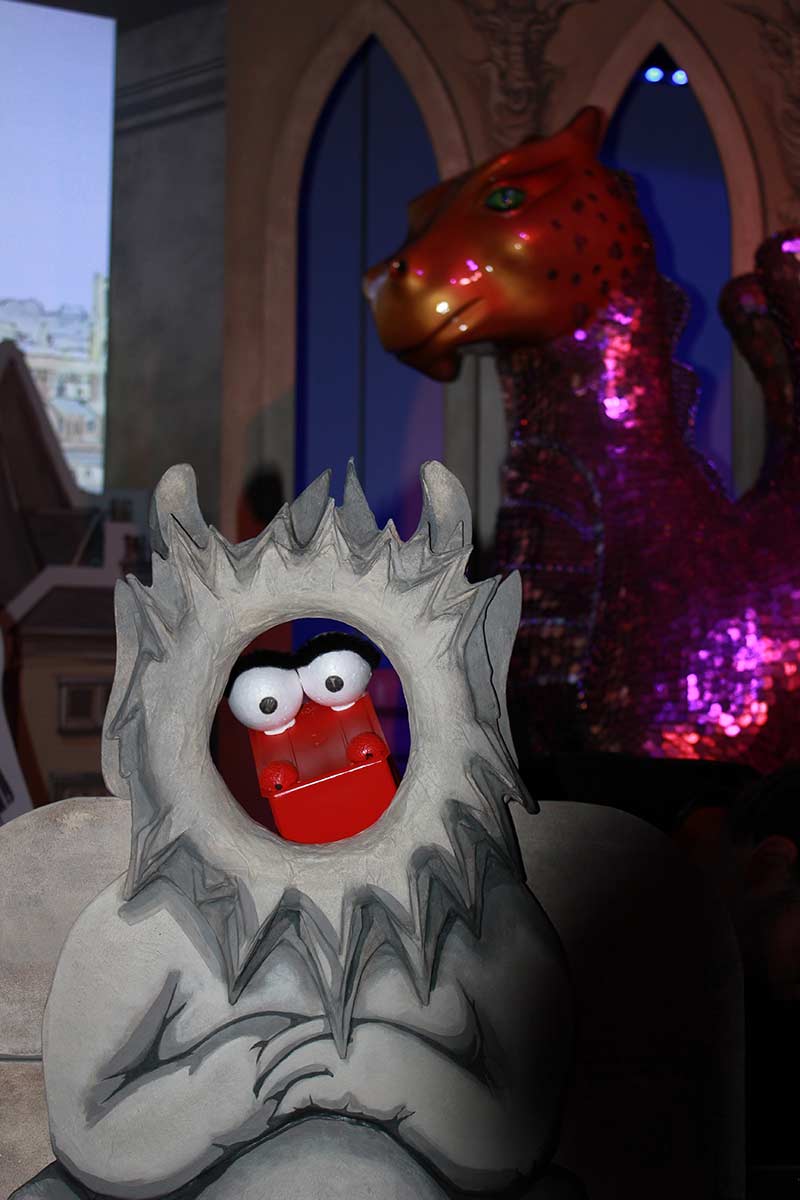 Dragonfly
With his delicate wings and big googly eyes he wouldn't be out of place darting across the river with the other dragonflies. Except being much larger than the others of course, you'd certainly spot him hovering over your flowers in your back garden!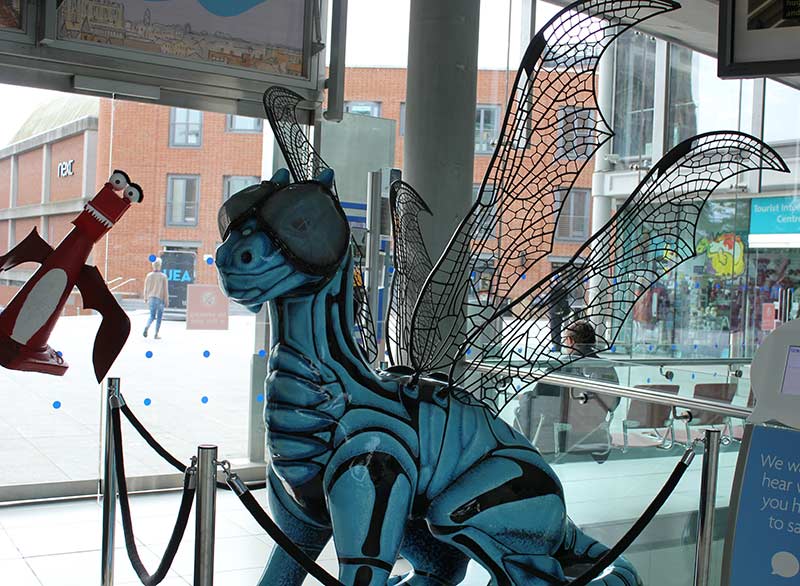 Mr Wing
A 22 carat character is Mr Wing, a Chinese dragon is embellished with ancient Chinese seal script. George thinks Mr Wing's great big grin is rivalling his! Come on boys… smile!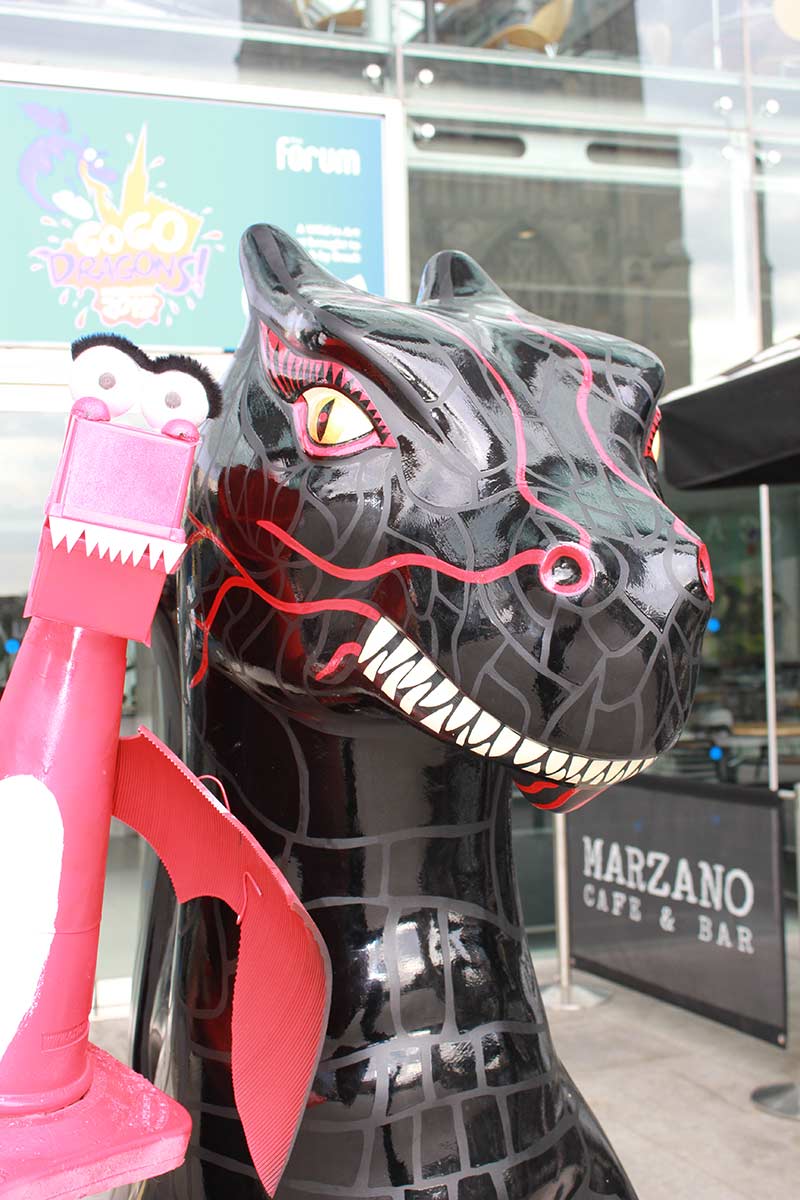 Luda
A delightful subtle dragon inspired by the legend of the Ludham Dragon. Twelve-year-old Kieron who has been dubbed as Norfolk's 'Mini-Monet' has covered Luda in stunning scenes of well-known Norfolk landmarks and wildlife. A barn owl and a heron are happily nested in amongst the fishermen and fields.
Donation Total
Number of GoGoDragon selfies with ESE George = 84
Total raised so far: £420
Phew! So George's dragon expedition has drawn to a close. Number of dragons visited - 84 (or 85 if you include the two squabbling fellows!), water consumed: gallons, footsteps taken: too many to count, friendships acquired: lots, both dragon and human.
George is emotional to see his dragon pals leave the fine city and swoop off plinth to temporary accommodation. But they will all be back together one final time at The Forum Norwich from 27th - 30th September. George will be paying visit, if you see him, please do ask for a selfie, he's become rather an expert in the selfie field. The mesmerising mythical dragons will be found new homes at the Dragon Auction on October 1st 2015.


For more information about the GoGoDragons you can visit Break Charity's website

Author Bio -
Debs
Content, marketing, social, graphic design and PA to an unusual small red dragon.