Event and Festival Safety Guide
Festivals and organised events are fun filled days out for all ages, but whilst you are sitting back eating ice cream listening to Taylor Swift, think about the team keeping you safe and the huge amount of planning and organisation that goes into such events.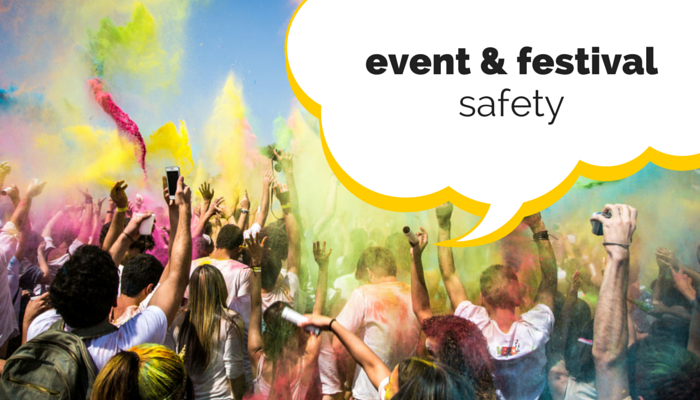 What to think about, and your responsibilities as an Event Organiser
So you want to organise an event, whether that is a musical event or arts festival you will have to think about and take ownership of certain responsibilities, this will include;
The overall responsibility for your workers, contractors working at the event and of course the public/your audience
All health and safety procedures implemented to ensure total safety throughout the duration of the event/festival
So now you know who you are responsible for, how do you start to implement a good health and safety plan for your event.
Things to think about will be:
How big the event is
How big the audience will be (a tally counter is a great way to keep tabs on this on the day)
Location of the event or festival
Duration of the event or festival
What time of the day and year the event/festival is going to be held. It's always beneficial to share these duties with someone or a team, as you can't be everywhere at once.
Once you have thought about the above and worked out what you need resource wise you can turn that information into a workable safety plan.
The best way to do this is by completing a thorough risk assessment.
These steps should be completed with the co-operation of the venue/site owners and local authority as well as any contractors that you have coming in to help with the event.
It is also imperative to have emergency plans in place just in case anything goes wrong (which hopefully it won't and everyone will rave about your event for years to come!).
The health and safety responsibilities of a Site/Venue Owner
If you are the owner of a great site/venue that an organiser is coveting for their event/festival there are some things to bear in mind before agreeing.
As mentioned in the previous section there is shared responsibility between the event organiser and the site/venue owner when events or festivals are put on.
Both parties should be working hand in hand to ensure that a manageable safety plan is implemented and that proper emergency plans are in place.
The plan should clearly outline:
The respective responsibilities of both the event organiser and the venue owner
Make sure safety information is shared and highlighted
Any equipment at the venue is safe and working up to standard
You can find a useful checklist of things to consider on the hse.gov.uk website which will give you a good starting point.
What are your duties and responsibilities as a Volunteer?
One of the best things about an exciting festival or event is that you will get a bucket load of people wanting to volunteer.
But it worth noting that a volunteer working for an event organiser will not have duties under the health and safety at work act 1974, apart from not misusing or interfering with items that are provided specially for health and safety.
If you are a group of volunteers planning an event, you may find the gov.uk's guide to organising and running an event helpful.
You can also find more in depth information on event safety on the hse.gov.uk's website, covering duties of a contractor supervisor and voluntary organisation.

Author Bio -
Laura Holland
Social Media and Web Content Coordinator, Jan 2014 - May 2015