So much rubbish is produced in the UK, that if Lake Windermere were to be used as a landfill site it would take just 8 weeks to fill it with waste. With each household producing a tonne of rubbish every year, the cost of collecting and disposing of waste is considerable.
The cost of managing municipal waste in the UK costs £3.71 billion each year according to the local government association. The collection and management of waste and rubbish is the government's third highest cost. Although the bulk of this spending covers the collection of domestic waste and its disposal; every year local authorities need to spend £340 million to clean the streets and pick up dropped litter.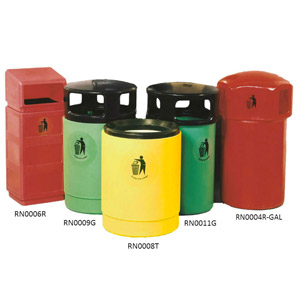 Litter Bins Help to Keep Britain Tidy!
Litter bins are a common sight around the UK and are a convenient way in which councils, land owners and businesses can encourage people to dispose of litter and waste properly. This can result in a significant saving in cleaning costs and the money saved can be invested in improving other services.
Ninety percent of people in the UK claim that they would recycle waste more thoroughly it was made easier. Considering the energy and cost savings which can be made from recycling materials rather than producing from raw materials, a little money spent of litter bins can go a long way and can also help to protect the environment.
Interesting Litter and Rubbish Facts
We have been encouraged to Keep Britain Tidy since 1955 when the slogan was first introduced. We can thank the British Women's institute for coming up with the idea.
It is a criminal offence to drop litter or to dump rubbish in the UK and local authorities are quick to prosecute offenders. Dropping litter can result in an on the spot fine of £80 and failure to pay can see the fine increased to £2,500.
People in Britain are less likely to recycle rubbish than their European counterparts. Britain is Europe's third worst recycler behind Greece and Portugal.
Talking and singing litter bins have been trialled in Liverpool and over a thousand are in use in UK up and down the country to encourage children to dispose of litter correctly.
The first modern plastic wheelie bin is believed to have been the creation of Slough based Frank Rotherham Mouldings in 1968.
Everton Football club uses kit constructed entirely from recycled plastic drinks bottles. It takes 13 recycled plastic water bottles to make a shirt and shorts.
Approximately 200 million cigarette butts are dropped in the UK every day.
In America, 2.5 million plastic bottles are thrown away every hour.
An average person will throw away over 25,000 aluminium/tin cans in a lifetime.
Recycling paper results in 95% less air pollution than producing new paper.
Almost half of the food in the U.S. goes to waste.
65% of municipal waste is recycled in the Netherlands, compared to just 18% in the UK.
16% of the money spent on new products goes on packaging.
Recycling a glass bottle saves enough energy to power a TV for 15 minutes.
Most people throw away their bodyweight in rubbish every 7 weeks.
Encourage Recycling and Correct Waste Disposal
Recycling rubbish may not be particularly exciting, but litter bins need not be boring. In addition to practical, hard wearing and weatherproof polyethylene bins, there is a wide choice of attractive styles to choose from including Nickleby post bins and replica Victorian litter bins.
If you want to protect the environment, save on cleaning costs and encourage recycling, take a look at our litter bin collection and make it easy for your workers and visitors to Keep Britain Tidy.