Fan Heaters - The Fantastic Five
During the Winter months warmth is of the essence. Ensuring that you have the correct equipment to keep you or your employees warm and toasty when a cold spell hits is imperative. Industrial environments such as workshops and warehouses can be notoriously cold and draughty, this is where keeping an electric industrial fan heater to hand is invaluable. A warm employee is a happy employee!
Our fan heaters manufactured by Sealey, are available in a range of heat outputs, starting at 2KW through to a balmy 15KW.
Why choose an electric heater over a gas heater?
All the fan heaters in the range are designed to raise the ambient temperature of the workshop or other working environments by a few degrees. The distinction between these electric fan heaters in comparison with the larger gas space cylinder heaters is that the electric heaters are much quieter, cleaner and odour-free. Electric heaters also provide a dry heat and thus there is no issue of condensation. Gas heaters tend to be large, cumbersome, noisy and can often be a bit smelly, they can also consume rather a lot of energy which is something we should all strive to cut down on where possible.
2KW industrial fan heater - warming the cockles
The 2KW fan heater is a dinky little fella, compact, lightweight and portable it can be moved from one location to another with ease. It works off a standard three-pin 230 volt, 13 amp plug which means it can be happily plugged in almost anywhere. It features a heating element which takes approximately 3 minutes to heat up and is thermostatically controlled. The fan position may also be altered as desired. It is seated on legs so that it may be positioned on either the floor or a worktop surface without the risk of the surface becoming hot.
Here's a little product demonstration of the 2KW model.
3KW industrial fan heater - an industrial hug
Small and mighty, this warming wonder is designed to increase the temperature of an area of up to 2000 cubic feet. To power the 3KW fan heater, you will require a 16amp supply so check with an electrical professional before powering it up. It will need to be fitted with a standard three-pin plug at 230 volts. Sturdy legs and rubber feet mean this fan will stay firmly in position.
Mark Wilson gives us the lowdown on the 3KW heater
5KW industrial fan heater - lovely and toasty
The robust 5KW fan heater comes will all the features of the 3KW but with the addition of an auto-cooling feature to prevent it from overheating. With an adjustable thermostat and temperature range of up to 40 degrees centigrade this fan is capable of producing a heat output of up to 15000 British Thermal Units (BTU's) per hour. As this heater is a powerful little beast it needs a little more power behind it to wake it up than the average household supply. It comes with a three-phase power cable and requires a 415 volt, 16 amp supply.
9KW industrial fan heater - it's getting hot in here!
The 9000 watt fan heater produces a dry heat and up to 35000 BTU's per hour. And it has an integral function of being able to maintain a given set temperature. With a cooling fan only option too, this windy wonder doubles up as a cooling device and so may be also used during the summer months. This negates any requirement for a separate cooling fan to be cluttering up your work area or warehouse. As with the 5KW heater it is supplied with a three-phase power cable and you need to allow for a 415 volt 32 amp power supply.
Now we're talking some serious heat with the 15KW industrial fan heater!
This purveyor of warmth has a whopping three heat settings, 500 watt, 1000 watt and a glorious 15000 watt. Due to the heavy-duty nature of this heater it weighs in at 20kgs but fear ye not, it comes complete with wheels and frame to allow for ease of manoeuvrability. The power required for this big lad is 415volt - 32amp, the 15KW fan heater is supplied with a three-phase, 5 pin connector mounted on the chassis so you'll need to have an extension lead handy.
The Fantastic Five
All of the fan heaters in this range come with a protective metal grill on the front to prevent anyone touching the hot heating element beneath. They are all finished in a striking red powder-coating with a black grill, carrying handle and feet. All five of our Sealey fan heaters come with a 1 year warranty for that extra peace of mind. With such a wide range of sizes and heat outputs we hope you'll find the right fan heater for you.

If you'd like any further help or advice, or have technical question, please give us a call on 0808 278 3258 and we'll be happy to help.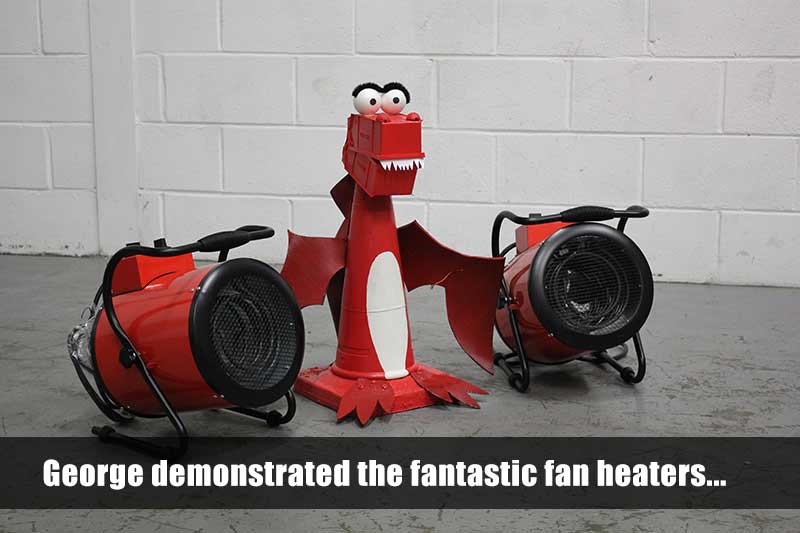 Author Bio -
Debs
Content, marketing, social, graphic design and PA to an unusual small red dragon.