Film, Theatre and Broadcasting Health and Safety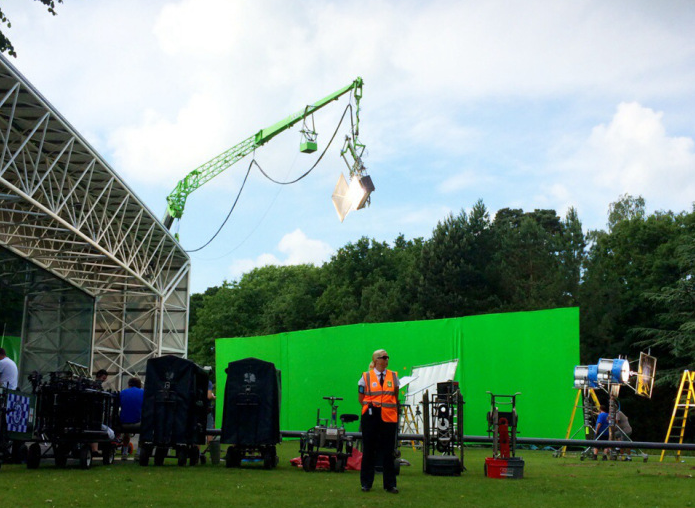 (Filming for the new Avengers: Age of Ultron movie due out next year)
When you think of health and safety the film, theatre and broadcasting business isn't the first thing that pops in your head, but with rigging, elaborate film sets and stage productions it is paramount (see what I did there?).
Film and Broadcasting Health and Safety
Health and Safety Responsibilities and Duties of Production Companies in Film, Theatre and Broadcasting
The production company as the employer is required to have some sort of management system in place to ensure the safety of its employees, contractors and visitors. It is essential you have and do the following:
Defined responsibilities and duties
A System for managing Health and Safety
Assess and manage risks and hazards
Review your processes and procedures
How can producers, managers and senior crew members help with Health and Safety?
The producers, managers and supervisors on productions can be delegated specific tasks or responsibilities that fit within their job role;
That a full risk assessment is carried out at design stage and that appropriate controls are implemented for all of the risks that have been identified
Making sure that sets, scenery and any props are designed and tested for safety before they are used
That appropriate markings and warnings are provided and displayed on sets or backstage
That good communication is carried out between the production company and any contractors that may be affected
Appropriate raining has been given for handling, rigging and de-rigging
Making sure adequate briefing and training is given at every stage to crew, cast, extras, contractors and visitors means that the production should run smoothly.
What Cast, Extras, Individual Workers and Production Crew can do to help with Health and Safety
When working in and around a production or film set each individual, whether it is the cast, the extras or the production crew can take steps to ensure that everything runs smoothly and safely.
To make sure that they take care of themselves as well as others who could be affected by what they do or not do
Co-operating with the employer (the production company) in upholding any processes, instructions and warning signs as well as wearing or using the appropriate equipment
Attend any require training
Raise any concerns or hazards spotted with the manager or producer
It is important that the individuals know the processes and who to speak to when they first arrive on set/at the production company.
And what can Contractors do to help with Health and Safety within Film, Theatre and Broadcasting?
Contractors on-site are jointly responsible with the production company to make sure that they are working in a safe manner set out by the production company as well as in accordance with any legal requirements. And ensure of the following: • That employees and subcontractors are competent to carry out the work
That the employees and subcontractors are monitored
That findings of risk assessments are adopted, communicated and implemented by anyone who is affected
Any machinery and equipment is properly maintained
That any accidents/incidents are reported to the production company quickly and properly
You can find a full and comprehensive list of responsibilities and duties for each party on HSE.gov.uk's pdf of audio-visual production legal duties. The pdf also includes an in depth information on competency, training, and risk assessments.
Theatre Health and Safety
As most accidents in theatre occur from manual handling or working from height this is what we will be address today, but you can find out more about Theatre Health and Safety by visiting the HSE.gov.uk website.
Working from height in a Theatre
The Work at Height Regulations 2005 have some specific requirements which create a hierarchy. This hierarchy provides the best practice when planning work at height. It follows the below;
Do not work from a height if there is a way to do it at stage level
If you HAVE to work from height, then do so from an existing safe work place
If there is no existing safe place to work from then using equipment to prevent the fall is needed
If the fall is not preventable then minimise the height and therefore the consequences of the fall
And if you can't do that then training, supervision and instruction is needed
Any rescue plans should be planned in advance so that they are implemented quickly
Manual Handling in a Theatre
Due to the nature of theatre, especially shows that are travelling there is a lot of manual handling. The loads are either heavy, awkwardly shaped or difficult to move in confined spaces which are usual to theatres. When time pressures are added into the equation, it can often lead to mistakes, which can mean injuries and accidents. There are some things to bear in mind with manual handling.
Is the weight of the item within your physical capability?
Have you had enough rest between periods of manual lifting
Is there enough space to lift and move around safely?
Are you carrying items up/down stairs? And if so do you have the right equipment to do so
Extra care should be taken when lifting over long distances
If you need a comprehensive guide to manual handling the HSE allow you to download a free copy of their guide.
This article is meant as a quick checklist and reminder; you can find a full and comprehensive list of responsibilities and duties for the entertainment industry on HSE.gov.uk's site.

Author Bio -
Laura Holland
Social Media and Web Content Coordinator, Jan 2014 - May 2015