Requirements for First Aid Kits in the Workplace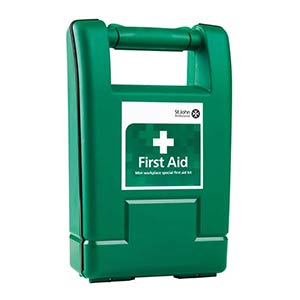 The Health and Safety (First-Aid) Regulations 1981 states that employers are required to "provide adequate and appropriate equipment, facilities and personnel to ensure their employees receive immediate attention if they are injured or taken ill at work".
To fulfill the regulations the contents of your first aid kit depends on the environment in which it is being used. For normal use there are a range of statutory first aid kits available, rated for up to 10 or 20 people. However, there are a range of working environments where a standard kit may not be enough. Additional items that may be required:
Eye wash kits - where there is a high risk of unwanted items entering the eyes, an eye wash kit is must. Typically this occurs from hazardous liquid splashing into the eyes.
Burns dressings - in environments such as kitchens where there is possible risk of burns, burns first aid dressings should be available.
It is also a legal requirement to display clear signs of where first aid kits are located. Purchase first aid signs and display them in prominent locations.
At ESE Direct we supply a range of first aid kits and supplies. Our first aid kits are approved by St John Ambulance for added reassurance of their quality and conformity.

Author Bio -
Simon
Managing Director, 1999-2015.