First Aiders' Guide To Training, Duties and Equipment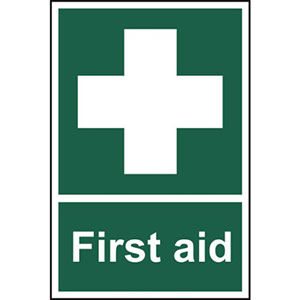 Knowing the care to give while you are waiting for emergency medical help can be the difference between life and death, and make an easier recovery. But knowing how to deal with less extreme emergencies is also important, such as nosebleeds and cuts.
Why Learn First Aid
Why learn first aid? Being able to clear someone's airway while you are waiting for an ambulance to arrive could mean the difference between life and death.
With accidents at home on the rise it's likely that you will have to administer First Aid on someone you know rather than a stranger.
The top 10 accidents and injuries are:
Falls
Strikes and collisions
Cuts and tears
Foreign bodies
Acute overexertion, for example moving furniture
Burns, scalds
Pinching or crushing injuries
Bites, stings
Puncture wounds
Suspected poisonings
First Aid No-Nos
Butter or cream on a burn: Wrong! Butter or cream could contain bacteria which can cause a nasty infection; the best remedy for a burn is cold water.
Putting your head back is the best way to treat a nosebleed: Wrong again, putting the head back will cause the blood to flow down the back of the airway.
Water is the best way to treat a bleeding wound: Guess what? It's wrong. It rinses away the body's natural clotting agents which in turn will make the wound bleed more.
A tourniquet (a constricting/compressing bandage) is the best way to treat serious bleeding: It is actually dangerous to stop blood flow to a limb for more than 10-15 minutes
Make someone sick if they have swallowed poison: Making someone vomit can block their airway.
You do not need lots of training; you can learn enough first aid to save someone's life in 10 minutes. You can also improvise anything you need so you don't need expensive equipment, and remember anyone can save a life, like this recent story of a boy who saved his mum from choking to death.
The First Aid Training
If you are interested in becoming a certified First Aider there are a number of recognised organisations up and down the country who can provide the training for you.
The courses can vary in length from 3 days to half a day. You will be tested on what you have learnt through that time by a qualified First Aider and if you pass you will receive a certificate.
Charges vary for these courses, you may find that your employer may actually provide or subsidise first aid training. If you are a parent of a young child then your health visitor should know of any local first aid courses.
We have put together a training checklist you may want to follow:
How much does the training course cost?
What are the trainer's qualifications?
What experience does the trainer have?
When and where will the training session take place?
Will I get an opportunity to practise before my assessment?
Will there by a written part to the assessment or is it just practical?
What happens if I'm not competent in any part of the training?
How many people will be in my training session?
What insurance does the trainer have?
You can search for First Aid courses near you on the St John Ambulance website.
The First Aider Duties
Having completed a practical training course you will have the knowledge, training and expertise to help save lives.
So when you come to the scene of the accident you will need to go through the following steps:
Assessing the situation
Don't act impulsively, it's hard but you need to control your feelings.
Be on the lookout for continuing danger to the casualty and yourself.
Decide whether to call for emergency.
Assessing the Casualties
If a casualty is quiet it could very well be an indication that they are unconscious. Quiet casualties should always be a priority to you.
Prioritise treatment of casualties according to severity of injury
Check response by asking casualties whether they are all right
Check airway
Check breathing
If a casualty isn't breathing, ask somebody to call 999 immediately and give 30 chest compressions followed by two rescue breaths
Continue this sequence until emergency help arrives or the casualty starts to show some response
Greater assistance to the casualties
Aim to give all casualties early and effective help
Arrange for casualties to be taken to hospital where necessary
Remain with casualty until help arrives
Prevent cross-infection between yourself and the casualty
Take care of casualty's possessions and ensure they accompany the casualty to hospital
The First Aid Kit
We list everything that is included in an up to date Statutory Green First Aid Kit.
The amounts depend on the size of the small aid kit you have, they come in small, medium and large and even travel size.
| | | | | |
| --- | --- | --- | --- | --- |
| Kit Contents | Small | Medium | Large | Travel |
| First aid in emergency booklet | 1 | 1 | 1 | 1 |
| Medium dressing 12cm x 12cm | 4 | 6 | 8 | 1 |
| Large dressing 18 cm x 18 cm | 1 | 2 | 2 | 1 |
| Triangular bandage | 2 | 2 | 2 | 1 |
| Finger dressing 3.5cm x 3.5cm | 2 | 3 | 4 | 1 |
| Conforming bandage 7.5cm x 4.5cm | 1 | 2 | 2 | 1 |
| Safety pins | 6 | 6 | 24 | 6 |
| Eye-pad | 2 | 3 | 4 | 1 |
| Washproof plasters (assorted) 10pk | 4 | 6 | 10 | 1 |
| Sterile moist cleansing wipes 10pk | 2 | 3 | 4 | 1 |
| Microporous tape 2.5 mm x 10mm | 1 | 1 | 1 | 1 |
| Nitrile powder-free gloves (pair) | 6 | 9 | 12 | 1 |
| Face shield | 1 | 1 | 2 | 1 |
| Disposable heat retaining foil blanket | 1 | 2 | 3 | 1 |
| Burnshield burns dressing 10cm x 10cm | 1 | 2 | 2 | 1 |
| Tuff-kut scissors | 1 | 1 | 1 | 1 |
| Eyewash 500ml | - | - | - | |
You can buy the Statutory Green First Aid Kits from our site along with a number of First Aid signs.
Helpful Links

Author Bio -
Laura Holland
Social Media and Web Content Coordinator, Jan 2014 - May 2015