Flexi Trays - The Flexi in Flexible
Flexi-trays are rubberised plastic spill trays, what makes them so unique and versatile though is that they are designed to be durable and flexible enough to withstand heavy machinery driving over the top of them without breaking or being warped out of shape.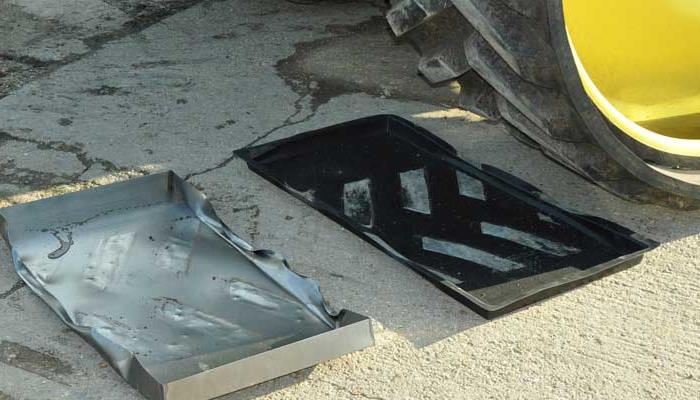 The trays are also good at chemical resistance including:
The flexi trays are ideal for all sorts of uses such as catching drips of oil when working on vehicles, sitting containers on and emptying/filling containers with fluid.
An example of some of the flexi-trays we stock are:
Shallow Flexi-Trays
The shallow flexi-trays are perfect for use as a spill tray or work mat. Whilst the mat is flexible enough to be comfortable to lie on as the raised sides ensure that any spillages are caught and contained. It can also be lined with absorbent pads and socks to provide an absorbent environment.
Shallow Flexi-Trays With Dispensing Grids
The dispensing grids are ideal for petrol cans, oil drums and other liquid filled containers, particularly for filling/transferring liquids. The spillages are all collected and contained at the base and the grid easily lifts out for cleaning and emptying. This flexi tray has been used on farms, industrial estates and workshops.
Deep Flexi-Trays
The deep flexi-trays are specially designed to fit under heavy machinery and catch and leaks or spillages which may occur. With the flexibility you can easily fit underneath and the trays are designed to withstand the weight of heavy vehicles driving over them.
We have mentioned in the article that you can use the flexi-trays with absorbent pads and socks
We offer general, oil & fuel and chemical emergency spill kits that include absorbent pads, socks and flexi-trays.
The full kit includes:
30x pads
2x absorbent socks
1x flexi-tray
1x disposable bag
It's worth noting that a 3rd of all emergency spill kits have been used but not refilled so double check and make sure you have everything you need in case of an emergency spillage.
ESE Direct supply a range of flexi-trays and emergency spill kits, if you have any questions relating to either of these please get in touch with our sales guys on 0808 163 3704, or you can speak to them online using our LiveChat! service.

Author Bio -
Laura Holland
Social Media and Web Content Coordinator, Jan 2014 - May 2015