Football pitch line marking guide
How many cans of line-marking spray paint does it take to mark out the lines on a standard football pitch?
This is one of those questions difficult to answer, because there is no official standard size of a football pitch, is, how much paint will I need to mark the pitch lines?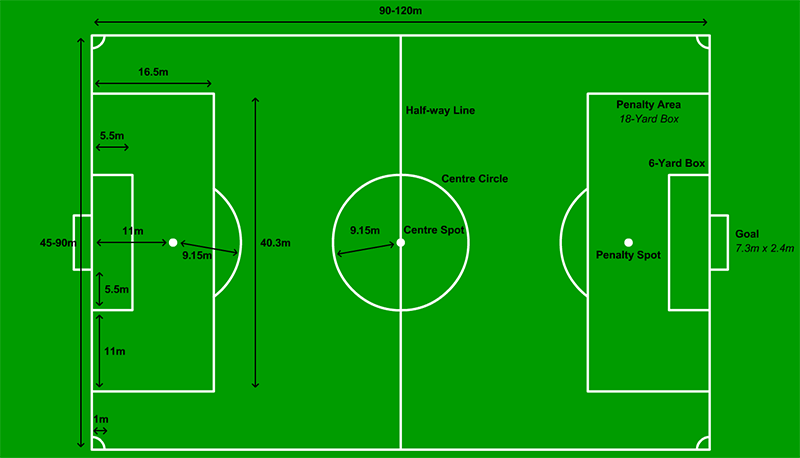 When embarking on marking lines it's important to have enough materials available to complete the job. PROline aerosol spray paint is a fantastic way of marking lines on football pitches, tennis courts and playgrounds on surfaces such as asphalt, tarmac and concrete, for grass pitches we'd recommend line marking paint.
Championship football pitch sizes
Range from between 100 - 106 metres long and 64 – 75 metres wide. Making the smallest area 6,630 metres square, and the largest 7650 metres square! Quite a big difference if you're one of those people who have to run around it chasing a ball!
Premiership football pitch sizes
Vary from 100- 105 metres long and 64 – 69 metres wide, a smallest area of 6400 metres square with the biggest being those of Huddersfield Town's John Smiths Stadium and home to The Seagulls, Brighton & Hove Albion, the Falmer Stadium, both measuring 7245 metres square.
You might imagine Wembley Stadium, home to the England squad to be the largest pitch of them all, but that award actually goes to home of Ipswich Town, Portman Road in Suffolk coming in at a whopping 7650 metres square.
Surely there must be pitch size guidelines, you might ask?
The answer is yes. They are somewhat loose, but all football pitches should be a minimum of 90 metres long with a maximum length of 120 metres. Widths must measure between 45 and 90 metres.
So, how do we work out how much PROline spray we need for a football pitch? Well, each 750ml can produces 50mm wide lines and, depending on the surface, will cover a length of 50- 90 metres. Yes, unfortunately, this guide is a little vague too!
So, to be safe and sure that we won't run out of paint, we have erred on the side of caution and based our mathematics on the smallest amount of paint coverage (50 metres) and the largest possible pitch measurements (120 metres long by 90 metres wide).
| | |
| --- | --- |
| 120m (long sides x2) = | 240m |
| 90m (short sides x2) = | 180m |
| Goal box 16.5m + 40.32m + 16.5m = 73.32m (x 2) = | 147m (rounded) |
| Goal half circle | 25m |
| 6-yard box 5.5m + 5.5m + 18.3m = 29.3m (x 2) = | 59m (rounded) |
| Centre circle | 58m |
| | 709m |
So, 709m / 50m = 15 (fifteen!) cans of 750ml aerosol paint (based on 90m coverage per can)
And for those risk-takers amongst us, based on 90 metre paint spray coverage the results are thus:
709 / 90m = 8 (Eight) cans of 750ml line marking spray paint
This method can also be used to work out the quantities required for other types of sports pitches, car parks and playgrounds.
Now that you can happily get those lines marked, don't forget to wear protective clothing such as face masks and safety goggles when using aerosols. If you want to pay homage to Gareth Southgate you may like to wear a waistcoat of the high visibility variety.
The PROSolve line marking paint is also available in a selection of colours along with a handy ProSolve™ Wheeled Line Marker Aerosol Applicator to help keep you on the straight and narrow!

Author Bio -
Debs
Digital marketer, social media, content writer, musician, sloth-lover, tea-drinker.