Forklift & Forklift Cage Safety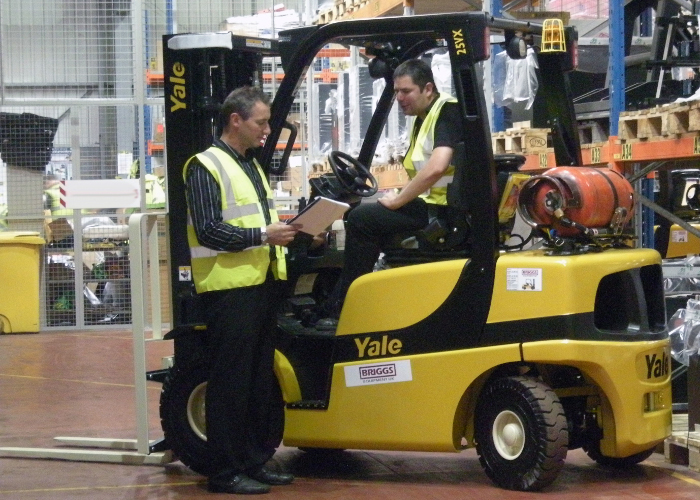 When working in a warehouse, factory or other industrial premises you are likely to come across the use of a forklift. Safety when using a forklift truck is of the utmost importance, not only to you but colleagues.
There are several things to bear in mind when operating a forklift truck:
Forklift Operators must be qualified
To operate a forklift you must undergo the necessary training and testing, once you have passed you will be given a licence to operate the forklift.
Appropriate clothing must be worn when operating forklifts
Appropriate clothing should include:
Hard hat
Safety shoes (usually steel capped)
Hi-vis jackets
Also make sure that the clothing is fitted but not restrictive.
Examine your forklift and any additional equipment before use
Before you use your forklift and any attachments that you may be using with it check the following for faults:
Brakes
Steering
Controls
Warning devices
Mast
Tyres
Attachments are fixed on securely
Avoid Hazards when driving forklift
When operating the forklift it is imperative that you stay away from uneven or loose ground surfaces as well as slippery conditions.
Make sure you keep a safe distance from other trucks in the vicinity and give plenty of room when you are manoeuvring.
When you are going round a corner it is advised to sound your horn so people know you are approaching.
Loads on forklifts should be stable and secure
Before you move double check that your load is secure and stable and not likely to come loose or topple.
Clear visibility When manoeuvring the load into racking or up a ramp make sure that you have clear visibility and your view is not obstructed so you can see completely what is going on and make quick adjustments if need be.
Driving forklifts on ramps
You must always drive up ramps in a forward direction; you should never reverse up a ramp. You should also never unload or load good on a ramp.
When you are finished operating your forklift
When you are finished operating the forklift make sure that it is returned to its designated area, that the forks are lowered and the park brake is applied and that the forklift is switched off.
You should never leave a forklift running unattended. Forklift trucks can take a number of attachments, from drum rotators, tines, spreaders and of course forklift cages.
Forklift cages are designed to aid in access to high racking and storage areas making it safe and easy to reach goods or equipment.
Here are a few guidelines to follow when operating and using a forklift cage.
Check that the platform/cage is securely attached to the forks or carriage
The mast remains vertical
The platform must also remain horizontal and centred
The forklift truck must be on firm and level ground, no uneven surfaces or bumps
When the platform is raised all controls must be in neutral and the parking brake applied
Personnel should only be lifted and lowered at their request, this also includes any adjustments in horizontal positioning. Any overhead obstructions should be avoided
Only a trained operator should be in a position to control the vehicle
Make sure that the combined weight of the platform, personnel and equipment does not exceed one half of the capacity of the forklift truck
If the cage gas full safety it is not mandatory to wear a safety harness, however it is down to the discretion of the user to assess the situation and wear if they feel it is needed.
ESE Direct supply a range of forklift cages, if you have any questions regarding these please call our friendly and award winning customer service team on 0808 163 3704, or you can chat to them online using our LiveChat! service.

Author Bio -
Laura Holland
Social Media and Web Content Coordinator, Jan 2014 - May 2015