Get the green look with industrial products
We're always looking to offer a little bit of style along with practicality with the vast range of industrial products we have to offer. So, we thought it would be nice to put together a collection of items sympathetic to each other in hue... and here we focus on earthly woodland greens.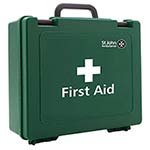 Safety first
In any dwelling, workplace or warehouse it's a good idea to have a first aid kit to hand for those 'ouch' moments. Housed in a dark green carry case the workplace first aid kit blends perfectly into any green themed setting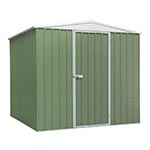 Galvanised green
Here's one for the great outdoors. A lovely khaki green galvanised steel shed. Available in a range of shapes and sizes these super storage vessels are suitable for both domestic and industrial environments. Due to their subtle green colour they blend away nicely into the background in a residential garden, they also look smart stand-alone too.
It's all about storage space
These funky green cupboards look great in any office, warehouse or in a cool industrial factory conversion apartment, they're finished in an anti-bacterial coating which helps minimise the risk of MRSA and E-Coli meaning that these groovy green cabinets are great for use in environments where hygiene is important
One can never have too much storage space. A striking green storage truck on wheels is a great solution for a plethora of situations. Use it to store toys in a nursery, laundry or in food preparation areas. They also fit in well outdoor, a great vessel for garden waste, compost or for collection of empty glass bottles that are waiting to be recycled. The possibilities are endless. They also make provide an interesting form of transport for unusual traffic cone dragons. (Seen here in the recycled black plastic version, George thought the black complimented his monobrow nicely...).
Safe and sound
Keep your valuables safe with a green locker. Perfect for use in public areas such as offices, gyms or theme parks where carrying personal items such as keys and a mobile phone can be a pain. The single door locker provides storage for footwear and due to their tall thin nature they are big enough to hang coats too. These lovely lockers provide that extra peace of mind for the security of your possessions.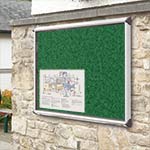 Bringing outdoors indoors
Create some symmetry between outdoors and indoors by introducing your colour scheme as people approach your premises. A showcase noticeboard comes with a choice of Emerald or bottle green backings. You can attach important notices and announcements and your documents will be surrounded by gorgeous green, a welcoming introduction to your green theme.
It's wheely good in green
Here's another product well suited to the great outdoors, the traditional one-wheeled carrier, the mighty wheelbarrow. Perhaps overlooked as a dull practical item, we think the wheelbarrow deserves a bit of attention. After all, they've been carrying our loads since the 2nd century! Here we see Greeny enjoying working with his green wheelbarrow.
Give a nik-nak a home
Many of us will be all too familiar with having a few too many nik-naks laying around making it tricky to find what you are looking for in a hurry – remedy the situation by introducing them to a selection of K bins. These strong open-top containers are made from corrugated fibreboard and are styled in a natural green and light brown colour.
This way please!
Leading the way to the door, our floor marker man strikes a pose. Contrasting green and white means there is no mistake as to which way he is heading – he's heading out, that's where. So, if you need the exit, he's your man. These sticky backed signs look great on the wall or the floor too, making him a very versatile type of chap.
Green in colour, green for the environment
Finally, when you're installing all your great green items, wouldn't it be pleasing to have something which helps make that process a little easier. This is where a green, yes green mesh platform truck comes into play. Pile your brand spanking new green products onto this bad boy and your home and dry. With drop-down sides loading and unloading is quick and easy, and don't worry about things sliding off when turning the corner, no siree. It has a rack steering mechanism designed specifically to eliminate tipping when manoeuvring around tight corners.
So, in summary, there is no reason for clashing colours in your workplace. Industrial products can be stylish too. Create a cool coloured haven, stand back and be proud of your co-ordinating collection of useful components, happy together united by colour.
Don't forget you may compliment your green décor with some green houseplants. Not only do they look nice they provide cleaner air and research tells us they have been known to help ward off nasties such as coughs, colds and sore throats. What's not to like?! Just don't forget to water them!

Author Bio -
Debs
Content, marketing, social, graphic design and PA to an unusual small red dragon.