GHS Regulations are changing...
GHS Regulations are changing…
As of June 1st 2015, the regulations concerning the labelling and packaging of hazardous materials are changing. New EU CLP (Classification, Labelling and Packaging of Substances and Mixtures) regulations are taking over from the old CHIP (Chemicals Hazard Information and Packaging for Supply) regulations that have been in place up till this point.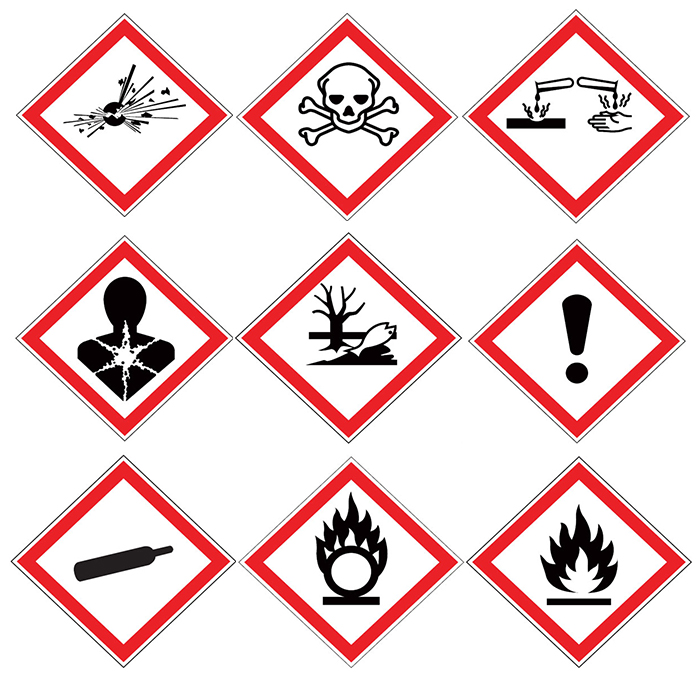 What are the changes?
A more detailed description of all the changes can be found here, but here is a short rundown of some of the differences the new EU CLP regulations will bring about:
All pictograms came with a red diamond frame, a white background and a black hazard symbol inside (see above image)
The words "Warning" or "Danger" will appear on the label of every hazardous substance
Standard hazard and precautionary statements regarding the nature and extent of the risk posed by each hazardous substance will be in place, as well as measures to reduce/prevent health and safety risks
All hazardous substance labelling, classification and packaging must be undertaken according to CLP regulations. CHIP regulations will no longer be used

Where are GHS Labels available?
In preparation for the new regulations, we have added a selection of GHS (Globally Harmonised System) labels to our product range. As the new CLP regulations require the new labels to be used instead of older orange labels, you can now visit our website to purchase any hazardous substance labels that you may need.
Each GHS label is printed of self-adhesive vinyl and is available either as a single 100mm x 100mm item or as 50mm x 50mm labels which come in a pack of 10.
If you do have any questions please do not hesitate to call us on 0808 163 3704.

Author Bio -
Tim Bailey
Marketing Assistant, June 2013 – July 2018