Health and Safety When Lifting - Lifting Aids in the Workplace
In just about any industry, you may be required to do some lifting. Maybe you work in the healthcare industry, or you need to lift delivery boxes or heavy construction material. Whatever the weight of the item being lifted, if it isn't done correctly, it may cause an injury.
The Manual Handling Operations Regulations (MHOR) 1992 provides detailed guidance on conducting risk assessments prior to anyone carrying out any lifting, as well as basic figures for lifting and lowering weights. Businesses are also required to ensure their staff are aware of the risks and are trained accordingly in the safe way to lift items in the workplace.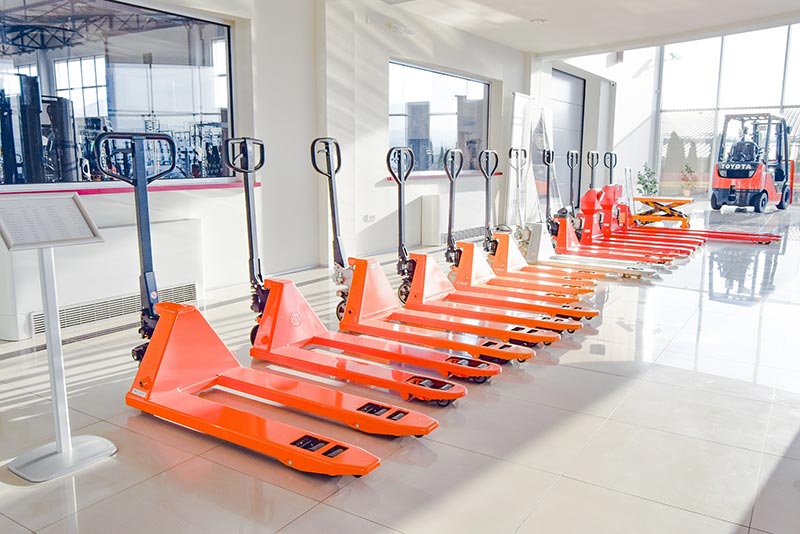 What are the manual handling guidelines and regulations?
Poor manual handling practices can cause employees in the workplace to suffer from injuries and musculoskeletal disorders, sometimes long-term. Indeed, in 2019/20, there were 152,000 new manual handling injuries relating to back problems alone.
This highlights the need to ensure that not only are employees trained in how to lift items safely but also to ensure that the right lifting aids are available in the workplace to aid lifting. It's important they understand the safe manual handling weight limits and the right techniques to use to avoid any injuries or other health problems.
Under the MOHR, employers are required to take the necessary steps to reduce the risk of injuries through manual handling operations. Although there aren't any specific weight-lifting limits, there are recommended procedures that can be applied depending on the type of manual handling activity.
Prior to any lifting, a risk assessment should be conducted, which includes the consideration of lifting equipment to automate the lifting process. For example, in warehouses, a drum grab forklift attachment or fork mounted lifting hook can be attached to a forklift to aid manual handling.
What to consider in a manual handling risk assessment?
When conducting a risk assessment for a manual handling procedure, there are key areas that need to be considered, which are known as TILE - Task, Individual, Load and Environment.
The manual handling task - there are a number of factors to look at - how long the process will take, how often it needs to be carried out, e.g. daily deliveries which can become repetitive, the type of lifting involved, including any reaching up or down or twisting, and whether sufficient rest periods are incorporated.
The individual doing the manual handling - the person's physical capabilities and whether they have any limitations, such as any existing back problem needs to be evaluated. Consider their age, disabilities and any other factors that may impact their ability to carry out the task. Employers need to protect every one of their employees and assess the health and safety risks of their roles to avoid any injuries or ill health.
The manual handling load - does it involve lifting bulky, oversized items that may be difficult to grasp or drums containing liquids that will affect the balance of the item? This will cause extra strain and difficulty in the manual handling process.
The lifting environment - consider the environment and whether there is sufficient space to move the load with ease. Bumps or variations in the floor level will make a difference, as will tight turning spaces. Not only does this have an effect on the lifting procedure, but it may also affect the employee's mental health long-term, particularly if working to tight deadlines, i.e. in a distribution warehouse.
Other risk filters to think about when assessing manual handling activities include:
How easy or not it is to grasp the item with both hands
Are the working conditions reasonable?
Can the employee hold the item close to the body in a stable position and use safe manual handling techniques?
Whether the item is to be carried 10 metres or more without rest
The item being carried doesn't impede the employee from walking normally nor obstruct their view
In general, the HSE provides lifting operations guidelines - these are not called 'safe limits' because of the above factors that need to be considered. In fact, the HSE states they are "broad assumptions or generalisations where, if met, the risk of injury is considered to be low."
The guidelines consider a 25kg manually handled load as a safe limit for the average man, and 16kg is safe for the average woman. However, this is only if the load is carried at 'knuckle' height and close to the body. If the load goes beyond this, i.e. to shoulder height to lift onto a shelf or extend away from the body, it is no longer considered a safe load.
In any area where manual handling or lifting is taking place, it's important to ensure posters are in clear view that detail safe manual handling guidelines.
At ESE Direct, as well as specialist trolleys for carrying heavy or awkward items, we supply a range of lifting equipment to aid safe manual handling procedures in a variety of workplace environments. Scissor lift trolleys can be battery operated or use a hydraulic lift depending on the weight to be lifted. Industrial scissor lift tables that are not mobile are capable of lifting up to 10,000kg. On construction or civil engineering sites, a brick lifting basket scaffold hoist, which has a capacity of up to 250kg, is ideal for lifting heavy-duty loads. For handling pallet loads in warehouses, the Pal-Pallet level loader table, with a 2,000kg capacity, is robust and lowers and raises the load automatically via its springs, depending on the load size.
ESE Direct is a leading supplier of products for businesses, schools, colleges and universities, workshops and warehouses. With a wide and diverse range of products, more than 40 years of knowledge and experience in the industry, a bespoke design and installation service and exceptional customer service, you can trust ESE Direct.

Author Bio -
Debs
Digital marketer, social media, content writer, musician, sloth-lover, tea-drinker.