How Do Anti-Fatigue Mats Work?
Everyone has come across an anti-fatigue mat at some point, the distinct somewhat cushioned rubber matting has a whole plethora of different industries and environments it can be used in, but how do they actually work?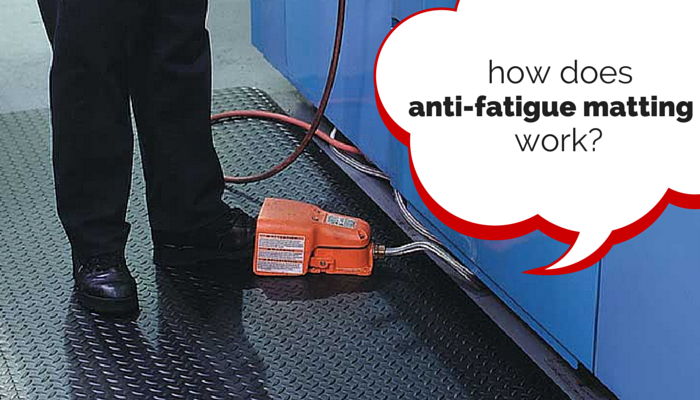 So, how do anti-fatigue mats work?
Anti-fatigue mats work by providing a cushioning affect whilst you are standing on it, this helps the body to undergo constant balancing checks.
These balancing checks is what helps to keep blood flow moving through the legs and feet, therefore causing better circulation and less fatigue overall.
Standing for 90 minutes or more at any one time on a hard or concrete floor can lead to discomfort and pain in the legs and feet as well as tension in the neck and shoulders.
Standing can surprisingly be harder on your body than anything else. This is because the body is designed to move, so staying still for long periods of time is detrimental to your health.
If anti-fatigue mats are not used, then the constant standing every day can also cause circulatory problems, and causing blood vessels to be crushed or unnecessary pressure on joints which in some instances may not be treatable.
Where should anti-fatigue mats be used?
Anywhere you or your employees will be standing for long periods of time, whether that is behind the till, or working at an assembly bench.
Just some of the industries who have bought anti-fatigue from us are:
Hospitality
Retail
Factories
Motor
Pharmaceutical and Medical
Even buying cheaper anti-fatigue matting can reduce costs lost through work related injury caused by standing.
You can even use anti-fatigue mats for horses
We thought that some of you may be interested to know that you can use anti-fatigue (and other rubber matting rolls) on stable floors.
This beneficial to not only the horse, as it can reduce the risk of concussion on the joints, but also to you, as you will need less bedding for the horse with this laid down in the stabled.

Author Bio -
Laura Holland
Social Media and Web Content Coordinator, Jan 2014 - May 2015