How to Clean Up Chemical Spills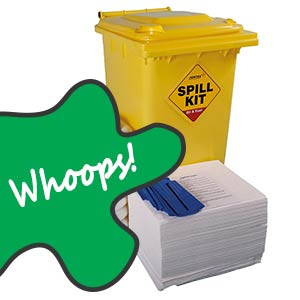 It is essential that chemical spillages are quickly contained to minimise the loss and damage caused. To ensure spillages can be contained and dealt with as quickly as possible it is essential to have an emergency spill control plan in place. Risk assessments should be conducted, emergency plans and evacuation routes devised, and all staff should be aware of the protocols to follow in the event of a chemical spillage. Full training should also be provided on how to safely control and clean up chemical spills.
All appropriate materials should be readily available to staff in spill control stations to ensure that spillages can be contained and chemicals quickly neutralised. Appropriate personal protective equipment should also be provided to ensure that spilled materials can be handled safely.
Containment of Spills
The first stage of spillage control is containment. Quickly controlling spillages ensures that loss and damage is kept to a minimum and hazardous chemicals are prevented from spreading to other areas. Spillages can be quickly contained using absorbent socks, pads, cushions and sand bags. Polyurethane, neoprene or magnetic drain covers can be used to prevent liquids from reaching chemical drains or entering the waste water system. An overpack can be quickly employed to stem spillages from damaged drums, while also ensuring the easy salvage of chemicals.
Stabilisation of Chemicals
Once a spillage has been contained the spilled chemicals must be rendered safe either by dilution or with neutralising agents. Only when the chemicals have been neutralised or stabilised should workers be permitted to clean up the spillage. Treating chemicals onsite ensures that the staff is not placed at an unacceptable risk of injury, and the risk of environmental damage is reduced to the minimum level.
Safe Removal and Disposal
Spill control stations should be stocked with ample supplies of absorbent materials such as socks, pads and granules in addition to disposal bags. All waste must be removed and stored safely until disposal or further treatment is possible. After the spillage has been thoroughly cleaned, the area should be washed with large volumes of water.
Incident Reporting
The appropriate effluent treatment plant should be alerted about the approximate quantity, type and concentration of hazardous materials that have been released into chemical drains. Measures may need to be put in place to deal with the increased load at treatment plants. The Environment Agency must be notified immediately of any chemical spillage which poses even a potential risk to the water environment.
Further information on employer responsibilities and guidelines on the correct emergency response and spill control procedures can be obtained from the Health and Safety Executive.
Chemical Spillage Control Kits
The most practical method of ensuring workstations, vehicles and high risk areas have the appropriate materials to ensure prompt and efficient containment, neutralisation and clean up is to purchase spill control kits.
Emergency spill control kits should be placed in all areas where chemicals are used or stored. Spill control kits are specific to different classes of chemicals such as acids, alkalis, solvents and flammable liquids. Each chemical requires specific additives in order to render it safe for removal and disposal.
Spill kits contain absorbent pads, cushions, tubes, disposal bags, personal protective equipment and materials to neutralise chemicals. Additional spill control materials can be purchased to replenish spill kits as and when required.
Spill grids, drip trays, bunds, sumps and storage units can be easily and cheaply purchased as additional control measures to reduce the risk of spillages and to ensure spilled chemicals can be salvaged.