Industrial Weighing Scales
Industrial weighing scales work primarily in the same way as your normal scales but have a great capacity for weight and extremely durable to a harsher industrial or commercial environment.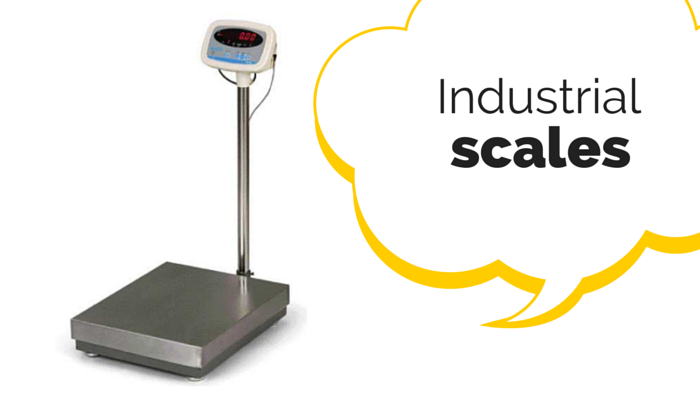 We are going to take a quick look at what type of industrial scales are available and what they are best suited for.
Parcel Scales
Parcel scales are used across a number of industries including manufacturing, distribution and retail.
Most parcel scales can take anything between 20kg-300kg and are very robust.
They also benefit from being lightweight, meaning that you can move these scales to different areas of the warehouse or factory if needed without causing much disruption.
We have a couple of parcel weighing scales available, and even offer calibration of these if needed.
Platform Scales
Platform scales are best used when you need to weigh items or packages that are too big or heavy for normal parcel scales.
With a capacity of up to 500kg, they also feature handles to allow for easy transportation should the need ever arise.
Like the parcel scales these are used primarily in the manufacturing, distribution and retail industries.
The platform scales that we supply are already pre-calibrated, so you can be sure that measurements are correct from day one.
Beam & Pallet Scales
Beam and pallet weighing scales are designed to weigh pallets, tanks and long roads.
They are designed to cope with multiple carrying capacities of 2500kg and 5000kg and feature built in carry handles for ease when transporting.
The beam and pallet scales we supply can be calibrated on request.
Weigh Scale Hand Pallet Truck
This is so much more than just a hand pallet truck, it also has an in built weight scale, which is ideal for factories, warehouses and distribution where items and packages need to be weighed in transit.
It has a lifting capacity of up to 2000kg, and the digital reader goes up in increments of 1kg.
It is also water and dust proof to IP65.
If you have any questions regarding any of our industrial scales, or anything we sell please do not hesitate to contact our friendly customer service team on 0808 163 3704.

Author Bio -
Laura Holland
Social Media and Web Content Coordinator, Jan 2014 - May 2015