Ingredients Bins and Buckets
No matter what you eat day to day, it will at some point have been stored in an ingredient bin or bucket, waiting to be transported or transformed into something delicious!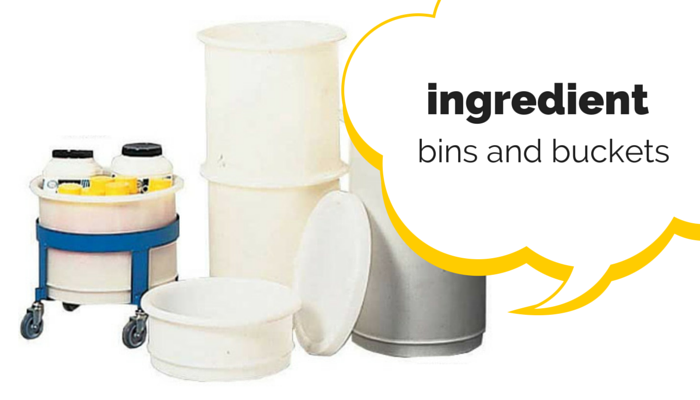 But there are a few different types of bins and buckets and some handy accessories to go with to make life a bit easier for those dealing with them on a day to day basis.
Food Ingredient Trucks, Bins and Tanks
Because of the diversity of food and ingredients, there isn't a one size fits all container for ingredients, how something is stored or transported also has its say too.
Trucks are designed for easy manoeuvrability and has a shatterproof lid, which means they are hard wearing and will give you years of use.
These are used mainly in factory environments.
Bins are mainly static and used for storing ingredients in manufacturing and food processing areas, and because these are tapered they are easy to stack and store when not in use.
Tanks are designed for maximum storage and can be used for a wide range of environments including, restaurants, bars, hotels and anywhere else storing food is needed.
Dispensers
These food grade ingredient dispensers are great for bakeries and kitchens where the ingredient is needed on an adhoc basis.

The lid is also immune to shattering like its bigger brother; the ingredient truck.
Mobile Dolly and Support Frames for Ingredient Bins
Mobile Dollies and support frames are ideal for making static food bins and tanks mobile.

The mobile dollies offer a sturdy base for moving bins and tanks around for warehouses, factories and food processing environments that want versatility out of their containers.

The support frames add extra support for the bigger and heavier tanks that ma warp if used.

If you have any questions about any of the above, or any of our products please do not hesitate to call our friendly customer service team on

03333 316 083

.

Author Bio -
Laura Holland
Social Media and Web Content Coordinator, Jan 2014 - May 2015