Introducing bund trays for pallet racking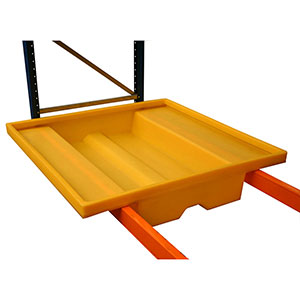 It isn't often that we see new products at ESE Direct with such a potential for revolutionising the industry, but with these bund trays, we think we might just have one.
We are all aware of what the impact of workplace spills can be, whether it is damage to the environment, loss of production time or groundwater contamination. With this in mind, businesses have a duty to do whatever they can to reduce the risk of uncontained spills and keep their staff and the environment safe.
If you are storing materials within a pallet racking system that have the potential to leak, then these trays can eliminate the need for external spill control. They are based on such a simple idea that it seems surprising that we haven't seen them before; the tray will sit below the pallet, which rests neatly inside, meaning that your spill control is now contained within the same footprint as the pallet being stored. This has obvious advantages with regards to practicality, as well as freeing up more racking space for extra stock storage.
If, on the other hand, your materials are being stored not on pallets, but as lose boxes or bottles, you can get grid inserts that transform the sump into a spill containing shelf.
These bund trays will happily retro-fit to any existing pallet racking without any need for extra modification, and since they are made from chemically resistant polyethylene, they are suitable for both hazardous and non-hazardous liquid storage.
Since we are always looking to offer the best to our customers, we offer price bands that save you money, the more you buy. If you have a requirement for a bulk order, it is always worth giving us a ring on 0808 163 9705 to see what we can do for you.

Author Bio -
Martin Gilmour
Marketing Manager for ESE Direct, in my spare time I enjoy reading, playing music and near-total avoidance of DIY.