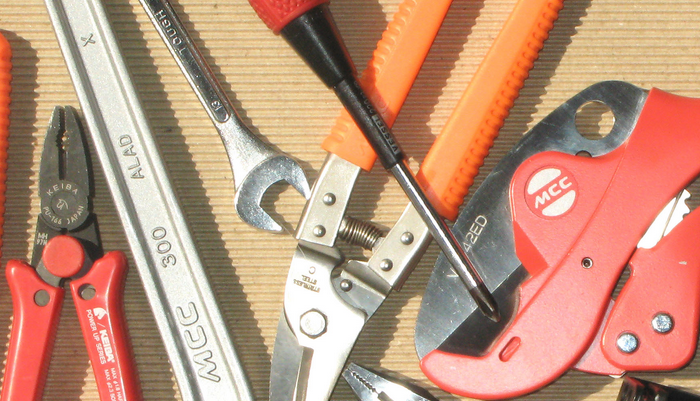 If you use your workshop daily then it probably gets messy quite quickly, the easiest way to stop this from happening is to take the time in making sure it's organised and tidy from the start.
Line drawers
If you keep a lot of your tools loose in drawers then it is definitely worth investing in some rubber matting or similar to line them. It will stop tools from rolling around, as well as protecting them with a cushioned surface. If you do decide to add some trays inside they will grip better and stay in place.
Anti-fatigue matting
If you are on your feet for a long time then you have probably noticed it gets uncomfortable after a while. With anti-fatigue matting it encourages the muscles to subtly contract and expand as you adjust to the flexibility of the mat. This increases blood-flow and the amount of oxygen reaching the heart which in turn reduces fatigue.
Be organised with your tools
Storage systems are the most important part of a tidy workshop and there are several kinds that you can choose from to help keep your workshop looking tip top
Cupboards
Tool cupboards can be tailored to fit your needs, with space for draws, shelving and louvre back panels which allow you to add bins or hang up tools, some cupboards even feature a small work surface for those quick little jobs.
Bins
Modular storage systems are available as well, so if you need storage for a lot of small parts you can take advantage of having small drawer compartments for screws, nails etc. whilst having a cabinet, shelving or pigeon holes for larger items.
Tool Chests
Tool chests are the ideal addition to any busy workshop, if you have any spare or old tools that you don't use every day but still need, then you can pop them in a tool chest, these are long lasting and very versatile.
Invest in quality tools
As with most things in life, you get what you pay for. While it is true a bad workman blames his tools, investing in higher quality tools and tool storage will mean jobs are done quicker, more efficiently and safer as well as being long wearing and a worthy investment.
If you are looking for tool storage, you can view our full range online. If you do have any questions please ask our friendly and award winning customer service team on 0808 163 3704, or chat to them directly on the website using Live Chat!

Author Bio -
Laura Holland
Social Media and Web Content Coordinator, Jan 2014 - May 2015