Kick Stool Health & Safety
You see them all the time in shops, stockrooms and warehouses but how much thought do you give to how it should be used?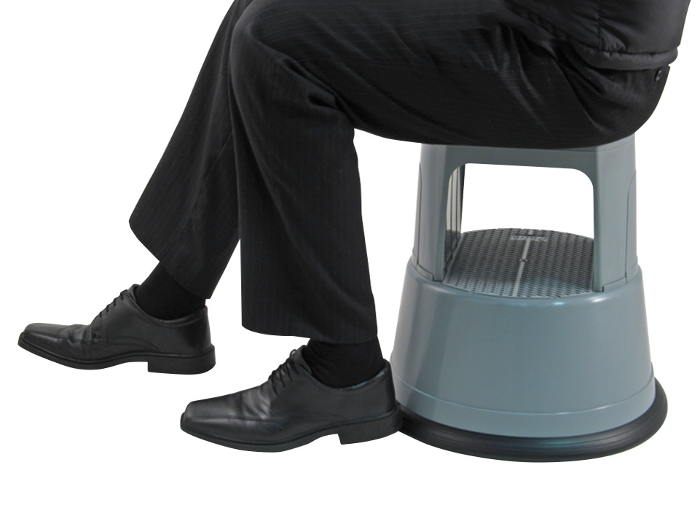 We are taking a look at how to get the best and most use from your kick stool.
Kick stools are not a ladder
The kick stool doesn't have the stability issues that a ladder has which means you don't have to attend a safety course to use one.
We do recommend that you familiarise yourself with your kick stool first to make sure that it is working as it should and that there are no defects or damages to it.
Using your kick stool
As kick stools are designed to be easy to use there's no training or additional equipment needed. There are a few rules you should stick to which will reduce the amount of issues you will experience
Make sure there are no obstacles or people in the path of the kick stool.
If there are people nearby it's best to let them know that you there and with a kick stool
When kicking your kick stool make sure that you kick the base of the stool.
Once the kick stool has come to a stop you can use the kick stool
Step up onto the kick stool one foot at a time; you may need hold onto someone or something to help you up
Make sure you stand in the centre of the kick stool, you could risk toppling if not (some stools do not have spring loaded castors which stops the stool moving when a weight is applied)
Make sure that you are in a comfortable position to reach the required object; you may need to move the stool closer if needed.
Never attempt to lift heavy or large awkward objects as this may cause you to lose your balance and fall.
When you are dismounting the kick stool make sure it is one step at a time and do not rush, do not jump off either the kick stool can give way underneath and cause you to fall.
The do not's of a kick stool
If you can't reach the object comfortably using a kick stool then you may have to use a step ladder, do not overreach or stretch.
The kick stool should not:
Be used as a chair
Or a table
Or a door stop
Have things stored on top of it
Used in conjunction with any other equipment
If you do have any questions about using a kick stool its best to ask your health and safety supervisor
At ESE Direct we supply kick stools to suit your needs, if you have any questions please do not hesitate to call our friendly and award winning customer service team on 0808 163 3704, or speak to them on our website with Live Chat!

Author Bio -
Laura Holland
Social Media and Web Content Coordinator, Jan 2014 - May 2015