For those of you who use ladders on a regular basis, warehouse, stockroom, office and retail workers it's important to make sure that the ladder you are using is up to the task.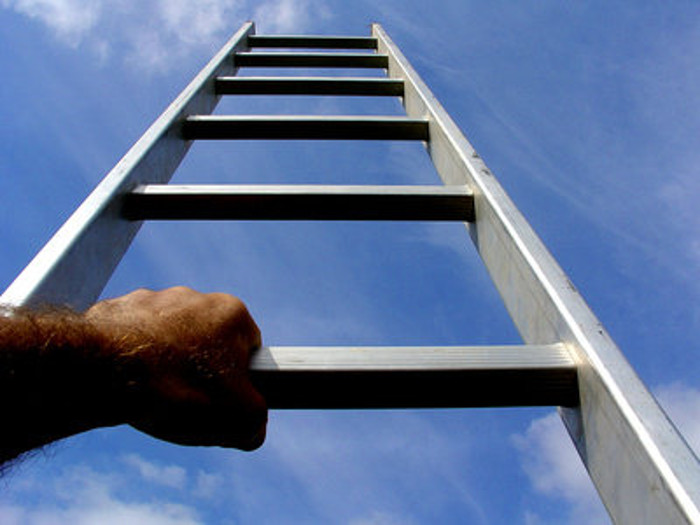 We are going to take a look at the things you need to check and look out for before you use your ladder.
When should you inspect your ladder?
You should inspect your ladder when:
You get a new ladder, and as soon as it has been delivered. If there is anything wrong at this point you can take it back.
You are about to use it. For your safety and extra peace of mind give your ladder the once over before you use it, a lot of accidents could have been prevented if the ladder had been checked beforehand.
The ladder has been dropped, they may seem sturdy but dents or loose fixings are a potential hazard waiting to happen.
Though it may seem a burden taking the time to check your ladder could save you serious injury or worse.
What should you look for on your ladder?
Now you know when you should be inspecting your ladder, but what should you be looking out for?
Loose or missing steps or rungs, specifically if you can move these by hand then they are classed as loose. These can be very dangerous as your foot could either slip or give way completely.
Any loose screws, nails, bolts or nuts. If any of these are loose it could cause the ladder to become structurally unsafe and give way under the weight of someone standing on it.
Cracks or exposed fibreglass in fibreglass ladders. Any damage to the ladder could cause stress in weakened areas and lead to the ladder giving way.
Sharp edges on rails or rungs can be dangerous as your clothing can catch on these and potentially cause you to fall.
Twisted or distorted rails It's very important that you check your ladder for twisted or distorted rails as using a bowed ladder is extremely dangerous.
Anything else to look out for when inspecting ladders?
Yes, there are a few other things to look out for when examining your ladder to make sure it's safe to use.
Wobbling If the ladder wobbles then it is not safe to use, turning or any kind of movement could cause the ladder to fall over, with you on it.
Loose or bent hinges or hinge spreaders. These help to keep the ladder in place and create a sturdy structure to hold your weight. If these don't fit into place correctly there is a chance that the hinges could creep up and create a potentially dangerous accident.
Extension Ladders
If you are using extension ladder there are a few things that you will need to look out for:
Loose, broken or missing extension locks
Defective locks that do not fit properly when the ladder is extended
That there is sufficient lubrication of working parts
Defective cords, chains or ropes
Missing and/or defective pads or sleeves
After you've inspected the ladder
Once you have inspected your ladder there are a few things that you should do afterwards.
Label any ladders that are not fit for purpose using a bespoke ladder safety tag kit
Fibreglass ladders need to be cleaned every 3 months, you can do this with clear lacquer or paste wax
Lubricate pulleys on your extension ladders regularly
Don't
Make temporary or makeshift repairs
Use bowed ladders or attempt to straighten them
Final words on ladder inspection
If you want to find out more about ladder safety or attend a ladder safety course then you can find more information from the below sources:
Total Access – Ladder Safety Training
ESE Direct supply a wide range of ladders from step ladders, multi-way and trade extension ladders, there is bound to be one to meet your requirements. If you have any questions or want to find out more then why not speak to our friendly and award winning customer service team on 0808 163 3704, or speak to us on Live Chat!

Author Bio -
Laura Holland
Social Media and Web Content Coordinator, Jan 2014 - May 2015