Ladders, lot's of lovely ladders
Industrial ladders are commonplace in on many business, company or industry site, and it's fair to say that many of us couldn't be without one.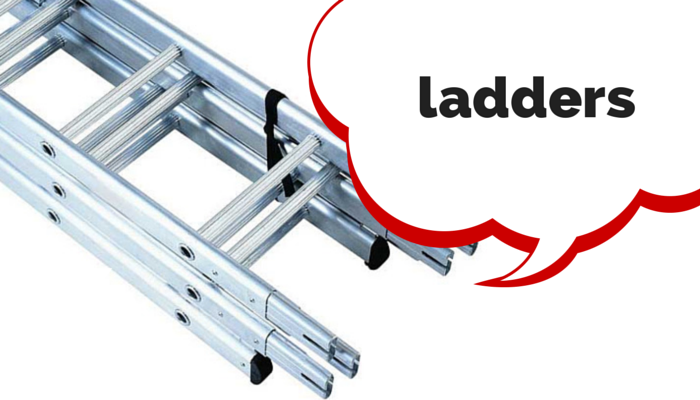 There are many types of ladders to choose from, it's a question of finding the sort of ladder that will suit your personal or business requirements the most. Perhaps the best thing is to look at the benefits of each sort?
Industrial Ladders:
Strong and robust thanks to a tough heavy wall aluminium construction
Many different height configurations to choose from
Reduction of user fatigue and increased working speed thanks to high traction D shaped rungs
Any height of application can be accessed as the sections can be separated for use as single ladders
Users can be assured to safe use as rung locks are fitted to ensure that the sections of the ladder cannot separate
You can have confidence in this product thanks to a 5 year guarantee
BS2037 Class 1 compliant
Trade Extension Ladders:
Suitable for commercial applications
Many different height configurations to choose from
Comfortable D shaped rungs ensure fatigue reduction, increased working speed and safety of use
Safety increased thanks to slip resistant high traction rungs and non-slip rubber feet
Have confidence in this product with a 3 year guarantee
BSEN131 compliant
Multi-Purpose Ladders:
Extremely practical and useful for multiple applications thanks to four section hinged construction that allows for more than one ladder configuration
Strong and stable thanks to square rungs and spreader bars
Many different heights to choose from
Non-slip rubber feet to ensure user safety when in use
EN131-4 compliant
Surveyor Ladders:
Assembly of ladder is quick and easy, simply join the sections together
Being highly compact means that Surveyor Ladders are easy to put into storage
You can be assured of safety when in use thanks to strong sectional construction and non-slip rubber feet
Choose between 3, 4, 5 or 6 section ladders
Telescopic Ladders:
The new ergonomic design enables a more responsive up and down motion, which will increase working productivity
The design also fits your thumbs better, making the ladder more comfortable and easy to use
Users can be assured of their own safety thanks to strong sectional construction and non-slip rubber feet
Practical choice of ladder as they can be stored virtually anywhere - 5 year warranty gives user confidence in product
EN131 compliant
As you will have seen there are many variations of industrial ladder out there for you to have a look through, some have very similar user benefits and then some are completely different.
However, we are sure that whatever application a ladder is required, no matter which business, company or industry is requesting one, that there will be an industrial ladder to suit.

Author Bio -
Laura Holland
Social Media and Web Content Coordinator, Jan 2014 - May 2015