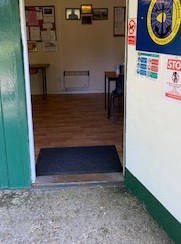 Safety is high priority at model railway club
One of our customers got in touch to tell us how happy they were with their new entrance mat. Run mainly by volunteers, the model railway club gives children rides on miniature steam and diesel locomotives. Tricia, one of the members explained, "a lot of the members are over 60 so safety is of the upmost importance, especially when it is wet outside".
They have placed their lovely new Aquasorb entrance mat inside the door of the entrance to their clubhouse, perfect for collecting rainwater and debris from footwear and splashes from umbrellas. These mats can collect up to 6 litres of water so there'll be no trailing slippery wetness onto the wooden floor of their clubhouse. We wish the railway club a very happy, safe re-opening.

Author Bio -
Debs
Content, marketing, social, graphic design and PA to an unusual small red dragon.