Office Recycling - 7 Must-Have Products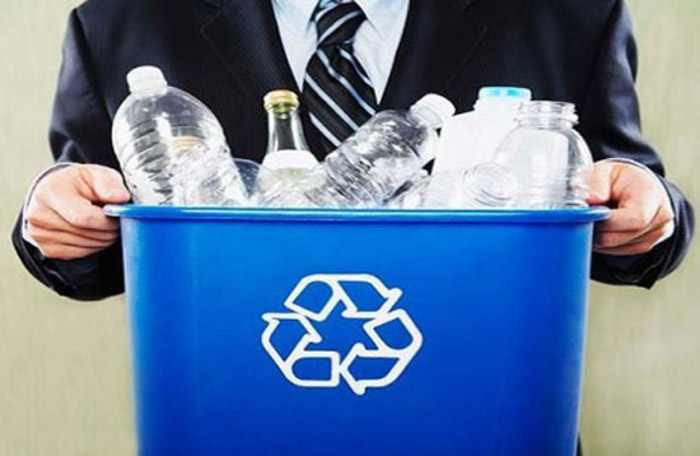 For most offices, the idea of going paperless is still a distant dream. No matter how addicted we are to Evernote and mobile phones, we can't seem to tear ourselves away from scraps of paper and physical post-it notes.
All this paper creates waste, luckily, as a business there are many things you can do to help save on waste. Let us have a look at some of the options available to you.
1. Racksack Waste Sacks
These racksack waste sacks are perfect for warehouse environments. With an easy two hoops fixing it allows you to fix these to any racking or shelving.
The sacks are clearly labelled and you can choose from General Waste, Cardboard and Glass to name a few (14 options available). It is a truly versatile and durable recycling option.
2. Waste Recycling Bins with Coloured Lids
These handy recycling bins feature coloured lids, meaning you know which bin to put your waste in at a glance. They are incredibly versatile and ideal for a large office environment.
The bins come in a range of capacities and available in either dark grey or light grey the lid options that you can choose from are: Paper, General, Plastics, Kitchen Waste, Glass, Mixed Textiles, Tin and Other Recyclables.
3. Slim Bin Recycling Bins
These slim bins are designed to fit snugly into any office or warehouse where space is at a premium. The lids themselves are colour coded to make it easier to know which bin to put your recycling.
The bins are available in a 60 or 80 litre capacity and dollies are available to make the bin easy to manoeuvre.
4. Envirobins Office Recycling
The mini range is ideal for smaller offices as it takes up very little space but is big enough for regular use with its 55 litre capacity.
The Midi range is better suited to larger businesses and offices with a 100 litre capacity, plus the option of a two stream bin for different wastes to be collected in one bin.
And finally the Maxi range, with a 140 litre capacity, is perfect for businesses that produces a high amount of waste and can also be used for colleges and large offices.
5. Envirobanks External Recycling Banks
Envirobanks are perfect for outdoor areas including parks, college or school grounds or businesses with outside areas.
What makes these so handy is that you have the option of a sack or wheelie bin retention system as well as offering a split envirobank option allowing two different streams of waste to be collected.
6. Battery Recycling Bins
Battery recycling bins are ideal for offices, schools, colleges, and warehouses and anywhere else where batteries are used on a daily basis.
Certain minerals found in batteries can be recovered in the recycling process and re-used to make new batteries, these minerals include: zinc, lead and lithium.
Available in 5, 10, 15 and 20 litre capacities.
7. Recycling Pedal Bins
These sleek looking recycling pedal bins are idea for smaller offices and even domestic use. What makes these so useful is that it features 2 or 3 compartments so you can segregate your waste.
With silver metal casting body and an easy lift out bin liner this really is a versatile and robust recycling option.
For printer cartridge recycling check out Office Green
For waste paper recycling services, check out Waste Care.

Author Bio -
Martin Gilmour
Marketing Manager for ESE Direct, in my spare time I enjoy reading, playing music and near-total avoidance of DIY.