Our Top 5 Essential Warehouse Items for 2023
Warehouses are notoriously busy and high-risk places where fast-paced, frenetic activity is usually the order of the day. But there's so much more to safety and savvy practices in warehouses than merely wearing a high-viz jacket and hard hat. From efficiency to protection, there are plenty of procedures and a wide range of equipment available to boost productivity and ensure your staff are working in the most optimised and safe environment possible.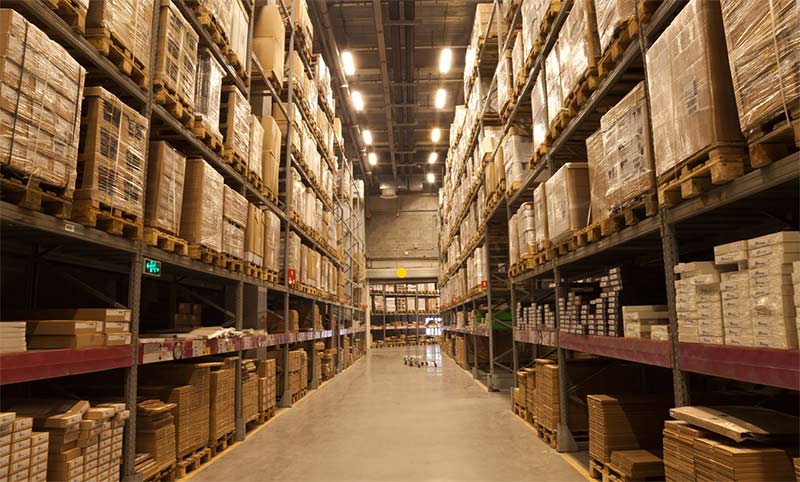 We've rounded up our top 5 products so that you can keep up with demand, look after the well-being of your team and maintain rigorous health and safety protocols in line with all the latest regulations.
Why is warehouse safety so important?
There is the potential for serious incidents or accidents in storage and warehousing. According to 2021/2022 health and safety statistics, 565,000 working people sustained an injury at work, 61,713 injuries to employees were reported under RIDDOR, and 36.8 million working days were lost due to work-related illness and workplace injury. The estimated cost of injuries and ill health from working conditions was £18.8 billion in 2019/2021. The HSE has a comprehensive set of guidelines for health and safety, specifically in warehousing.
Superior safety with scissor lift tables
Scissor lift tables are one of the most affordable and versatile options for increasing workplace safety. This ingenious and handy device uses a scissor mechanism to raise or lower goods. They typically elevate heavy or large loads over relatively small distances involving pallet handling, work positioning, and vehicle loading.
It lifts by use of its crisscrossing supports which act beneath the table to lift whatever is on it. They can work via pneumatic, mechanical, or hydraulic power to reach whatever height is required, up to 60 feet in some models. The benefits include:
A reduction of fatigue in users due to the ease of movement
Operators of the scissor lift table can reach heights they wouldn't ordinarily be able to
They eradicate repetitive strain injury or musculoskeletal disorders by helping users correctly re-position themselves at optimal working angles
Commonly used as a workstation, scissor lift tables, such as the low profile lifting table and static hydraulic lifting table, allow tasks to be performed sitting or standing. Safety features on the low-profile lifting table include safety trip bars under the platform lock to stop its descent if obstructed and fail-safe automatic pressure relief safety valves to lower the table slowly in the event of a hydraulic failure.
Ditch those dings and dents with Impact Protection Profiles
Impact protection profiles provide visual warning and safety cushioning to hard, unyielding objects. They are suitable for various applications, including internal and external machinery, racking, conveyors, vehicles, corners, columns, girders, mobile trolleys, production areas and transfer routes. Helping to reduce the likelihood of injury, Impact Protection Profiles are quick and easy to install, prevent injury and protect property.
The high-quality moulded sections (made from flexible age-resistant polyurethane foam with UV-resistant yellow and black colours according to DIN 4844) come in a standard 1m length which can be easily cut to size. They're fire-resistant and CFC and silicone free.
Revved up and ready for action with Racking Protection
Any storage space in which lifting equipment is used is prone to safety risks, so warehouse racking protection is a crucial investment. Forklift collisions are common in warehouses and distribution depots.
Pallet racking protection is critical for any business which operates a racking storage solution. Warehouse racking system protection comprises products that prevent damage from being caused to commercial racking systems.
Without proper pallet racking protection, you may put workers at risk of injury or worse and increase the likelihood that goods will be destroyed. Pallet racking barriers create a protective layer to keep machinery away from vulnerable points and prevent disaster on a daily basis.
Damaged racks can also cause operational disruption and costly warehouse downtime. Racking protection options such as pallet racking upright protector channel kits are constructed in the UK from high-quality steel, and designed to protect pallet racking uprights and lower sections on pallet racking uprights against damage. If you're unsure about the safety of your pallet racking system, specialist racking inspection services are available.
Sign us up!
Proper signage is an absolute must and a legal requirement in all areas of your warehouse. Signs should indicate who does or doesn't have access to the various areas and communicate where smoking is or is not permitted. Warnings concerning flammable and hazardous materials and vehicle traffic routes should be clearly signposted. Fire exits and the location of fire extinguishers should also be clearly marked.
Employers must, where necessary, provide health & safety signage if there is a significant risk, such as caution signs warning of slippery surfaces, work in progress and snow and ice.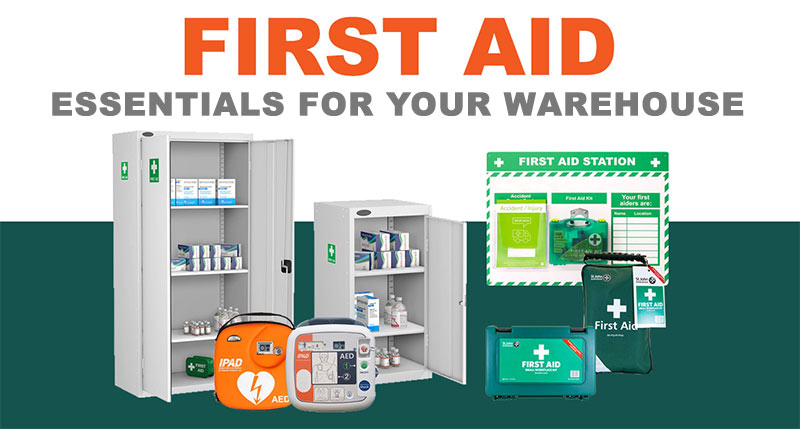 First-Aid Kits: more than mere plasters and patches
Another indispensable warehouse item is the first aid kit. Because of the greater possibility of workplace injuries in warehouses, these facilities should have easy access to multiple kits. First aid kits can treat minor injuries, with equipment such as defibrillators providing the possibility of saving lives. As part of their health and safety training, employees should familiarise themselves with the kit contents and know how to use it and how and when to summon an ambulance.
Your first-aid kit should include clear and thorough user instructions and essential equipment, such as adhesive tape, pads, bandages, ammonia inhalants, a cold pack, eye wash, antiseptic wipes, burn spray, gloves, cotton applicators, tweezers and safety scissors.
As a minimum, a workplace should have a first aid cabinet and kit, each compliant with the latest health and safety regulations.
Safety first, always
A priority of any business should be to make life easier and more practical by eliminating potential hazards and streamlining production. After all, without a healthy, happy workforce, there'd be no business, to begin with!

Author Bio -
Debs
Digital marketer, social media, content writer, musician, sloth-lover, tea-drinker.