Preventing Pallet Racking Accidents
Warehouses and factories are by nature very busy places, from making sure goods are being processed to the deliveries coming in and out, on top of that you have to make sure that everyone working safely and following the correct guidelines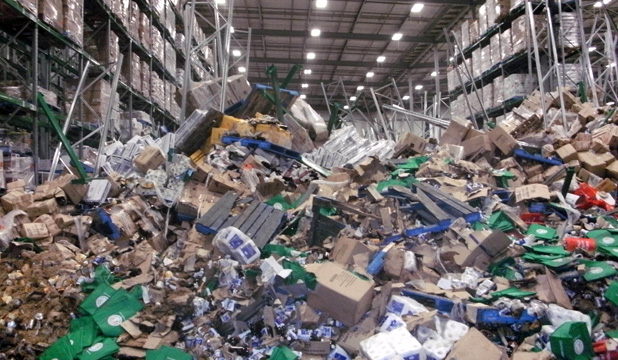 We will take a look at ways to prevent pallet racking accidents and guidelines, but first we found some YouTube videos showing how badly pallet racking accidents can be.
As you can see making sure you have the right staff that are trained and licensed will reduce accidents like this, we recently covered forklift truck safety guidelines which you can also read through. However structural integrity also plays a part in this as well.
So we are going to take a look at a few things that you can do which will help reduce pallet racking and warehouse accidents such as the ones above.
Wearing protective equipment is very important in day to day activities in warehouses and factories and other industrial environments however a large number of people often neglect doing so as they haven't been hurt yet.
All it can take is dropping something heavy on unprotected feet, or debris damaging your eye to completely change your life and its totally preventable. Using the recommended work wear is imperative to your safety and making sure that you don't inadvertently cause accidents by catching inappropriate clothing on equipment or goods.
You should be wearing:
Steel toes boots
Hi-visibility jacket
Sturdy work gloves
Hard hat when needed
Tripping Pallets
Used for carrying goods, the pallets can be the cause of many warehouse accidents, either from bad placement causing forklifts having to go round at awkward angles or in tight spaces or over stacking which can cause it fall and block aisles or worse fall into racking.
Forklifts
Forklift collisions or accidents are one the main causes of pallet racking and warehouse accidents. A good way to reduce this would be to make sure that there are:
Floor space is clearly marked including pedestrian walkways
Marshals if you have high traffic points
Widen aisles if forklifts are to operate down there for turning space and to avoid bumping into the racking.
Paint your forks. If damage has occurred it is often hard to tell who has done it, if you paint each forklift a different colour so it is easier to track, if each forklift is specifically assigned to someone it also makes it easier. Also painted forks will make it easier for the operator to see where they are manoeuvring.
Using stops and braces is important with a racking system it helps to protect in the event that something bumps into them as well as reinforce them. Used to shield columns and bear the brunt of collisions.
Visibility
Helping forklift drivers with visibility will also reduce the amount of potential hazards and accidents they could have in the warehouse/industrial premises. Rear view mirrors and rack mounted safety mirrors are a great addition.
Corners
The bottom 5 foot of a racking system on a corner is usually the most abused, this is because forklift trucks take the corners too quick. Consistent training and installing bollards in front of the corners are great ways to reduce the amount of damage that can occur.
Inspection
This won't prevent damage or accidents however getting a qualified professional to regularly inspect your premises and racking systems can help pinpoint areas that need to be improve or reinforced which could lead to much bigger problems down the line.
Other things to consider implementing:
Anonymous reports of accidents
Camera monitoring systems
Refresher training courses or days for your employees

Author Bio -
Laura Holland
Social Media and Web Content Coordinator, Jan 2014 - May 2015