Safety Precautions When Storing Chemicals
The notion of dangerous substances can conjure up creepy images of radioactive waste or science laboratories. However, these so-called "scary substances" are all around us. From flammable liquids to detergents, paints and pesticides, chemicals are part and parcel of modern life.
In the workplace in particular, health and safety surrounding the safe storage of chemicals is of paramount importance. There is no room for error, and being lax about these precautions could have large-scale, disastrous repercussions. That's why there are strict protocols and procedures to ensure that these potentially hazardous chemicals don't cause harm to the people who work with or near them or to the environment.
Laying down the law
Comprehensive legislation and a number of European laws cover everything from the manufacture, supply, storage, transport, packaging, use, and environmentally responsible disposal of chemicals. By adhering to these rules and regulations, as an employer or business, you can reduce the likelihood of incurring heavy fines or prosecution. You'll find all the legislative guidelines on the Government's Health and Safety Executive (HSE) website.
Safety first: Signage and spillage kits for the workplace
From everyday products in the home to specialised chemicals used at work, we're exposed to the risk of injury or harm from hazardous materials on a daily basis. A range of equipment specifically aimed at safety around chemicals is a necessity for all companies, whether it's signage, chemical spillage kits, or first aid kits.
A spill kit is a collection of tools and equipment for containing, controlling, and cleaning up hazardous chemical spills. These supplies are kept on hand in places where chemical accidents may occur, such as warehouses, transportation hubs, industrial sites, and labs. It's always better to be prepared, as spills in the workplace can happen anytime. Ensuring you're equipped with a proper spill kit and well-trained employees who know how to use them effectively is essential when storing or working with hazardous chemicals.
A well-organised chemical spill kit contains absorbent materials that will soak up any accidental spill and can be used with acids, alkalis, caustics, and solvents and include absorbent pads, socks, and a disposal bag with a tie, making the removal of hazardous liquids safe for all involved.
Another indispensable item in the workplace is proper signage to alert people to the proximity of hazardous materials. Dangerous chemicals signs feature a highly visible design that draws the attention of visitors and employees. Available in either self-adhesive vinyl or rigid 1mm PVC board (non-adhesive) for various fixing methods, they can be used on cupboards, doors, walls, vehicles, and more. Each sign complies with the ISO 7010 legislation for symbols relating to safety signs for accident prevention, fire protection, health hazard information, and emergency evacuation.
Many chemical-related emergencies involve the material coming into contact with somebody's eyes or skin. Emergency eye wash kits are a legal requirement if a risk assessment deems it necessary. As part of a company's emergency pack, an emergency eye wash kit is vital should a hazardous chemical enter the eye. Eyewash first aid kits include two sterile eye wash bottles and two sterile eye dressings. Mounted on a quick-release wall bracket, so the kit is always accessible to staff members.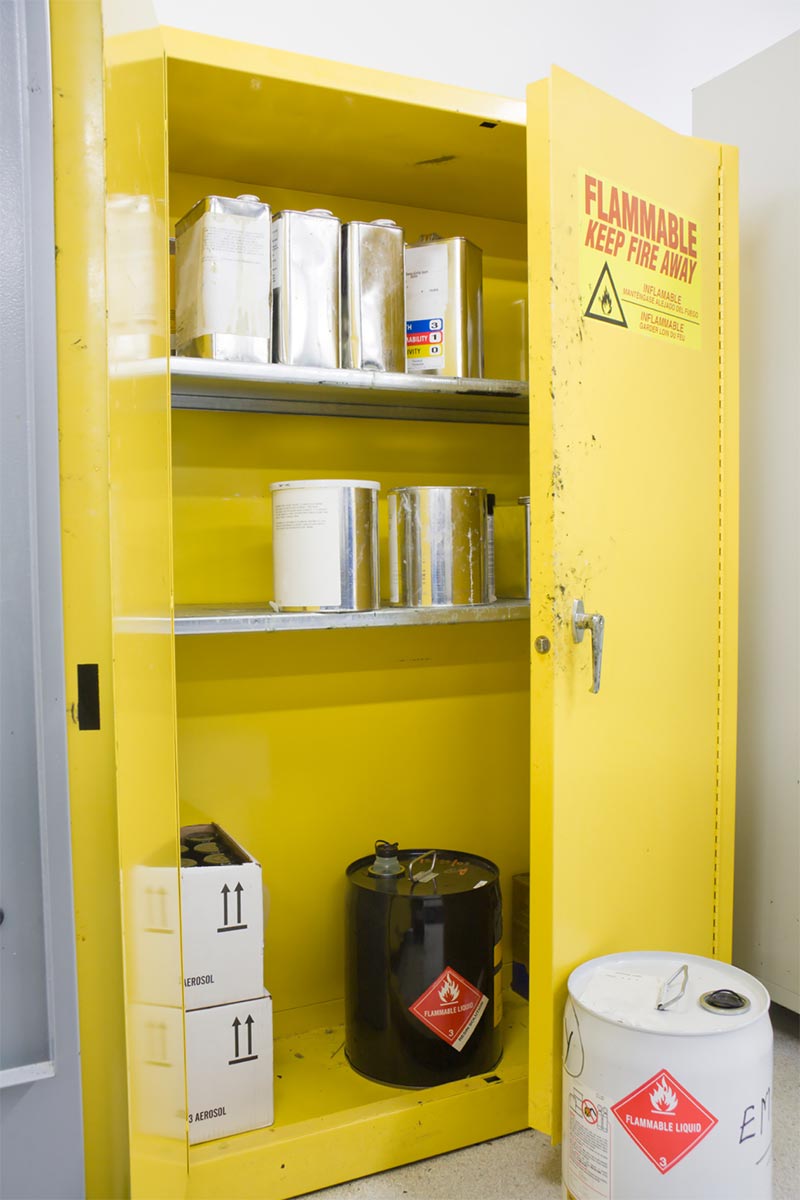 What is a COSHH cabinet?
Reinforced and lockable (only properly trained staff have access to them), COSHH cabinets prevent unauthorised personnel from accessing the dangerous materials stored within. These storage cabinets are essential for anyone who may use any product considered harmful, toxic, corrosive, poisonous, flammable, or an irritant.
Different coloured cabinets are used to identify various types of hazardous materials. This is also important from a fire safety perspective. In containing combustibles they keep you, your employees and your customers safe, reduce risk of damage to the physical structure of the workplace and the external environment, plus, ensure you stay within the health and safety regulation guidelines.
You can find all the relevant information on the Government's HSE website which includes assessment and usage.
What Chemicals are Stored in COSHH Cabinets?
According to a report in Safe Workers, chemicals are the most common type of hazardous substance within a workplace. Any business using chemicals and storing them on the premises should conduct a proper risk assessment and determine if a COSHH cabinet is needed. You can find a full explanation of COSHH or Control of Substances Hazardous to Health on the Government's HSE website.
Several substances are considered hazardous under COSHH legislation:
Flammable liquids such as petrol
Gases, such as liquified petroleum gas (LPG)
Cleaning chemicals and detergents
Glue, paint, oil, and varnish
Solvents
Here are a few examples of industries which may require a COSHH cabinet and what should be stored in them:
Engineering workshops - degreasing agent, brake fluids, solvents, lubes, and paints
Pest control companies - pesticides and poisons
Agricultural industry - fertilisers, detergents, flammable liquids, pesticides, and disinfectants
Catering and commercial kitchens - cleaning materials and chemicals used in food production and detergents
Cleaning businesses - cleaning chemicals such as powerful bleaches
General Chemical Safety Guidelines
Not all your chemicals need to be stored in a COSHH cabinet, but they will need to be stored safely and compliantly. To help, there are very clear regulations when storing different chemicals:
Bases
Store large bottles of liquid bases on trays in a cabinet clearly marked "Bases" or "Corrosives"
Segregate bases from acids and other incompatible materials
Have spill control pillows or caustic neutralisers available for caustic spills
Don't use acids to neutralise base spills
Store solutions of inorganic hydroxides in polyethylene containers
Acids
Separate oxidising acids from organic acids, flammable, and combustible materials
Segregate acids from bases, active metals such as potassium, sodium, magnesium, and other incompatible materials
Use a cart or bottle carriers to transport acid bottles
Store large bottles of acids on trays in acid cabinets, low shelves, or a cabinet marked "corrosives"
Always have spill-control pillows or acid neutralisers available in the event of a spill and do not use bases to neutralise acid spills
Oxidisers
Store away from flammable and combustible materials, such as wood, paper, etc.
Store in a dry, cool area
Flammables
Keep away from sources of ignition
Only store flammable liquids in a labelled flammables cabinet or a specially equipped flammable-safe refrigerator
For flammable metals, have a Class-D fire extinguisher available
Ensure your fire extinguishers are marked clearly with fire extinguisher signs, labels and stickers for fire points
Keep fire extinguishing and spill control equipment at hand
Compressed Gases
Chain cylinders individually, 2/3 to 3/4 of the height of the cylinder from the floor
Store in a secure and upright position
Remove all manifolds and regulators, chain or strap the cylinders to the cart before moving, and secure the valve caps
When not in use, replace the valve cap
Use a cylinder cart to transport them
Clearly mark the status of the cylinder: "Full", "In Use2 or "Empty"
Peroxide-Forming Chemicals
Store in airtight containers in a dark, cool, dry area
Date the container when received and opened
Use organic peroxide warning labels on all containers
Check the container for the formation of peroxides, as required, using appropriate indicator strips
Dispose of peroxide-forming chemicals on or before their expiration date or one year after opening, whichever is first
A few final "top tips" when storing potentially harmful goods and materials safely:
Keep the smallest number of hazardous substances necessary
Store incompatible substances separately
Always store chemicals according to the manufacturer's instructions on the accompanying safety data sheet
Label containers that are used for short-term storage
Prevent the release or leakage of dangerous substances
Use the correct safeguards when handling substances - for example, wear protective clothing and ensure adequate ventilation
Keep a spill kit near storage areas, and train staff on what to do in the event of an emergency spill
Immediately clean up any leaks or spills that occur
For more information on how to make sure you're compliant when it comes to storing chemicals, take a look around our site or give us a call on 0808 258 2098.

Author Bio -
Debs
Digital marketer, social media, content writer, musician, sloth-lover, tea-drinker.