Stop Right Now - A Guide to Safety Barriers
Safety barriers; we see them just about everywhere we go, whether on foot, by car or by public transport. You'll find them in airports and shopping malls, in parks, in city and town centres and car parks. They're certainly a common sight in warehouses and other workplaces. They come in all different shapes and sizes and are made from a variety of materials depending on how robust they need to be.
They can be fixed to the ground or mobile, interlocking, retractable, flexible, water-filled, self-weighted or manually operated. Which type of safety barrier you choose really does depend on what it is to be used for and what it is meant to protect. Here's our guide to safety barriers.
What is the purpose of a safety barrier?
Safety barriers have several uses, but generally, they are used to:
Protect - most safety barriers are in place to protect people from dangerous areas, vulnerable structures, machinery and vehicles. These can range from cars, lorries, forklifts or materials handling equipment. However, they are also there to protect goods and stock from damage.
Segregate - safety barriers can also be used to segregate one area from another, such as work areas within a warehouse. They may also be used to keep people away from moving vehicles or to separate lanes of traffic.
Set out routes - similar to segregation, barriers are used to set out routes and paths in a clear way, from walkways through buildings for visitors and staff or by using one-way directional barriers.
Support for people - safety barriers that incorporate a handrail are ideal for providing support for pedestrian areas, for instance along walkways or crossings.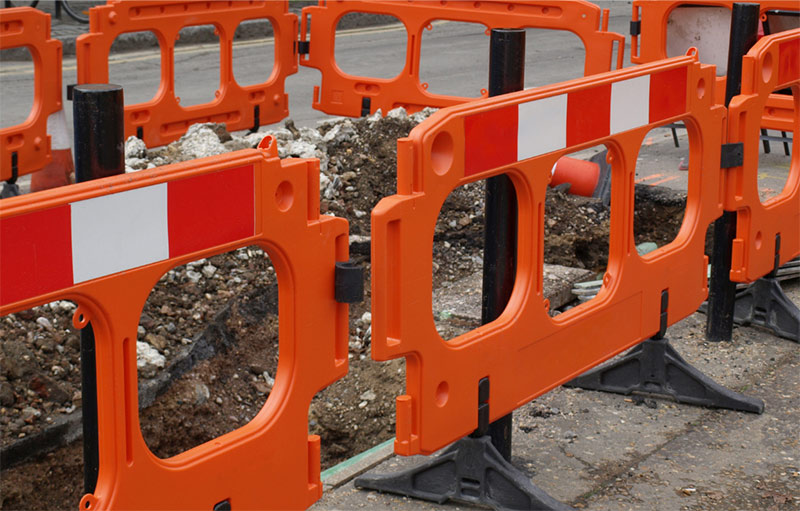 So, these are the main purposes for safety barriers, but what types of safety barriers are available, and what protection does each provide?
Types of safety barriers
Of course, there are all sorts of safety barriers available, but most of them come under the following types.
Traffic barriers - these can range from fixed, heavy-duty barriers to lightweight, portable barriers. The type of traffic barrier will depend on whether they're to be used permanently or temporarily. Although they can be used in car parks, most traffic barriers are used on roads and motorways. Therefore, generally, they're made of metal or an extremely robust plastic and are rigid in structure.
Pedestrian barriers - this type of barrier usually defines a walkway or a route through a busy area, such as a facilities warehouse. They protect people from vehicles and other equipment while walking along these routes. Some, such as manhole barriers can also protect pedestrians from work that's being done along a route. Pedestrian barriers can be used outdoors, but most, such as belt barriers, are for indoor use.
Crash barriers - when you think of this type of barrier, you probably think of the robust metal crash barriers on motorways (often known as Armco barriers with the protective safety ends), and other busy roads. You wouldn't be far wrong, either. They are there to provide protection against vehicles, so they are robust and secured to the ground. You'll also see them in tubular form and often find them in car parks or places where there is a lot of lorry movement such as distribution centres or warehouse facilities.
Swing barriers - you'll usually find these types of barriers at entrances and exits. Sometimes swing barriers are automatic, or they are manually operated, depending on how much use there will be.
Belt barriers - these can be used indoors or outdoors and usually have a retractable belt to connect posts and create the barrier. The belts can be fixed to a wall using a bracket or mounted on top of a suitable belt barrier post or traffic cone.
Warning barriers - similar to floor signs, warning barriers are there to warn people of danger and to avoid the area. In particular, lift guard safety barriers are there to protect people from injury.
Impact protection barriers - in the form of protection bollards or posts are often used in heavy traffic areas in car parks or distribution centres, strategically placed to protect other small vehicles, buildings or other areas. Collision protection bars can also be used and are available in a range of lengths and colours for better visibility.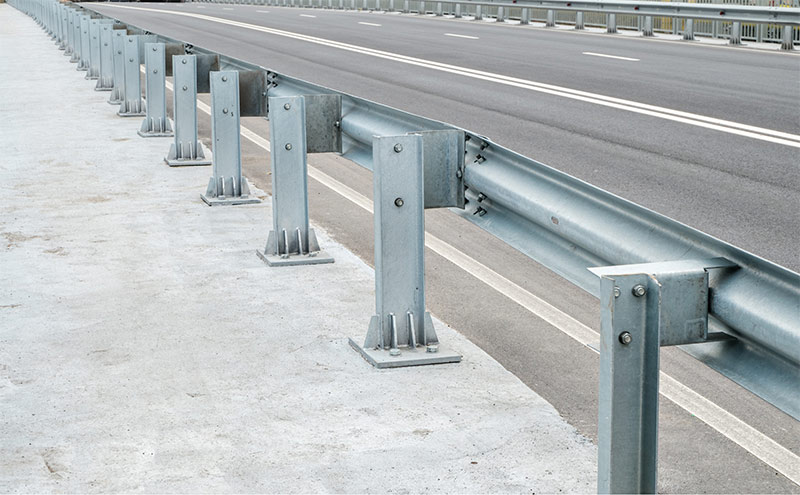 Safety standards for safety barriers
The British Standards Institution, together with the Health & Safety Executive (HSE) and other safety companies, established a standard code of practice for the manufacture and installation of safety barriers. Known as PAS 13, the standard provides guidelines and best practices in relation to how safety barriers are constructed, installed and tested to ensure compliance with PAS 13.
At ESE Direct, we provide a wide variety of safety barriers that are suitable for a wide range of settings and premises. As well as the types of barriers described above, we also provide hinged gates that can be inserted into pedestrian safety barriers, lift-out or round tube rail barriers, and pallet racking barriers with or without guide rollers.
Our long list of safety barriers includes temporary steel expandable barriers, water-filled and self-weighted barriers, flexible barriers and a wide range of impact protection solutions. Plus, portable and stackable safety barriers as well as barrier netting that will catch all sorts of debris. So, as you can see, there's a barrier for almost every environment.
ESE Direct is a leading supplier of products for businesses, schools, colleges and universities, workshops and warehouses. With a wide and diverse range of products, coupled with more than 40 years of knowledge and experience in the industry, we offer bespoke design and installation services along with exceptional customer service.

Author Bio -
Debs
Digital marketer, social media, content writer, musician, sloth-lover, tea-drinker.