Recently we ran a special competition where one lucky customer had the chance to win a Tassimo coffee machine for their workplace.
We are thrilled to review that the winner was Peter Allgood from Allgood Technology, a Telford based specialist in surface mount technology, and here was what he had to say;
"As a long time and very satisfied customer of ESE, I had noticed the competition to win a Tassimo Coffee maker if we spent over £300 in May. I didn't really give it a thought as I rarely win anything but we needed some new benches so I entered the code at the checkout and forgot all about it. I was therefore astonished to receive the call informing me I'd won!
The machine has proven a big hit with Staff and Customers alike, it's very easy to use and the aroma of freshly brewed coffee permeating the office is better than any air freshener!
Oh and the benches were, as usual, perfect!"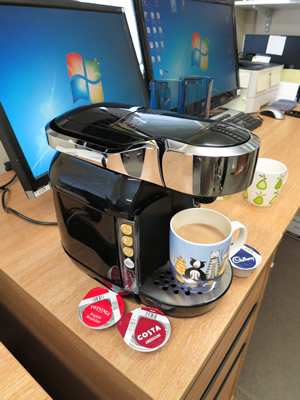 Thanks to everyone who entered and commiserations to those who didn't win. Keep an eye out for future promotions and competitions and next time it could be you who wins.

Author Bio -
Martin Gilmour
Marketing Manager for ESE Direct, in my spare time I enjoy reading, playing music and near-total avoidance of DIY.